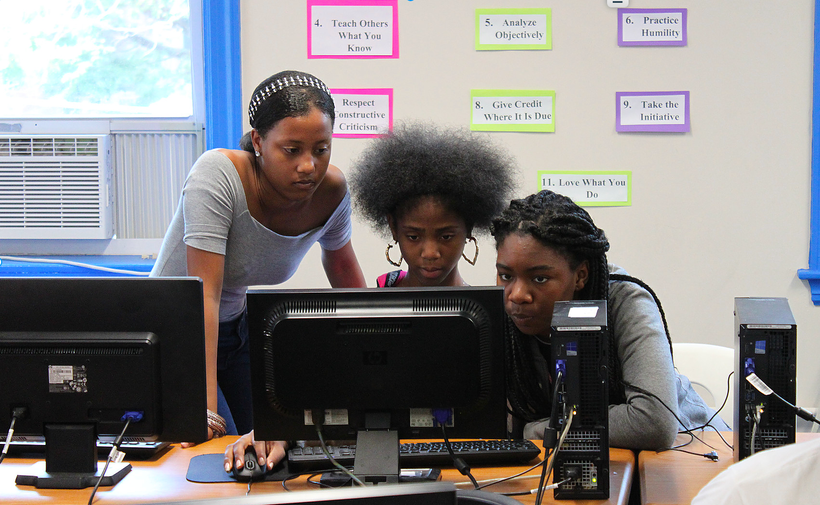 After reading this, you'll understand why we can't let that happen.
This week, I began my time at Yale University in New Haven, Connecticut. Heading here, my mind was still fresh with the goodbyes laced with "be careful."
The idea that New Haven, especially outside of the walls of Yale's campus, is a place to fear is a misguided, reductionist point of view that negates the vibrant pulse of this multifaceted community. I've barely been here a week, so I'm not going to pretend I'm an expert on this city or that I even yet qualify as a resident, but what I can say is that -- after a week spent volunteering at LEAP (Leadership, Education, Athletics, and Partnership, Inc.), a community-based nonprofit organization serving low-income youth -- New Haven should not be feared, but rather admired.
I know that a week is barely enough time to learn street names let alone the complicated geopolitics of an urban landscape, but my experiences this week beg the question: what's the story that is being told about New Haven? When we talk about New Haven, why do we focus on fearing what is outside the campus rather than learning about and supporting places like LEAP? Why wasn't this in the collective consciousness and conception people have of this city?
LEAP is not noteworthy because it has the support of local politicians or because of its partnerships with Yale University. LEAP is awe-inspiring because of its commitment to dreams.
On 31 Jefferson Street, in New Haven, kids rush through the doors of LEAP. This past year, over 1000 students participated in LEAP programs. Only a few blocks away from campus, with an annual budget thousands of times as small as Yale's, LEAP is not only educating a class size similar to mine at Yale, but also enriching and empowering a low-income community. They are fully investing in New Haven's young people.
In discourse about community improvement, there is fervent debate about sustainable service versus conventional, band-aid solutions that pander to savior complexes. Within this debate, LEAP stands as a genuine model of what sustainable service looks like. It doesn't displace existing community efforts, citizens, or values. It's a refreshing non-profit that has been thoughtful in crafting each of its programs, moves, and goals, thus allowing urban low-income neighborhoods to have a safe, supportive community for their young people created by home-grown leaders.
So, let's break down what LEAP is, does, and hopes to be.
For the past 25 years, LEAP has been working with low-income young people of color ages 7 to 24 in some of the most impoverished neighborhoods in New Haven. Through year-round after-school and summer camp mentoring programs, counselors provide academic, athletic, and social enrichments for New Haven's youth, all free of charge. But providing extracurricular literacy, swimming, computer science, arts, and camping activities for underserved communities is not revolutionary.
What sets LEAP apart is its commitment to sustainable enrichment for not only the children but also for the middle school, high school and college students who work with the children. LEAP recruits its counselors and much of its staff directly from the low-income communities that it serves. 90% of their college student Senior Counselors are African-American or Latinx, and 100% of their Junior Counselors are residents of New Haven, many of whom participated in LEAP programs when they were younger. LEAP is committed to empowering these young people to be leaders. LEAP staff trains them to have the skills they need to be successful as mentors for children and successful in any future job they have. Over 200 young people work for LEAP each year. By employing youth and providing them with the resources they need to thrive, LEAP actively serves New Haven's at-risk youth population.
Central to LEAP's success is its multi-tiered mentoring approach, giving these young leaders the responsibility of being positive role models. Senior Counselors mentor the Junior Counselors who are in high school. They are both mentors to the Leaders-In-Training who are in middle school and all are mentors to the children. LEAP's college student Senior Counselors even live in the same neighborhoods as their LEAP campers during the summer program. In this way, students grow up with role models around them in their community who often look like them, interact like them, and have stories like them. Thus, LEAP students are able to believe that they can, and that they will go to college and beyond, which has infinite value.
Shaniah, a young LEAP student, remarked in her exit interview that, "LEAP helps me because it inspires me." This inspiration for Shaniah and other young people at LEAP is possible because LEAP's programs are thoughtfully enhancing their entire summer, school year, and life. LEAP recognizes that students sometimes embark on dangerous paths because they have nowhere else to go or nothing pushing them in the right direction. LEAP gives them not only somewhere to go -- but also somewhere that opens doors to the future that they may not have known existed.
Aaliyah, a LEAP counselor, emphasized this through, "Our students and fellow counselors see you outside of LEAP. They don't ever leave, after work, they are across the street. You're always going to see them. They're always a part of you." LEAP isn't just a summer camp or after school program, it's a family that stays with you -- supporting you, supplementing your education, and strengthening your future.
Working in this building, it's abundantly clear that there is something distinctly different about this organization. I spent my morning cleaning up their full-size pool on the first floor. That pool (that offers swimming lessons to over 400 children) exists because the racial and ethnic communities that LEAP serves, primarily African-American and Latinx, drown at 6 times the rate that white people do, and LEAP is doing something about it. In another part of LEAP's community center, my friends spent the morning cleaning tents because LEAP has just finished up outdoor adventure trips; LEAP's students would most likely never otherwise hike in the woods let alone camp without LEAP providing these trips for free with positive role models guiding the trips.
Even in their more conventional programming for the children, LEAP's staff are thoughtful to an extent I had never considered. For their literacy curriculum, they just obtained thousands of new books with culturally relevant themes and characters their students can relate to. They even gave each student 12 books to create their own home libraries. They are redefining service learning projects - one group of LEAP students made theirs an outreach initiative to teach New Haven community members about the history of hip-hop and the impact its themes of violence have had on youth culture. They are teaching their students how to relax through yoga. They are teaching their students to express themselves through spoken word as a part of their literary curriculum. They are committed to empowering their students with education about computer science, robots, and STEM-related fields, and have even won a 2017 Google Rise Award for their work.
LEAP's programs are not only for the children. When they hire counselors, many of whom were LEAP kids, they invest in their futures through offering free SAT classes, financial aid prep classes, taking them on college tours, and partnering with companies to offer scholarships. 100% of LEAP's counselors end up going to college, and that is a remarkable feat. Even more awe-striking, LEAP is the largest employer of youth in New Haven providing income, training, and opening opportunities for the future of a significant portion of New Haven's young people.
If you're someone who is concerned about urban crime, "the danger" of New Haven, or poverty at large -- organizations like LEAP should be at the top of your list of who are supporting, not because they are emboldening the fear-mongering rhetoric you might buy into, but because through education -- it is teaching kids how to take advantage of the resources in their city, it is educating young people to be leaders in their communities, and it is giving them the tools to actualize their dreams. LEAP's work not only makes its city safer through following the lead of the community in enriching the community, it makes this world better by allowing more people to realize their full potential.
So, instead of voting for fear-mongering candidates who do not know the first thing about low-income communities of color, instead of making categorical claims about certain communities, and instead of assuming there is nothing that can be done -- let's focus on uplifting underserved communities, following the lead of those communities in this work, creating a safer tomorrow, and investing in dreams. Let's support LEAP; learn about the organization, spread this message, follow their example, visit their community center, or donate if you can. I promise you won't regret it. In the coming weeks, LEAP could lose almost $500,000 in state funding due to the Connecticut government's financial troubles, and that means that LEAP might have to close some of their doors. If we let that happen, we aren't just letting physical doors close, but potentially we are letting so many metaphorical doors close for the students that LEAP serves. I began this week thinking this would be a one week project that would introduce me to the non-profit scene in New Haven, and I leave with an entirely new perspective on sustainable, productive, and thoughtful service. I leave with an organization that I am so proud to support (in whatever small way I can), and I intend to keep doing that for the remainder of my time in New Haven -- scratch that -- for the remainder of my time on this earth.
Calling all HuffPost superfans!
Sign up for membership to become a founding member and help shape HuffPost's next chapter
This post was published on the now-closed HuffPost Contributor platform. Contributors control their own work and posted freely to our site. If you need to flag this entry as abusive,
send us an email
.