Caged behind metal bars despite having committed no crime, innocent souls lay abandoned, destined for a tragic and untimely end.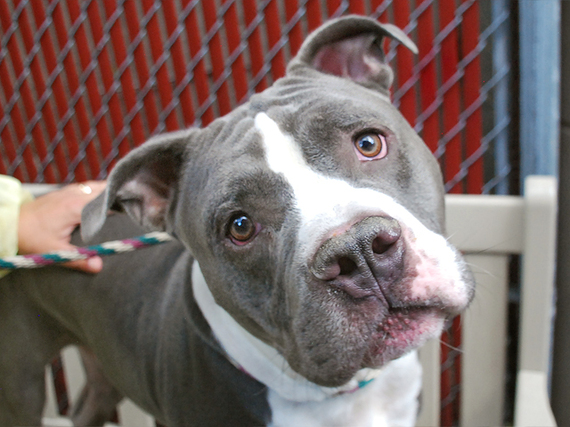 An estimated 5,471 pets perished in 2014 because the Animal Care Centers of New York City did not have the funds or the facilities to support them. This year's death toll looks to be equally as disturbing.
These poor creatures are entangled in a system where their fate is determined by financial viability rather than an undeniable right to exist. For many animals, the sand is flowing quickly and unimpeded. However, there is hope. Every day, heroic efforts are being made on their behalf by countless organizations such as the No Kill Coalition and Urgent Pets on Death Row. Behind these relentless organizations are individuals working hard to stop the slaughter of innocent animals. These are the people whose compassion is sparked by the site of an innocent and friendly animal looking up at them with a slightly tilted head and longing eyes.
Although just one of a thousand sad stories, it was the plight of Gallo, an American Staffordshire, that moved one man, Ralph Pellecchia, to action. Gallo was brought to the ACC after having allegedly snapped at his dog sitter. There were very little details around the incident and despite having passed all his behavioral tests, Gallo was marked as aggressive; a branding that almost assuredly sealed his fate. Pellecchia, having already saved another "Staffie", immediately fell in love with Gallo wanting desperately to save his life too. However, as per ACC policy and in an attempt to save the organization from legal action, dogs like Gallo are available for adoption as "rescue only." This means that only officially sanctioned rescue shelters can adopt such dogs. Certainly, Pellecchia could have adopted Gallo through an official dog shelter but it was on a Sunday that he discovered Gallo's predicament. Gallo's time was running out and the date of his destruction was set. There was no time left to meander through the bureaucracy that was required to save poor Gallo's life. Tragically, Gallo's story did not end happily and it left Pellecchia feeling helpless and broken hearted.
By day an IT Director at the Education Testing Services in Princeton, Pellecchia was determined not to let this happen again. Born out of this needless tragedy, Pellecchia started It's a Dog's Life Rescue of New Jersey (itsadogsliferescueofnj.com) out of his home in Cream Ridge, N.J. In just a few short months, Pellecchia has already made a difference saving several dogs from what was sure to have been an untimely death. But Pellecchia didn't stop there. He recently started a petition (here), asking New York City Mayor Bill de Blasio to turn the ACC into a "no-kill" shelter. A move such as this by the mayor would save thousands of dogs' lives by giving the ACC more time to match these perfectly adoptable dogs with the thousands that are willing to provide forever homes for these loving animals. "You have no idea how rewarding it would be to a part of forcing those shelters to convert to non-kill shelters," Pellecchia shared. Nevertheless, turning the ACC into a "no-kill" shelter is not enough. It will take more space, better-trained employees and volunteers, and extended outreach programs with increased advertising budgets to get the word out about these homeless dogs. Just 5,000 shy of the 25,000 signatures needed to get the mayor's attention, Pellecchia is working tirelessly to reach his goal.
For millennium, dogs have provided humans with countless benefits including superior hunting skills, protection and companionship. Today, scientists have even proven that dogs can detect cancerous cells in their owners. It is no wonder that we have always called dogs, "Man's best friend." However, in an era when there is so much wealth in our society, where sports figures receive seven figure salaries and well-off reality TV stars decorate our checkout counters, it's unconscionable that we can allow even one dog to be put to death. Let us applaud the efforts of selfless organizations and individuals like Ralph Pellecchia who are working hard to save the lives of thousands of animals. Nevertheless, we can all help too. We can opt to adopt or foster a rescue pet, donate money to worthy animal shelters or simply sign the "no-kill" petition to stop the slaughter of innocent animals. Let us all hear the call from those who are loudly saying with actions and words, it is now time that we express our humanity --- it is now time for us to become their best friend.
REAL LIFE. REAL NEWS. REAL VOICES.
Help us tell more of the stories that matter from voices that too often remain unheard.