Finally a holiday is nearing that we can all universally celebrate: Mother's Day! Well, there's Father's Day too, but that's easily taken care of - a box of golf balls, a bottle of wine, and you're done. Moms require a little more thought. After all, they did bring you into the world.
We realize that it can be difficult to find a unique gift or a way to spend the day that hasn't been exhausted in the past. In keeping with the times, we came up with ten great gifts ideas that won't break the bank and might also help the two of you find something you enjoy doing together. Here is our list of the Top Ten Mother's Day gifts for under $50. Our favorite is Number 10, which focuses on a simple note, and a moment of gratitude. We'd also like to take a moment to remember and honor all the mothers that are no longer with us.
1. CLEAR THE CLUTTER
Instead of adding to the mounting pile of items tucked away in the closet or stashed in a drawer, offer to help your mom clean out a closet or re-organize the kitchen pantry. No need to toss all the unwanted goods in the trash -- she can donate them to the Salvation Army or a local community organization. One woman's trash is another woman's treasure! Add the final touch of fresh with Santa Maria Novella's Armenia papers. These amazing papers, manufactured exactly as they had been in the 16th century, remove odors from any space -- just fold one into an accordion shape, place on a glass or ceramic surface, and burn for five minutes. They can also be used simply as scented papers to brighten the air in a musty drawer (no burning required).
Cost: $25.00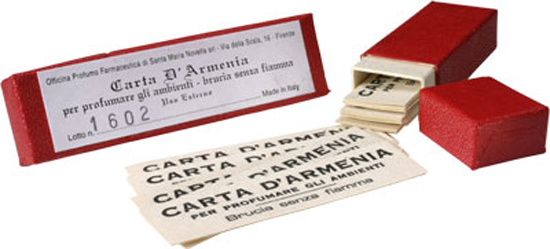 2. NO RESERVATIONS REQUIRED
If you're feeling strapped for cash this year, skip the fancy brunch or dinner and prepare one of your mom's favorite dishes instead. It doesn't have to be elaborate, especially if you're not masterful in the kitchen. Try selecting a simple recipe you grew up with and recruit help from a friend if possible. You can always play it safe and prepare the day before. If you really want to go the extra mile, get this hip Lucite recipe box and preserve your family's traditions by copying recipes into it. The recipe cards are available in several colors and styles and can also be personalized.
Cost: $50.00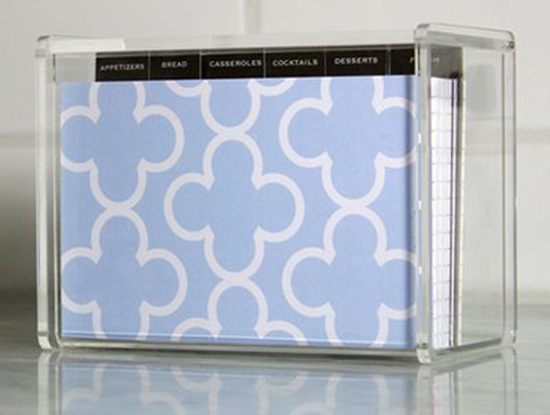 3. GIVE THE GIFT OF GARDENING
In case you missed it, Michelle Obama recently started an organic vegetable garden at the White House. Throughout the country, cities and local organizations are charging forward with the idea of the edible school garden. These programs allow students to plant, harvest and cook their own produce while teaching them about healthful, locally grown fruits and vegetables. Use the Internet to locate a school program near you and volunteer with your mom at the next school work day. Try searching edible school yard or garden school plus your location as key words. If your mom has a garden of her own, lend a hand and spend some quality time in the garden together. Even if you don't have a green thumb, your efforts will be appreciated. Don't forget to get her a pair of colorful garden gloves from Hable Construction.
Cost: $25.00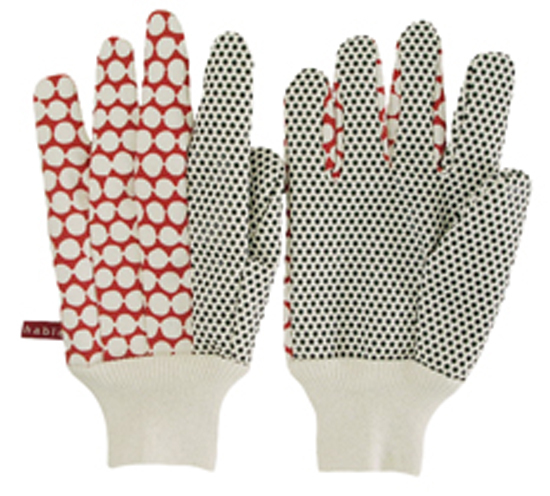 4. SCRAP THE PHOTO CORNERS! SCRAPBOOK SIMPLY!
If your mom is the type who loves to surround herself with photos of her family, this is the ideal gift. Take advantage of the digital age and download your family photos to make a custom album for your mom. Use your most recent photos or, if you're feeling ambitious, scan and download those old baby photos and chart your growth over the years. You can even ask mom to assist in the process and help choose her personal favorites. Then have fun creating the order and writing clever captions together. We like the 8 x 8 leather hardcover version complete with 20 pages.
Cost: $39.99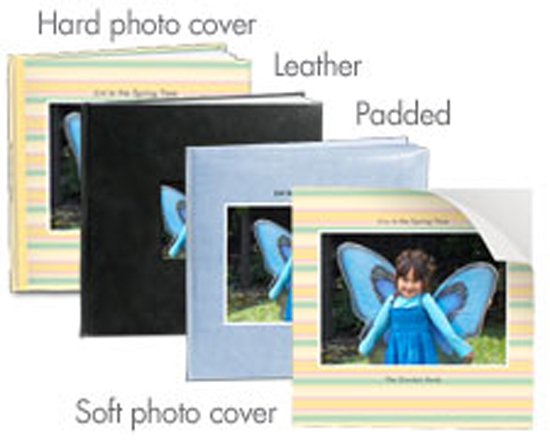 5. BRIDGE THE GAP
The game of bridge has an unfortunate "50s housewives" reputation. In reality, it is a social game that requires skill and concentration, and it could be the perfect game to learn with your mom (if she already knows how to play ask her to teach you.) Take a class or join a bridge group together. On Mother's Day, give your mom a deck of Bicycle eco-edition playing cards ($4.95)
and ""The New York Times Bridge Book: An Anecdotal History of the Development, Personalities, and Strategies of the World's Most Popular Card Game."($13.95) You will soon learn that your mom is the best partner to have seated across the table from you.
Cost: $19.00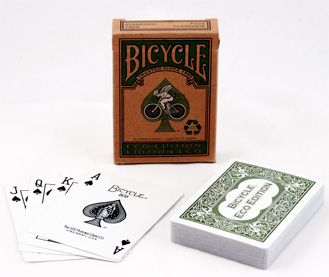 6. BLISS OUT
Times are stressful, and it is a good time to remind yourself to relax, unwind, and stretch. And maybe even sweat a little. Yoga means "to unite." So unite with your mom this Mother's Day. Present your mom with a 100% recycled yoga mat from Spiritual Gangster (available in green, pink and black), find a class in your neighborhood and bliss out.
Cost: $50.00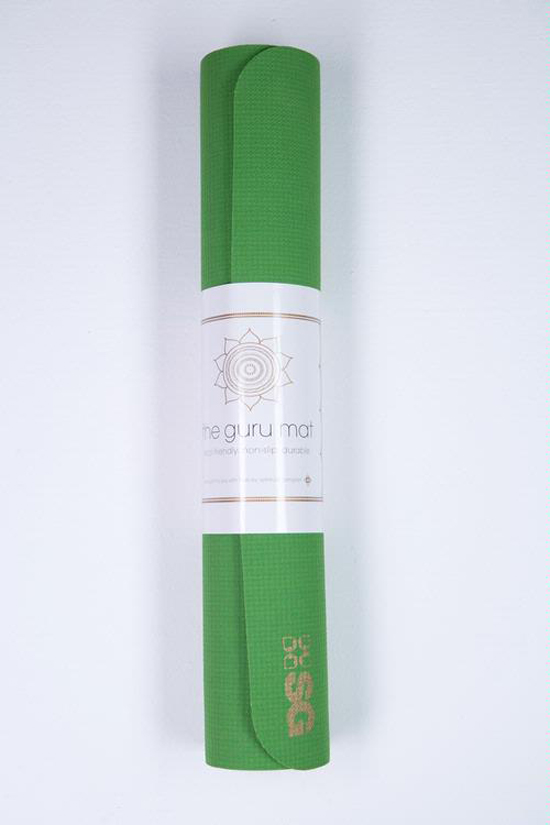 7. FACE TO FACE
Many mothers are technically savvy and have already mastered Twitter, Linkedin, Reddit, Digg and Facebook, but if your mom hasn't made that leap, spend some time with her and show her the joys of social networking on the Web. Set up a Facebook account for her, connect with family and friends, and share photos. Ignore the "Abolish Parents" groups on the website and welcome your mom into your Internet life. (Yikes!)
Cost: FREE

8. SUPPORT THE ARTS
Collecting art is a wonderful pastime but can often be cost prohibitive. With the help of Jen Bekman and her website, www.20x200.com, it is easy to find interesting art pieces for reasonable prices. The site introduces two new pieces of art each week, one photo and one work on paper. Every single print is delivered with a letter of authenticity from the artist. We love the idea of supporting the arts, and you can do that in honor of Mother's Day. Buy her the Mike Monteiro "We Are Going To Make It Through This Year If It Kills Us", and she will think of you every time she looks at it.
Cost: $20.00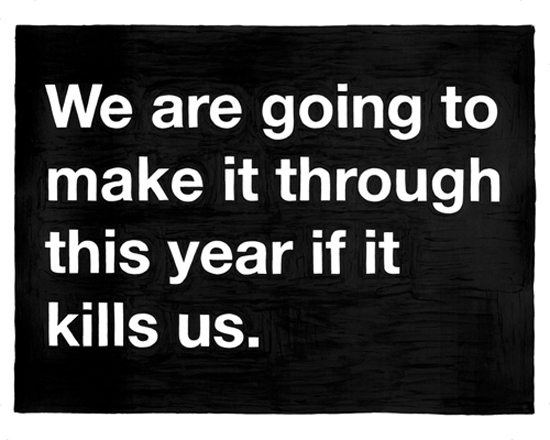 9. LOST IN THE MOMENT.... A DAY AT THE MUSEUM
Get inspired about forming your new art collection. Take your mom to a local museum or gallery and spend the day looking at beautiful things. Stroll the sculpture garden, revel in the antiquities, gawk at the avant garde. After your visit, grab a cup of coffee at the museum café and spend some time discussing what you have just seen. Browse the Web for a museum and gallery guide in your area. Since we are writing this piece from Los Angeles, we suggest a stroll through BCAM at LACMA (don't miss the outdoor installation of Urban Lights by Chris Burden) or go to Bergamot Station for a variety of galleries (be sure to check out the breathtaking Zadok Ben David show at the Shoshana Wayne Gallery).
Cost: Varies by museum. Most galleries are Free.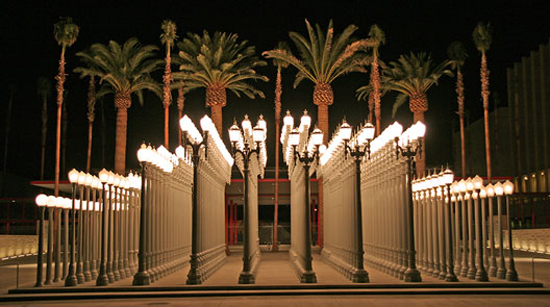 10. A LITTLE THANKS GOES A LONG WAY
Most of us don't take enough opportunities to express to our mothers how much we love and appreciate them. Take the time to write a handwritten note on beautiful stationary. Sharing one or two of your most memorable childhood experiences or perhaps a few humorous moments from family vacations will add an extra special touch. We love this set of Cambridge Blue Damask note cards and matching envelopes.
Cost: $29.00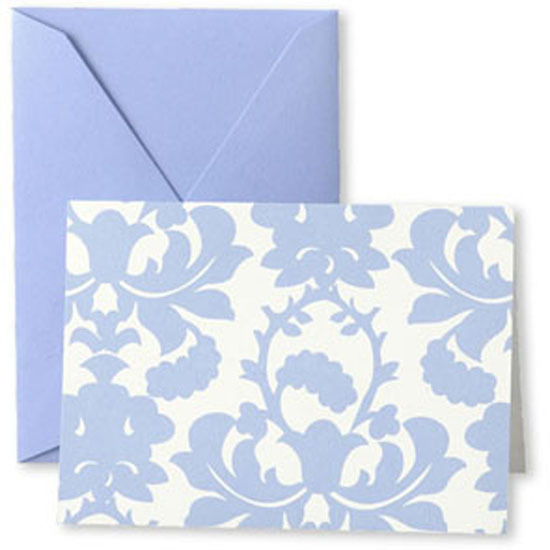 REAL LIFE. REAL NEWS. REAL VOICES.
Help us tell more of the stories that matter from voices that too often remain unheard.