I was on the track team in my high school for three years, and was one of the best girls on the team. Even though I was a great runner, my coach would always pay attention to the boys because of how fast they were, and because the boys got so much attention they would improve, and then get even more attention.
My coach could never understand the difference between a female and male perspective because he is a man himself. I thought, "He will never understand how the girls on the team feel unless we speak up."
All the girls were dissatisfied with our coach because he would never help us with drills or give us feedback on what to improve upon. I was so annoyed with the way the coach was leading the team because it's supposed to be your team and your family, not just a boy team. My friends saw how furious I was, and how I wanted to leave the team. One friend said, "Don't let your coach shoot your dreams away, run for what you love and don't leave the team." I knew she was right and that it was finally time to speak up.
The girls on the team came together. All of us wanted to leave, but we still wanted to run. We went to the coach and told him our concerns. Surprisingly, he listened, apologized and got a whole lot better. He brought in other people to train with us and learned from them how to coach us. We all got a lot closer.
I learned to speaking up for what you love can cause things to really change. Sports are just as important for women as they are for men -- we can do it too! Track is important to me. It is something I dream of doing, and I want to run in the Olympics in four years. I'm going to shoot for that dream. I stand up for women athletes, because people think we can't do it. But we can.
LitWorld's Stand Up for Girls campaign advocates for every girl's right to a quality education. By learning to read and write, all girls in the world can protect themselves against poverty, poor health outcomes and lifelong struggle. Literacy is a skill that once learned, is hers forever. Let us stand together to champion the right of all girls to be Fierce, Fearless and Free.
Stand with us on 10.11.12. Visit our website to learn more and join the movement.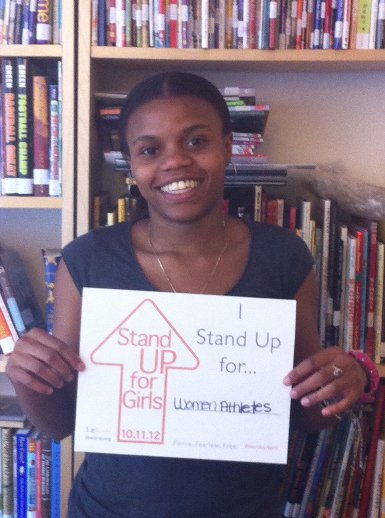 REAL LIFE. REAL NEWS. REAL VOICES.
Help us tell more of the stories that matter from voices that too often remain unheard.