By Kim Simon, Suzanne Barston and Jamie Lynne Grumet
Shame. Isolation. Guilt. Loneliness.
Pride. Perseverance. Hope. Encouragement.
We heard from you by the hundreds. Your strong, beautiful voices, telling us how you feed your babies with love. Your proud, cautious smiles, showing us in pictures how you are sharing your messages of support. Every bit of grace that you extended to other parents opened the door to your own private journey.
Your journeys were measured in numbers: How many months you breastfed. How many days your baby spent in the NICU. How many ounces you pumped. How many months you waited before adopting the baby whom you fed with love.
Your numbers told a story. Your numbers matched a face. We were able to see you for the strong, passionate, inspired parents that you are. Your voices drowned out the judgment that has been fueling the "Mommy Wars." You are not breast milk vs. formula. You are moms and dads, reaching across the feeding landscape to embrace each other.
You are inspiring. You are making a difference. And we want to amplify your message. What does "I Support You" really mean? How can you bring the message of support back to your own communities? The three of us, along with Lisa Belkin and HuffPost Parents, have been listening to every word that you've shared. We've felt your joy as you've celebrated your first year of breastfeeding. We've cried with you as you've shared what it looked like to bring your preemie home and feed her with formula through a G-tube. We've respectfully listened to you raise the concern that this movement should not have been birthed during National Breastfeeding Month. We've been paying attention, and we wanted to honor your ideas by putting together a list of suggestions about how to move "I Support You" back into your own communities.
The connection between breastfeeding mothers and formula-feeding parents is strong. Both experiences are often woven together with fragile threads of guilt, an absence of adequate support and education, and a depth of misunderstanding. The three of us, with your input, have identified the following things we can all do to bridge the gap between both sides.
Start addressing the real reasons why women are unable to meet their breastfeeding goals. Encourage medical care providers to offer timely education and preparation around breastfeeding. Provide women with accurate research so that they're empowered to make their own decisions. Make lactation support services readily available to all women, and promote open conversations among peers about what breastfeeding really looks and feels like.
Provide better educational materials and assistance for formula-feeding parents. Recognize that formula-feeding parents deserve access to healthy formula choices, unbiased information about how to use, prepare and store formula, and support as they evaluate their feeding choices.
Focus on peer support and maternal mental health, in addition to feeding support. Care providers must be educated in non-judgmental, solution-focused options in order to avoid an Us vs. Them mentality. Treat the whole person and the family unit, without promoting a particular agenda. Use conversations about feeding as an open door into the lives of new parents. Provide timely screenings for pre- and postnatal mood disorders, and follow up with relevant resources and support strategies.
Put our support into action. Send a message of encouragement to a new mom. Ask the person sitting next to you in playgroup to share their story. Volunteer to run a breastfeeding support group at your local homeless or domestic violence shelter. Make a "quiet time basket" for a new mom's older child to play with while mom is feeding the baby. Bring a meal to a new adoptive family who is experiencing the same 3 a.m. feedings you are. Leave a supportive comment on a Facebook page or blog. Offer to share your feeding tips and tricks with someone who is just starting out on a similar path.
Recognize that we have a larger responsibility to ensure that all children in our local and global communities are nourished. Discuss why the infant and child mortality rates are higher in areas with contaminated water. Demand that all families have equal access to information about feeding choice, quality formula options and accessible health care.
The I Support You movement is a launching pad for us to start fresh -- to teach the next generation of moms that to be a breastfeeding advocate does not necessarily mean you have to vilify formula; that there's a way to be positive and empowering in your advocacy. For formula-feeding parents, I Support You is a challenge to stand up for breastfeeding rights -- to understand that nurse-ins are not about formula hate, but rather a protest against misogyny and conflicting messages about how (and where) women are supposed to use their breasts.
There is a place for each one of us in this movement. A place of compassion, a place of kindness, a place of respect. Take the time to listen to each other. Spend a moment this week discovering something new about the mother sitting next to you at the park. Choose one small act that will let someone know that you see how hard they're working at feeding their child. And most importantly, hold your head high, kiss the sweet little faces that you are feeding with love, and know that there are thousands of parents reaching out to you today to say I SUPPORT YOU.

Please join us to share your story, ask questions, and brainstorm solutions at our Twitter Party on August 7th at 5:00 p.m. PST/8:00 p.m. EST. #ISupportYou
See moms' messages of support here, and if you'd like to add your own, press "add a slide" below, tweet us @HuffPostParents using the hashtag #isupportyou or send it via email to Barston: formulafeeders@gmail.com.
Related
Before You Go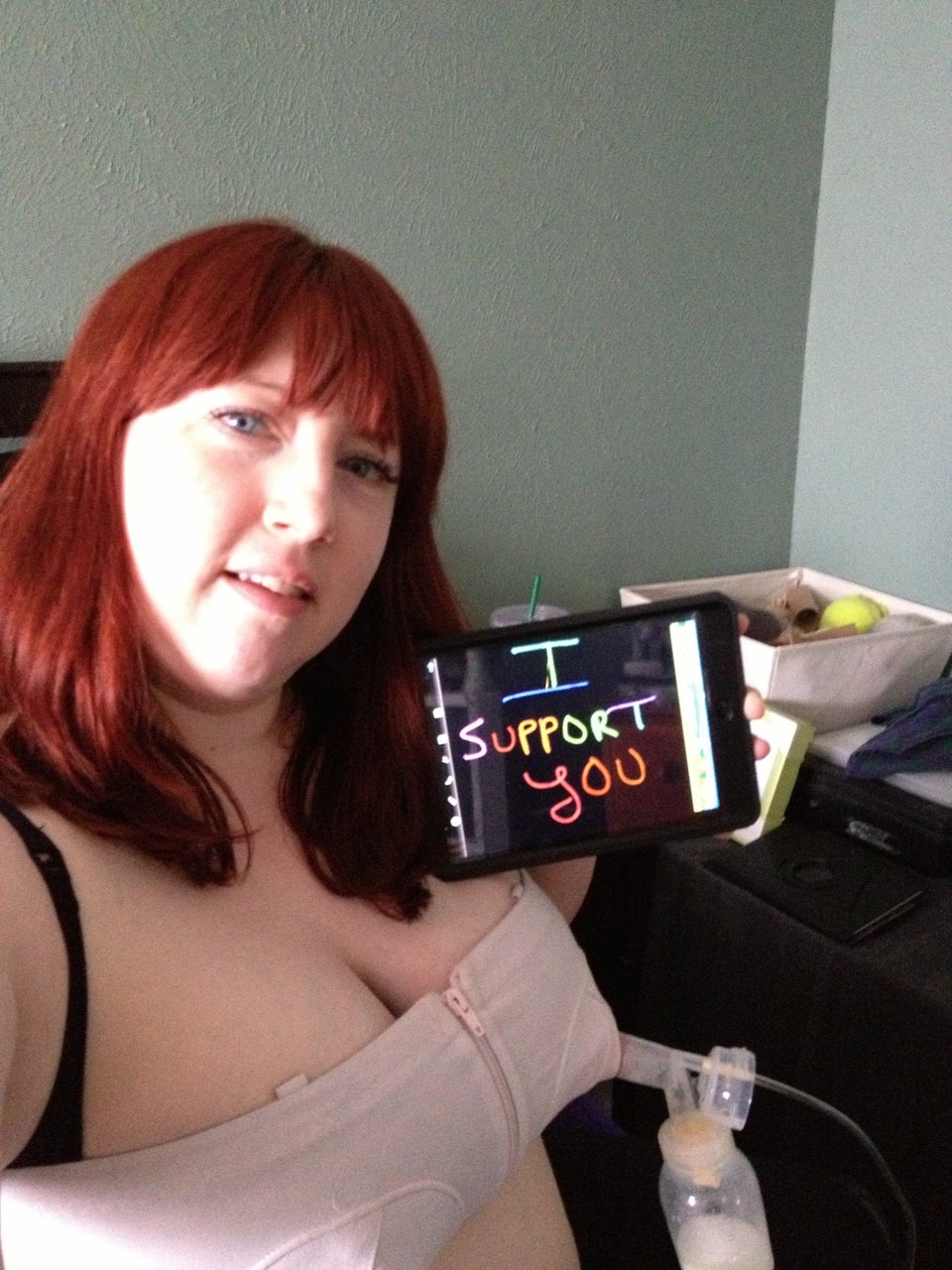 I Support You