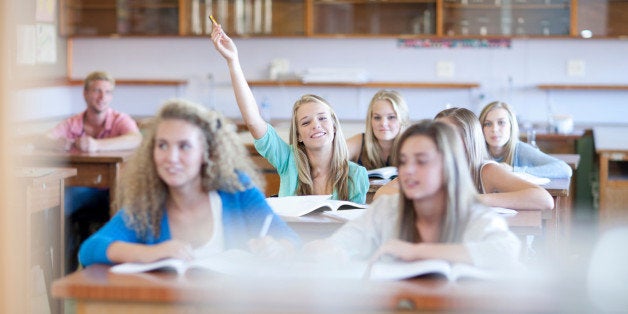 Eat a cupcake for the poor!" decrees the most well-intentioned lower school child. Later, in a lackluster fashion, this same student checks off boxes on a high school community service form to demonstrate that she has fulfilled the school's required service hours.
I have heard these words and witnessed this action more times than I care to admit. While it took me some time (more than I care to divulge), I eventually came to the realization that I simply could not go on teaching a leadership training course about "finding your voice" and "making an impact on the world" while watching my students take such a nonchalant approach to the most important work of their lives: helping others.
So, armed with a philanthropy curriculum that I designed over the summer, I started teaching "giving" classes to students in the third, eighth and eleventh grades. I thought it would be effective to begin with a theme song -- one that could move spirits across the ages. I chose We are the World, co-authored by Lionel Richie and Michael Jackson, as I remembered how it had so profoundly affected me when I first heard it in July of 1985. I was on our family vacation in southern Maine, the point of constant return as my parents had "honeymooned there," and I recollect the way that I was glued to the television set as the Live Aid concerts in Philadelphia and London took to the airwaves. The song inspired me to give in a way that I had never done before, and while I was raised in a Calvinist household and was taught that hard work is the essence of human existence, I had somehow not been instructed to donate money to charity or raise money for a cause. The true cause was "me," and if I didn't work hard enough, that "me" might just sink in a competitive sea of other more worthy "me's." Sure I had friends and "frenemies," but I did not do anything more in my middle and high school years than babysit for as much money as I could possibly get in order to save up for college so I could become my "best self."
The drive to be my "best self" took me to my true calling (remember the Calvinist upbringing?): teaching. Perhaps one could "blame" my father for nurturing this interest in a profession that lacks the social reward of social prestige: to this day, I can still see him leaving the house early on Monday evenings to teach a night course in engineering (we needed extra money) while I fled to the basement to instruct imaginary pupils about the meaning of life on a gorgeous blackboard that he had installed for me in the cellar. Frankly, I still bemoan the disappearance of chalk in the schoolhouse today: I yearn for those days when my hands betrayed my silence about a class that had just gone really well.
Even with Whiteboards today, I cannot envision my day without at least one class devoted to teaching students that no gift is too small to make a difference. A historical spotlight on the March of Dimes illustrates this point: the scourge of polio was eradicated in this country by contributions made by ordinary citizens who literally mailed in their dimes to the White House. Time in "giving" classes must be devoted to exploring the meaning of the word "philanthropy," which involves donating one's time and talents to raising funds to help raise money to give to others. Can you make a craft? Offer a yoga class? Give a concert?
This thought about the donation of time and talent leads me back to family and to my dear mother, who did what she thought she was supposed in the 1970s and 80s and prepared the dinners for my father before he headed off to be the "provider." Today, she has come into her own and serves as a role model for me and others in the realm of philanthropy. In her own words: "For the past few months a group of women gathered at my home for meditation. We decided to contribute money when we felt like it. When $100.00 was reached, the money was given to our Town Clerk for distribution to a needy family. We feel that each one of us has a wonderfully rich life and we have a desire to share in as many ways as we can, as an expression of our gratitude. This need for sharing comes from a realization that we are connected to everyone on the planet and as one is helped, many are helped."
On that note, I shall go back to my work and try to cultivate in my students a deep and genuine commitment to giving.
This post is part of a series produced in celebration of #GivingTuesday, which will take place this year (2014) on December 2. The idea behind #GivingTuesday is to kickoff the holiday-giving season, in the same way that Black Friday and Cyber Monday kickoff the holiday-shopping season. The Huffington Post will feature posts on #GivingTuesday all month in November. To see all the posts in the series, visit here; follow the conversation via #GivingTuesday and learn more here.
And if you'd like to share your own #GivingTuesday story, please send us your 500-850-word post to impactblogs@huffingtonpost.com.
Related