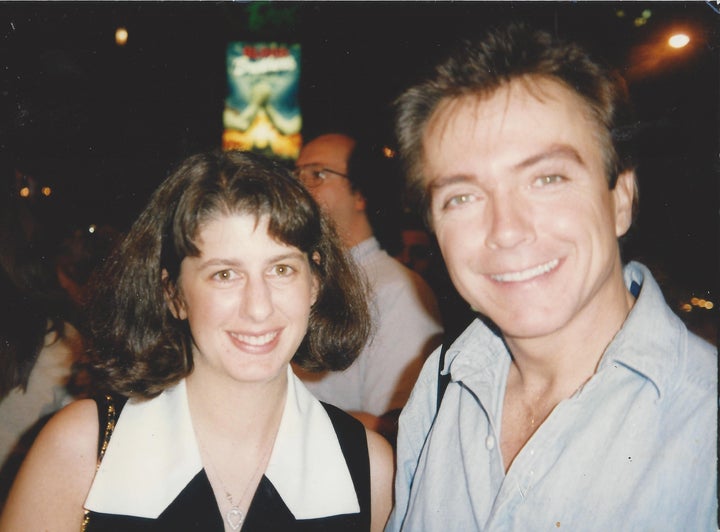 On Saturday, I got a text from my cousin that David Cassidy was in a coma with organ failure. The news really stopped me in my tracks. Celebrity deaths happen every day, and many of them make me pause — especially the ones who remind me of my youth, like Michael Jackson, George Michael, etc. I think about their music or movies that they were in and feel nostalgic for talent lost and bygone days.
But the news that David Cassidy was critically ill made me really sad — he was my first and biggest crush. There were others of course: Bobby Sherman, Donny Osmond, etc. But no one was David.
I know he was not just my first love. When I posted a picture of David and me on Facebook from when I saw him (and his brother Shaun) in the show "Blood Brothers" on Broadway 24 years ago and said he was in the hospital in critical condition, there was an instantaneous response from many women my age who felt the same. They were all equally upset and commented how posters of him had adorned the walls of their childhood rooms. I'm still getting comments and private messages about how much he meant to them ― personal recollections and anecdotes. We feel a kinship with one another, a bond that's hard to explain.
There was just something about David. He had the smile, the charm, the voice and, of course, the hair. He wore his pukka shell necklace and bell bottom jeans with confidence.
I looked forward to Friday nights and "The Partridge Family" all week. Even though David's character Keith was not as cool as he was, when he sang his charismatic persona shone through and I was completely captivated. I knew every word to every song on those Partridge Family albums and sang along lustily, using my hairbrush as my microphone. I knew that David's favorite color was green, his birthday was April 12 and his favorite song was the "Thrill is Gone" by B.B. King. I read everything about him in Tiger Beat magazine and imagined I was his girlfriend. There have been many other teen idols since David, of course, but none as big. None have even come close. He was lightning in a bottle.
Long after I grew up, his music could still make my heart flutter and remind me of some of the nicest moments of my childhood. After I saw him in his show on Broadway, I waited outside the theater door to meet him. He started to walk away but my husband yelled out that it was my thirtieth birthday. So David graciously came back and wished me a happy birthday and we posed for a picture. We didn't have a camera with us, so a lovely couple from England snapped that photo and took my address. Months later, long after I had ceased thinking about it, the photo came in the mail. There was no return address on the envelope so I could not thank them, but their kind act meant a tremendous amount to me. (If this piece somehow makes it to you in England, I am forever in your debt.)
I had the opportunity to see David perform in person again 15 years ago, and I was once more reminded how talented he was. David had had his share of personal struggles but his voice was still strong and sure. During that concert he sang many of the songs from "The Partridge Family," as well as others. Despite the fact that we were both now much older, I was instantly transported back to my youth. He seemed to embrace what he was to a generation of women who fell in love with him more than three decades earlier and, although he probably didn't understand it (because who really could), seemed to appreciate that some of the old feelings still remained.
In recent years I read about his failing health, which included alcoholism and dementia. I felt sorry that, despite his talent and fame, his life was such a difficult one. I listened to many of those old songs yesterday after hearing the news and still knew all the words.
Thank you David, for the music, the fun, and for being my first love.
Popular in the Community