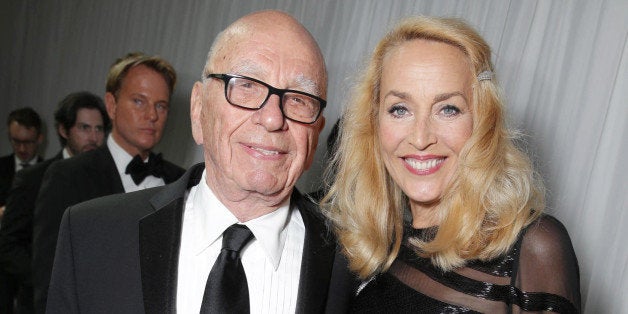 I woke up this morning to see that Jerry Hall is engaged to Rupert Murdoch. I'd admired her for years as she's never been afraid to say exactly what she thought, just like Lena Dunham and Amy Schumer today.
The Twittersphere went nuts about the engagement of a 59-year-old woman to an 84-year-old man, and every tweet I read was negative. Many tweeters accused Jerry of marrying Rupert for his money, as if there couldn't be any other explanation for the marriage between the two. One witty tweet by @TheAlPitcher read: "Please support my kickstarter campaign for Jerry Hall. We can get her the money. She doesnt need to do this."
I am one year younger than Jerry Hall and so the subject hits close to home. As I drank my morning coffee and winced at the Twittersphere comments, I found myself wondering: why would such a lively woman marry a man only four years younger than my father? And my father's still in good health for 88--he plays tennis three times a week and when I drove him to his orthopedic appointment last week, the doctor told him how great he was aging and then asked if he drank, clearly trying to confirm if he could still drink and age as well as my father.
Undoubtedly, Jerry Hall's dating options narrowed as she aged because of men's preference for younger women. Even Christie Brinkley wryly mentioned a few years ago that she feels invisible to men her age. (Though John Mellencamp has now stepped up to the plate. I think I'll download some of his music on iTunes, in appreciation.)
Studies have shown that men's preference for younger women grows even wider as they age. Christian Rudder, one of OkCupid's cofounders, used data from his dating website to thoughtfully analyze the dating patterns of men and women in his recent bestseller Dataclysm. According to Rudder: "Women always want men to age with them. And men always head toward youth." Sounding almost sad, he writes that his data shows that as a woman ages, "fewer and fewer of the remaining single men would find her attractive. Her dating pool is like a can with two holes--it drains on the double."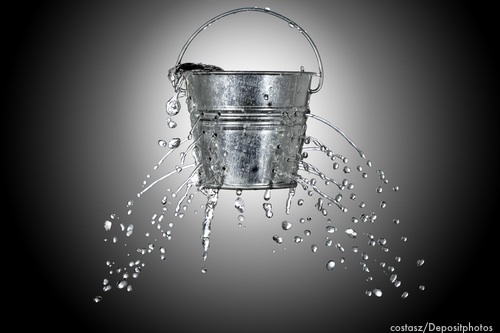 And we "aging" women can get awfully tired of the ever-present ageism. Seventy-year-old Helen Mirren got in a good dig at the Golden Globes while presenting with 46-year-old Gerard Butler. Up on the podium, he turned to her and said, "Helen, I have to say you look absolutely lovely tonight." Clearly fed up, and probably fueled by a drink or two, Helen replied, "Thank you, Gerard. So do you, for your age." The party went on, the internet ignored her comment, but I cheered Helen on from my own tipsy party at home.
Jerry and Rupert's engagement made me think about my own experience while online dating in Jerry's age group. I had completely stopped online dating, but briefly went online again when a friend of mine convinced me that a computer geek she'd been corresponding with would be perfect for me. I never did find the cute geek, but I soon ended up on a date with a widower during which I spent most of dinner sympathetically listening to him lament the passing of his beloved late wife.
I went home and noticed in his profile that he would now only date women five years younger than his irreplaceable late wife, and that he had lied about his own age. (I promptly hid my profile and made sure my subscription wouldn't renew. What was Einstein's definition of insanity? Doing the same thing over and over again and expecting a different result?)
Early on while online dating, I met a man for a drink who had indicated that he would only date women six years younger than he. After a deliciously chilled Pinot Grigio, I asked him what he'd do if the hottest woman from his high school contacted him on Facebook. He smirked and said, "I went to an all-boys high school." As I gestured to the waitress for another drink, he told me that he was "draconian" about the way a woman's body looked. (I don't know how online dating would function without alcohol.)
At one point in time while online dating I wrote on my profile that I wouldn't date a man who wouldn't date a woman his own age. I explained that if they couldn't bring themselves to do it, why would I? I quickly dropped the line, or I would have had few men left to date in my Florida beachside city.
I'm going out on a limb here: I think Jerry Hall is marrying for love. I would imagine that Rupert Murdoch enjoys being with her, respects her, doesn't wish she were younger, and seems genuinely happy and delighted every day that he is lucky enough to be with her. Which would all be unusual feelings while dating in one's 50s.
Here's what I have to say to Jerry and Rupert: you have my best wishes. I'm sure Jerry woke up this morning blissfully happy that she is with a man who appreciates her personality, intelligence, and stunning good looks. And knowing Jerry Hall, she doesn't give a flying you-know-what what the Twittersphere thinks about her, or anything else.
REAL LIFE. REAL NEWS. REAL VOICES.
Help us tell more of the stories that matter from voices that too often remain unheard.