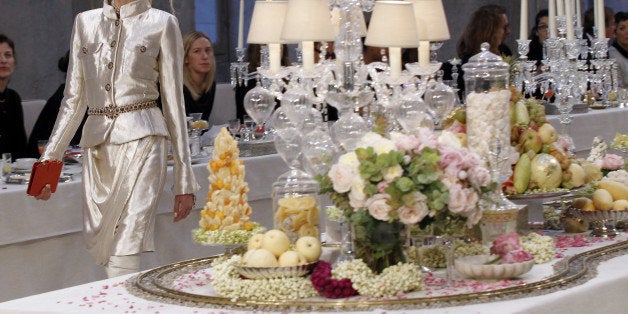 Bonjour, wedding planner!

'Tis I! The blushing bride-to-be. I heard you had a smidge of trouble interpreting the 35-page PowerPoint presentation of my wedding table vision that I overnighted to you. Personally, I'm confused by your confusion, but I'm guessing it had something to do with my Louis XIV-meets-great-plains-of-Nebraska table theme? I told you my mother (DNA testing to prove motherhood pending) is forcing me to get married there, right? You still don't understand how 17th century imperial France could blend seamlessly with the Husker State? I see. Well, let me explain.
The first thing you need to imagine is that the table is an enchanted forest come to life with over one thousand white flowers, billowing blades of wheat -- we'll need custom ceiling fans for that -- cornmeal shaped into Pawnee and Lakota tribal patterns and a few artfully placed wooden birds carved from local Silver Maples. I want it to feel organic and relaxed, but not be organic or relaxed.
Okay, so that's the Nebraska influence, but on another level, the table is also home to the beguiling opulence of the Ancien Régime. The often imitated but never duplicated Sun King. I'm thinking footmen. Wigs. The higher the hair, the closer to Martha. We'll need the requisite thirty dishes served at dinner. Royal ballotine of pheasant -- because of the Bourbons' passion for the hunt -- stuffed duck à la Villeroy, a morel soufflé wrapped in heavy gold leaf, edible candles in towering silver candelabras and more fruit than a newbie vegan could eat in a month. The utensils for this feast have to be antique silver and we'll need some odd tiny forks that no one knows what to do with. The napkins, one hundred percent pure linen and folded to resemble a small French shoe. As for the menus, they'll be calligraphed by a one-eyed man I found on Etsy. Buy three get one free! The paper will be letterpressed an inch thick and the exact color of Louis XIV's eyes. Should we have them hand delivered by doves to each guest? Or, I guess that would be foot delivered? I love that, actually. Let's add that. Ah, doesn't it flow together effortlessly!
No? Still, no? Hmm, how can I phrase it differently? Okay, imagine you're an exotic yellow ladybug. A French ladybug. Mademoiselle le bug. And you're crawling around in an enchanted forest with gorgeous lights and brush and flowers. There is also cutlery! Picture the forks and knives as tiny silver logs. And so much champagne. Which is just an added bonus.
As for the actual table, it has to be one long mahogany table, but slightly serpentine and able to seat three hundred. Remember -- wait shouldn't you be writing this down? Here, use this India ink and ostrich quill I brought. Where was I? Yes, the guest list. Aunt Jenny cannot sit next to Cousin Millicent, that husband-swapping incident of 2006 still burns bright in family history. And please keep my college friend Michael away from hedge fund manager A, and hedge fund manager B for that matter. I don't need any cyber crimes committed during my father's toast. And on to that, since my father and I are estranged, I'm having him played by a man who did an amazing King Lear at the Globe Theatre last summer. I found him on WeddingWire! A solid five-star rating and a discount for weddings between November and March. Oh, did I mention that all of my bridesmaids are celiacs? If I see one breadcrumb on their plates I swear I will commit seppuku with my bouquet. Wait! No, don't walk away; we're only on page five!
What was that? How will I pay for all this? Well, I'm thinking of selling an egg to a wonderful couple in California and my offer of one good young kidney is getting a lot of hits on that organ trafficking website in Moldova. Don't worry, I'll have the money!