"I don't belong here." "My people don't do yoga." "I thought I was the only one."

It's our movement. We rise together creating visible, unified, diverse yoga leadership as a site for social change. With stories.
Through image, written word, telling our stories as part of the cultural, social, and practical fabric of yoga today we create visibility, mutual uplift, collective conversation and cultural change.
By sharing stories we seek to heal trauma while uplifting excluded groups and create safe space for greater yoga accessibility. We each contribute to this movement by sharing our stories near and far.
I am running an interview series with yogis and groups of diverse experience and backgrounds, communities and practices throughout 2016.
It is time for our current yoga world to change -- to transform in the spirit of love, in the spirit of openness, and in the spirit of inclusivity, in the spirit of ahimsa.
'
This week we get to hear from a community that is leading the movement to change representation in yoga from Black Yogis.

Susanna Barkataki: So what motivated the start of Black Yogis?

Black Yogis: I started practicing yoga after being laid off during the big recession in 2009-10. Out of curiosity I started searching on Tumblr for images of people doing yoga. I saw people sharing pictures, but I didn't see any (or very few) images of people of color, especially black people. I decided to start this blog Black Yogis to have a collection of images Black people doing yoga. The name "Black Yogis" was chosen because it would be easy for others to search for these images.
I started to wonder who else is out there? I began to find inspiring people like blogger Chelsea Jackson Roberts, PHD; Kemetic Yoga guru Yiser Ra Hotep Lawrence; wellness activist Sari Leigh, global instructor Faith Hunter and phenomenal yogis/teachers like Sensei Ishmail and Sherman Morris. I also found that there were many prominent Black people who had been long time yogis: Kareem Abdul Jabar, Sonny Rollins, Angela Davis, Eartha Kitt and the list goes on.
At the time it was very difficult to find many of these images and personalities. Soon people began sending me their photos on Tumblr. And the messages started pouring in. "Thank you. I Thought I was the only one." "These images are very inspirational." One women commented that although she was not a person of color she appreciated the range of body types included which was not the norm in many spaces featuring yoga on the internet.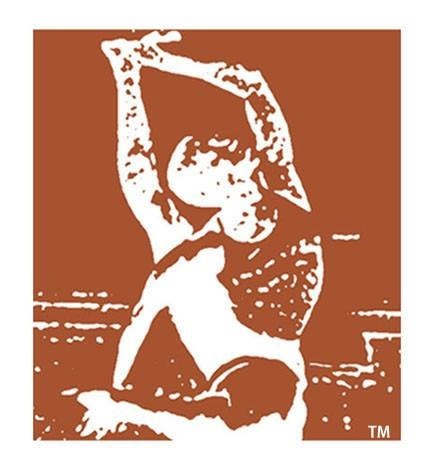 Susanna Barkataki: That is so powerful. So what people, communities, groups, influenced and shaped Black Yogis evolution?
Black Yogis: With my blog I try to show a diversity of images -- men, women, children, seniors, community practice, thin yogis, full-figured yogis, advanced practitioners as well as beginners. etc. Although images of advanced yogis are great for motivation some may get the impression that the practice is beyond their reach, so a balance of images is important.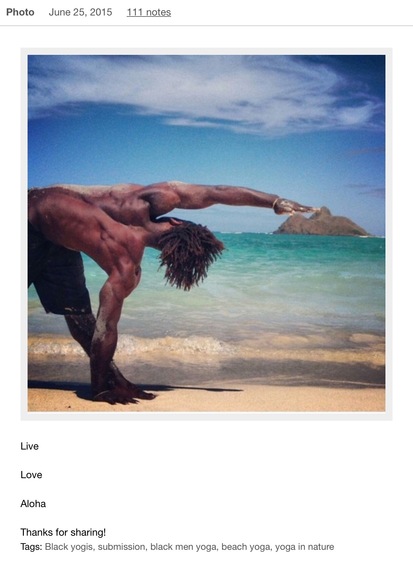 Susanna Barkataki: So true. Tell me more about the need for this kind of work?

Black Yogis: The images of Black Yogis span countries and cultures. I've connected with yogis (practitioners, instructors, studio owners and entrepreneurs) in places such as South Africa, Ghana, Nigeria, Kenya, Sweden, London, Jamaica, Grenada, Trinidad and Saint Maarten..
When I started the blog it was just about photos. But it is now far beyond that. Images are powerful, they play on our mind and shape our view of reality. If not, marketing executives wouldn't exist.
The blog has become about connecting, creating community, knowing others are out there, seeing what others are doing. That is inspiring and adds to collective empowerment.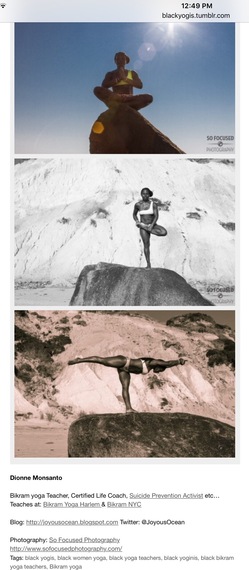 Susanna Barkataki: That sounds so powerful. Has this practice helped you or others overcome internalized or external oppression?
Black Yogis: The practice is empowering because it has the potential for the practitioner to realize the power in oneself rather than seeking it from outside. I found that the practice is very much about developing self-awareness, the good, the bad and the ugly of it. It's an experience that no one can interpret for me and it can't be taken away, like money or status.
Susanna Barkataki: Any challenges with sharing these images?

Black Yogis: Sometimes people say, "why are we talking about race?" The are many mainstream outlets that only represent a hand full of black people and people of color yet that is not shocking to most. Whereas some have reacted to my blog with shock and outrage. Hopefully the shock can cause people to instead, say, "why haven't I been seeing these images?"
Susanna Barkataki: Yes! Thank you. This is so powerful. Anything you'd like to leave us with?

Black Yogis: Doing the blog inspire me, empowers me, and encourages me to continue and to do more. I hope it empowers and inspires others. That is the power of community whether it is physical or virtual community. It is very important to have those voices and people that you are connecting with and knowing they exist.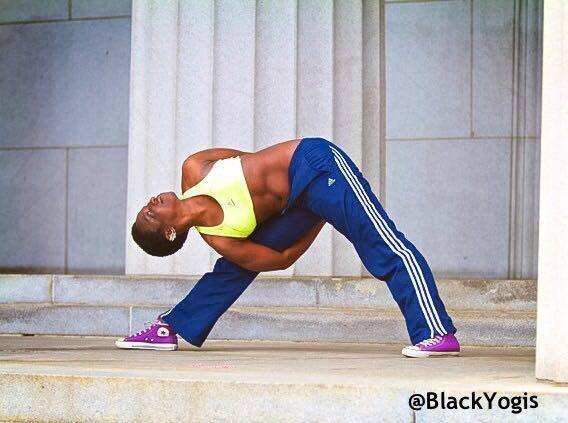 Black Yogis founder Robin Rollan began practicing yoga in 2010. Her yoga practice consists of equal doses of Vinyasa and Bikram Hot Yoga. She counts Sherman Morris (@ShermanMorrisYoga) as her main teacher. Shortly after beginning her yoga practice she created the Black Yogis blog on Tumblr as an attempt to create a balance to narrow of image of yoga practitioners on the web.
Support this movement in diversity in Yoga! This is ours. I invite you to be this change as well in whatever way works for you. Share, like and spread these interviews. Write, read, share, speak, create! Represent and uplift. Diverse Yoga Leadership as a Site for Social Change