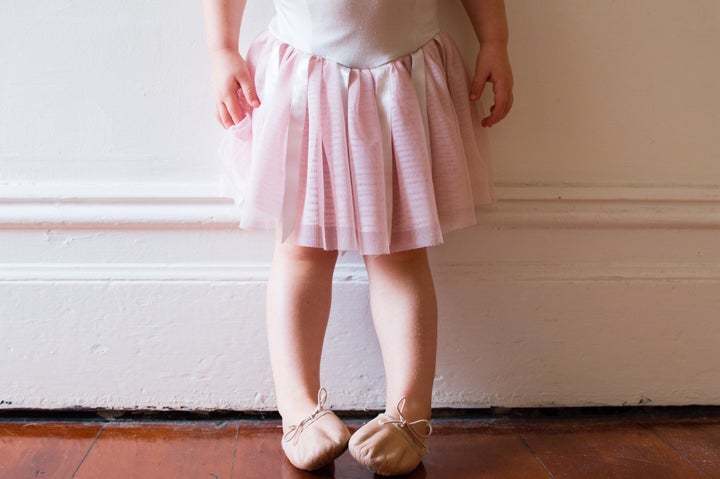 Growing up, dance was a huge part of my life. I took lessons, entered competitions and even traveled to New York City to attend conventions. I loved every minute of it.
So naturally, when my daughter was born, I couldn't wait until she was old enough to begin taking ballet. When she was just shy of 2, I walked into a dance studio in a nearby town and signed her up for their baby class.
When I got home, I promptly ordered ballet slippers, a leotard and a tutu. As I took those tiny slippers out of the box, I was filled with nostalgia ― and relief that ballet shoes now come with the elastic straps already attached, saving me a trip to the shoe repair shop, unlike my own mother.
On the morning of her first class, I posted the obligatory Instagram picture of her looking especially precious in her lavender leotard.
But after the initial feels, the only thing I enjoyed about our first year of dance was the 45 minutes it gave me to grab coffee and a scone at the cute café down the block with the other mom whose daughter was in the class.
It's not that baby ballet isn't cute ― there are few things more adorable than a 2-year-old in a tutu. But I soon learned dance is way more involved than I think a toddler activity should be. I just want my daughter to move around for the better part of an hour (the way she does in gymnastics class, a decidedly more low-key experience, at least at this age.) I don't want to buy a monogrammed dance bag or a neon hair poof while she does so. And while I'm not opposed to a recital—though, I must confess, we snuck out of ours once it surpassed the three-hour mark and the end was nowhere in sight—there's a whole production quality to that, too.
First, there's the costume, which comes with 17 different pieces, and then the need for hair and makeup. (Securing a bun with bobby pins on a squirming toddler should count as a performance in itself.) And call me prudish, but I felt kind of weird putting eye shadow and lipstick on my 2-year-old. And since our studio required a full dress rehearsal, we had the added bonus of doing this twice. This is not counting picture day, another opportunity for full recital regalia. On the ride there, my daughter tore a huge hole in her tights and pulled out her admittedly messy bun, which I took as a sign that dance probably wasn't for us.
And yet, I still felt guilty about this. My mother spent countless weekends and hours of her life schlepping me to competitions and conventions, and I barely survived one measly recital weekend. My cousin, whose 5-year-old daughter is "all in," as she puts it (pageants and competitions and makeup application that could rival a professional's), lights up when she talks about watching her child perform. Granted, my daughter, now 3, is still pretty young, and we can always pick ballet back up when she's older and expresses interest in doing so. But I couldn't shake the feeling that I was depriving her of a rewarding experience just because I didn't want to be bothered.
Which is why a few weeks ago, despite the fact that I decided we were going to take a break from dance, I reluctantly agreed to try a demo class at the studio one of our close friends attends. When we arrived, my daughter was super excited to don her dance attire and twirl around with her besties in the waiting room. But as for the actual class? She just wasn't that into it. And I couldn't be happier.
This piece was originally published by Michelle Hainer on Mommy Nearest. Michelle Hainer is a writer whose work has appeared in InStyle, Country Living, People, The Washington Post and Time Out Kids. In her spare time (ha!), she blogs about her favorite recipes on Made By Michelle.