When I found out I was going to attend SXSW Interactive 2014, I did what any expectant mama would do: started a Twitter account for my unborn child. Opportunity Baby would be just 10 weeks old, but I was determined to go. My colleague and mentee, Cara Willis, won a scholarship to attend for her amazing social media work with the Opportunity Index. Plus it was an incredible chance to learn, network and get to know some new potential partners for Opportunity Nation, a national campaign to increase access to the American Dream where I've worked for the last five years.
Luckily, I work for a pretty amazing boss who didn't bat an eye when I told him I'd go, but planned to bring the baby along. With my husband manning the fort with our 2-year-old, Opportunity Baby and I headed out for a Texas-tinged, technology-infused adventure. We left Boston early on a JetBlue plane filled with hipsters and iPads. Opportunity Baby slept the whole way there, and I managed to get a little work in with Cara.
I pretty much checked off everything on my SXSW list. I heard Edward Snowden talk about privacy issues and Jean Case discuss how to be fearless. I met some cool people (Sally Kohn, Jehmu Greene, among others). I had a celebrity moment (ironically with Jason Ritter, who I recognized from NBC's "Parenthood"). I ate tacos, bought a t-shirt and wandered 6th Street. And to top it all off, I became an expert at installing the car seat base, which, by the way, is a full body workout.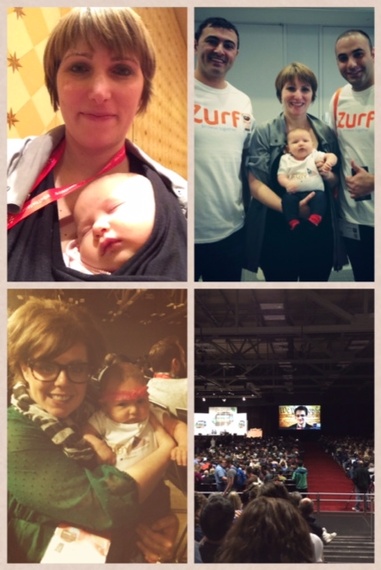 (Clockwise from upper left: Waiting in line for a session to start, meeting some app developers with better branding than us, Cara and babe at session on Millennials and view of Edward Snowden from risers)
Not surprisingly, the baby-friendly session award goes to the Women in Tech meetup, hosted by Dell, AT&T and IEEE. Not only did the organizers welcome us warmly, they introduced lil' Opportunity Baby, gave me a hand with lunch and included us both in the conversation. And we had a little help from our friends at Berklee College of Music, who let us use their room at the Sheraton as a home base. It was also inspiring to meet other moms and dads who brought their kids, and make some new friends and playmates.
Of course it wasn't all glamorous leaning in and having it all moments. There were diaper changes on bathroom floors, bouncing her up and down hallways outside sessions I didn't want to miss and an unfortunate meltdown on a shuttle bus. The baby napped a lot; I did not. And yes, there were a few baby haters. But nothing that Opportunity Baby couldn't handle on Twitter.
So even though I packed too many diapers and not enough outfits and didn't get to attend all the sessions (or parties) I wanted to attend, I would absolutely do it all over again. The more women (and men) who show up with their kids, the more we demonstrate that parenting is simply a part of a balanced and healthy life. We need more technology, innovation and social change, and can't afford to sideline talent just because they have young kids. Besides, can you really say that a baby -- even a crying one -- is any more disruptive than a cell phone or the crinkling wrapper of a protein bar being opened?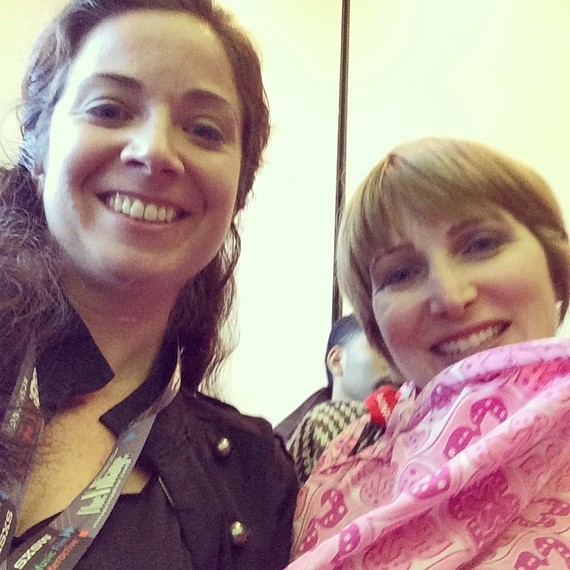 (Nursing at a session on social data with Magen Tracy from Berklee College of Music)
If you plan to attend SXSW next year with your new baby -- and I hope you do -- here are our top tips to make your trip easy, memorable, and fun:
When people stare (and they will), just remember that only some of them are judging you. Some think your baby is adorable or miss their own baby or are waxing nostalgic for the baby days.
Find the mother's room, an oasis of nursing and pumping mamas where you can show as much boob as you want and no one will look at you cross-eyed if your baby starts screaming.
Make friends with other babies online and offline because strength is definitely in numbers.
Lower your expectations and try not to have too much of a plan. My daily goal was to make it to the Convention Center, attend part of a session and meet one person.
If you can, stay as close to downtown as possible. Our hotel was a shuttle ride away and the last thing we wanted to do after a long day was spend 40 minutes on a bus.
Now that we are back home from Austin, we are already planning our next big adventure!
Related