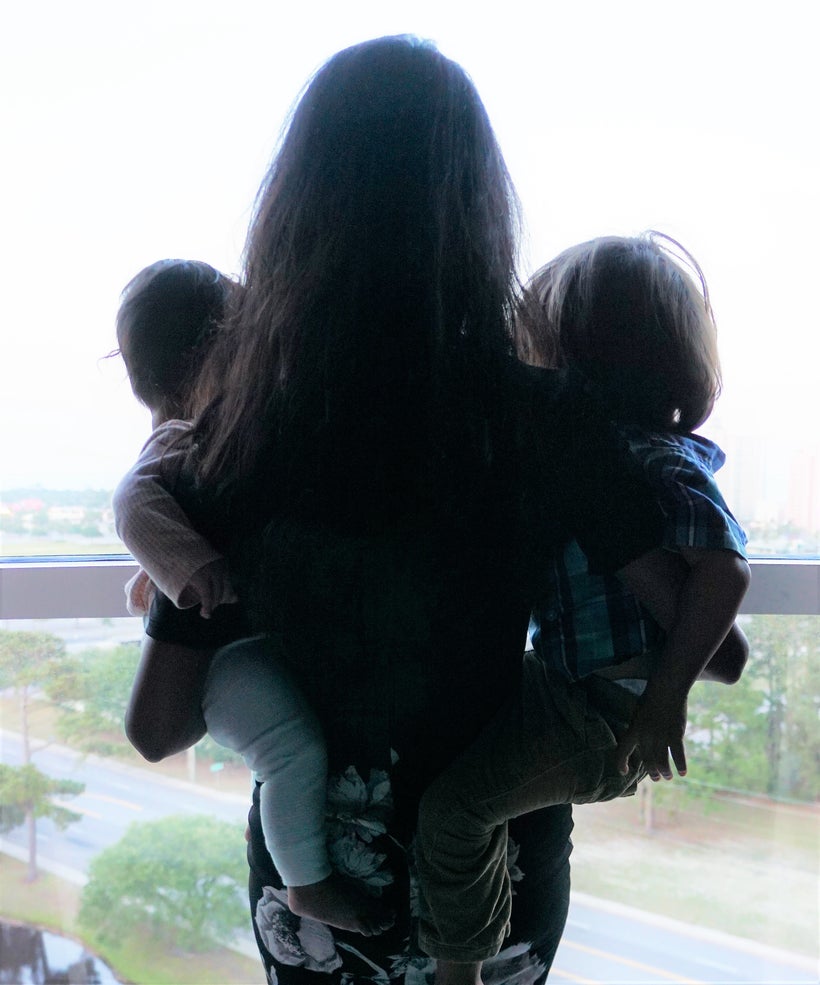 Yes, I was the crazy lady zipping through the halls, always in a rush to get from point A to B. I was also the lady that was carting around two little kids near the café at the conference. If you saw me, you would remember. But before tagging me with #unprofessional, read the behind-the-scenes story.
As a lawyer with my own practice in New York City, I always placed the utmost importance on professionalism. I made sure to always be poised and put-together in all business settings and to keep my personal and professional lives separate. I never intertwined my two worlds.
Earlier this year, when my daughter (my second child) was one month old, I was presented with the opportunity to speak about Copyright Law at Blogpaws, a respected pet industry conference, in South Carolina. I was told that it would take place in May, when my daughter would be five months old. What a great opportunity, I thought! "Of course, I'll do it," I said. I spoke at Blogpaws in 2015, when my son, now a toddling two-year old, was just a few weeks of age. Back then, I was able to leave for a couple of days with my husband in full charge of baby-care. So, I thought it should be a piece of cake to leave my five month old daughter for a couple of days, too. Right? Wrong.
The universe had other plans for me. Here's what happened and the lessons I learned along the way.
Do what you can with the options you're given.
My son did not have any attachment issues. He was very independent from the day he was born. Knowing that he would be fine without me allowed me to return to my "normal" routine very quickly. In fact, I was back in court within a couple of weeks after giving birth, which shocked even the judge. My daughter, on the other hand, would not survive for very long without me. She stops eating, screams, cries, and eventually hyperventilates in my absence. She becomes utterly inconsolable. Every week leading up to the conference, I hoped that maybe that would be the week that she would learn to be without me…but that week never came.
My daughter's attachment issues were not under my control. What was under my control, however, was how I chose to handle the situation. I had to either decline the opportunity to speak or take the entire family along for the ride. It was a no brainer. Off we went – all four of us – in our SUV topped with a very non-glamorous cargo box full of diapers, toys, portable cribs, a giant stroller for two, among other things.
By the time we arrived at the hotel, we made several overnight stops in various cities and enjoyed a good amount of sightseeing. Surprisingly, the kids really enjoyed traveling. But nothing, not even visiting three zoos in three days prepared them to see so many cats and dogs in the lobby. They were mesmerized by the dogs in strollers, cats on leashes, and the people who were curiously looking at them. My son refused to go up to our room since he missed our dog who was vacationing at a pet resort. So, we decided to stay and watch.
There I was, holding my daughter in one arm and my son's hand with the other, right in the middle of the lobby, as my husband put our luggage in the room. At times, I was twisted and hunched over to maintain control over my two little creatures. I was not very put-together and I certainly was not poised. As pet lovers of all breeds checked into the hotel in preparation for the conference, some gave me smiles; some looked puzzled to see my kids; and some, who recognized me as one of the speakers, were amused to find me fumbling to free a hand to extend for handshakes.
Initially, I was a mortified and wondered what my life had come to as I would have never thought that I would be seen like that at a business event. I was supposed to set a firm, professional first-impression. What in the world was I doing being seen with "mom hair," sandals, and not one, but two kids? My mind wandered for a few moments before I realized that the people (and their pets) probably already knew I was human. So, it was okay to not look like a near-mechanical lawyer. It was okay to be human, since after all, I am human.
That "being human" thought process helped me throughout the conference, including the multiple elevator rides during which my son made brilliant small-talk with dogs with remarks such as, "Hello, doggy! Woof woof!"
One of the most memorable moments of the conference was a red carpet reception. The attendees, including pets, were dressed to the nines from head to paw. As I stood in line awaiting my turn to walk down the red carpet, I saw that the vast majority of the attendees came with a companion pet. I realized that I could have easily brought my daughter along to be my date, instead of leaving her crying upstairs with my husband. I decided that I needed to do what felt right. I ran up to my hotel room and dressed my daughter in the most sparkly outfit and brought her down to her first red carpet event.
A few months ago, I would not have imagined doing such a thing. I may even have made snarky comments if I saw someone with a baby at such an event. But, that was a different stage in my life. I believe that truly accepting and appreciating the current stage in my life gave me the courage to embrace the present. The photos from that event captured a powerful time in my life when I truly embraced who I was at that very moment – a mother and a businesswoman – and it was wonderful.
Be open to inspiration and your answers will come.
Over the past few months, I was so busy with my business and my family that I did not think I had room for anything other than my work and family. I was constantly bouncing back and forth from one to the other, desperately hoping to find some time to focus on doing something else…what that was, I did not know.
During a dinner at the conference, the keynote speaker said something along the lines of "if you want to be happy, realize what's in front of you and act on it." It clicked; that was the message I was meant to hear. I finally knew what that "something else" was. I was hoping to write about what was in front of me for the last couple of years – my experiences of being a mother and businesswoman – but I just never made the time to do so. I never acted on what was in front of me. I was finally inspired to write about my experiences of doing what I would "never" do – intertwine my two worlds. I realized that there is always room for inspiration…but only if we are open to it.
There is something magical about every single day. When I embarked on the road trip with my family, I did not know what was ahead. I did not know how my kids would behave on the long drive; I did not know how the conference attendees would react after seeing them; and I surely did not know how I would handle splitting time between the conference and my family. Even a few months ago, I would have worried about all of those things. I would have worried so much that I probably would have missed all the great little things we experienced on the journey. However, this time, thanks to my daughter's undying determination to make me realize that I cannot control every situation, I enjoyed the present and lived in the moment. I was able to see the magic in the moment my son discovered that pets (not just babies) ride in strollers; the moment my daughter smiled as she grasped my fingers to fall asleep; the moment an elderly couple at the cafe walked over to tell us that we reminded them of a time when their children were tiny like ours; the moment when I realized that the few disapproving stares didn't bother me; and the moment my son quietly did his happy dance at the back of an award ceremony because a police dog was being honored on stage. All those moments were magical. This time, I was just lucky to see the magic.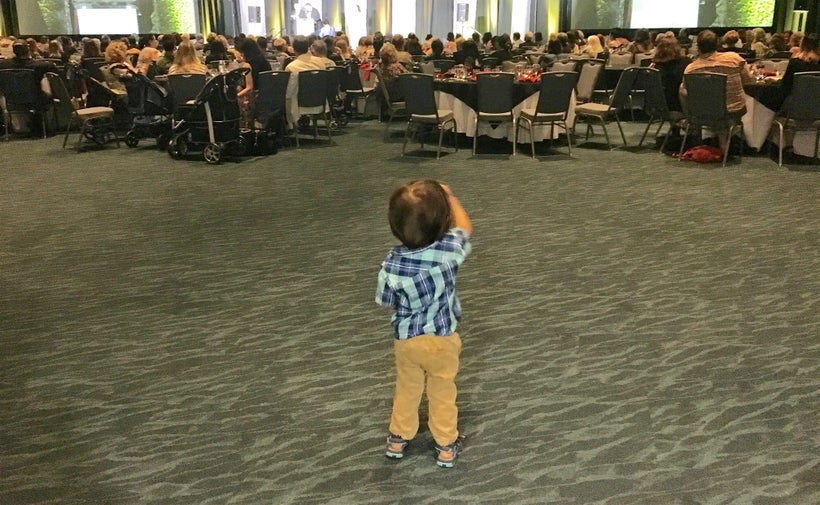 For the record, it was of utmost importance to me that my children were not disruptive to the conference attendees. Thankfully, neither of the children had a meltdown in public.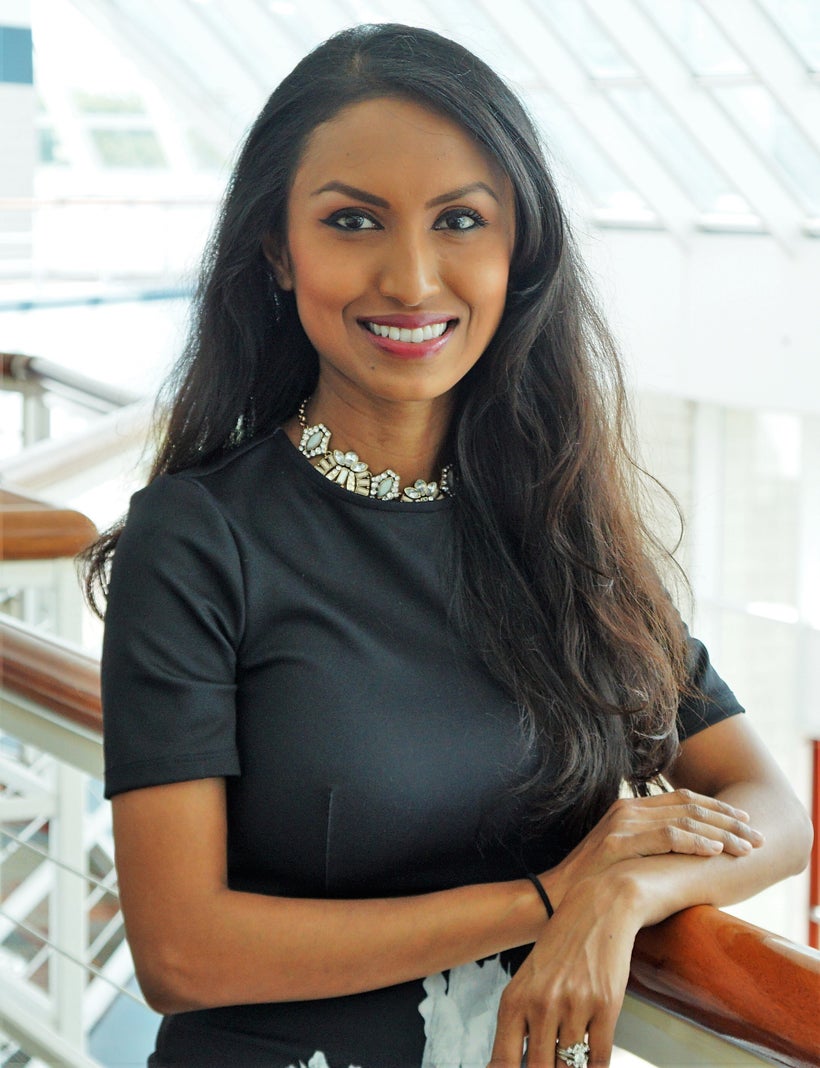 Shahrina Ankhi-Krol is the founder of Ankhi-Krol Law, located in New York City. She works with entrepreneurs at all stages of their businesses and serves clients from across the nation. The firm's practice areas include Business, Contract, Trademark, and Copyright law. While Ankhi-Krol Law works with businesses of all types, it has a unique involvement in the following industries: pets, fashion, creatives.
Shahrina has given numerous talks and presentations throughout the country on the topics of entrepreneurship and the law. Her dedication to and passion for the field of law resulted in her being named a Rising Star Super Lawyer, a recognition given to no more than 2.5% of attorneys in each state, each year, for three (3) years in row.
Calling all HuffPost superfans!
Sign up for membership to become a founding member and help shape HuffPost's next chapter
This post was published on the now-closed HuffPost Contributor platform. Contributors control their own work and posted freely to our site. If you need to flag this entry as abusive,
send us an email
.