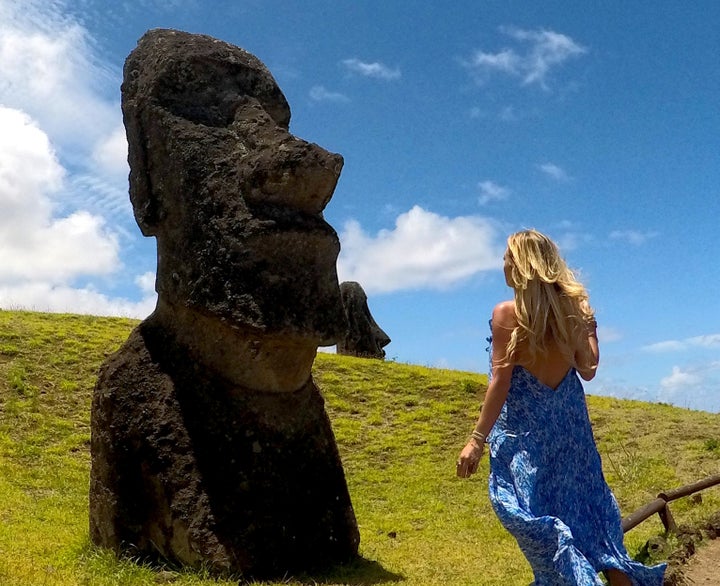 Giant ancient statues of heads on an extremely remote island is a lot for most people to wrap their (actual) heads around. How did they get there? They're so big that the only logical explanation must be aliens, right?
Wrong. So wrong. And how do you think those ancient civilizations would feel if you credited their extremely hard ass work to aliens? They'd 100% laugh at you...or kill you. But anyway, my point is that there is tons of research and publications on the mysterious Easter Island heads, but let's be serious...it's presented in a way that's less-than-easy to understand.
My solution was to take it upon myself to travel solo to Easter Island, and figure out what the deal is with these giant heads myself. I'm not saying I'm a better explorer, writer, or traveler than Nat Geo people are...I'm just saying I'm a millennial solo traveler...I get a lot of juicy information from locals (called Rapa Nuis), and I write about it in a way that my ADD-ass can understand (AKA with a lot of pictures).
So here is my short and sweet explanation of how the Easter Island heads were made, what their purpose was, and where you can see them! For the full "I-think-I'm-a-professional-mystery-solver" post on EVERYTHING I learned and experienced on Easter Island, see this post: Easter Island Mysteries Easily Explained (by Me)
1. The Giant Heads Are Called "Moai" and They Aren't Just Heads
Although the most iconic photo, symbol, and even emoji is just a head, these giant statues also have bodies. When the "ground breaking news" came out that scientists had "discovered bodies when digging under the heads", it wasn't exactly new news. You can clearly see from the half-carved Moais, and the restored Moais around the island, that they all have/had bodies.
The reason why you see just the heads in some photos, is because that's the area where the Moai were made...and also left if the person who ordered them couldn't pay to have them moved. Speaking of Which:
2. The Moai Statues Were Made by Ancient Humans Carving a Volcanic Crater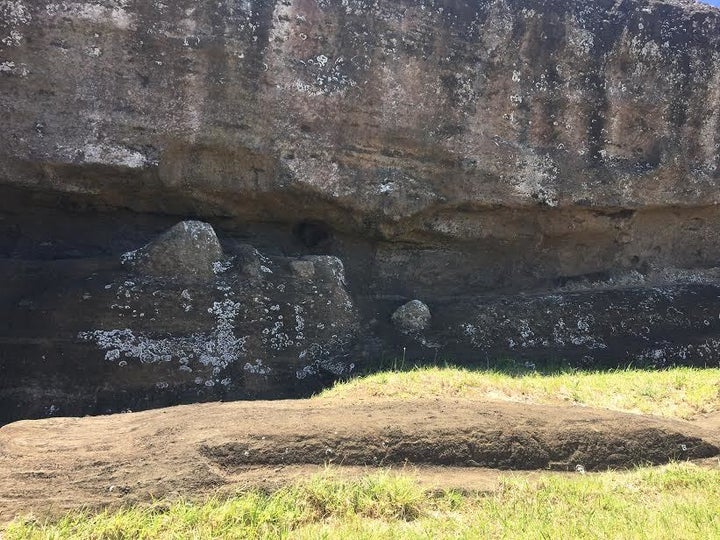 Sorry to everyone who thinks aliens randomly dropped statues on a tiny spec of an island, but there's visual proof that it was humans who carved them. One look at the half-carved Moai's that are still embedded in the side of Rano Raraku volcanic crater and it's pretty clear that people (with a lot of time on their hands) were the sculptors of these masterpieces.
There's also lots of super fun scientific research and whatnot, but I think the photo does a pretty good job to explain it.
3. They Represented an Important Person in a Generation
Although quite the fun decorative novelty today, the original gigantic Moai statues were made to represent an important person in a lineage. You obv had to be super important and well-off to get a statue, considering how difficult it was to make and transport one.
When you see multiple Moai together, that represents how many generations of important people a family/tribe had.
4. The Platforms the Moai Stand on Are Just as Important
We of course would never notice the mere platform that a massive statue is on, but those actually had the most significance to the people at that time. They're called "ahus" which makes sense when you look at the map and all the places with statues start with "Ahu". The bigger the platform, the more importance, and the bigger the statues.
6. They Used to Have Eyes and Some Have Hats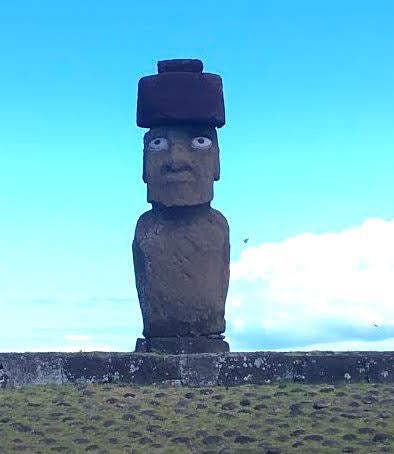 If you were super important, your Moai statue got a red hat. These hats (or possibly top-knots) were made at an entirely different volcanic crater in the middle of the island with red rock.
Once your Moai statue finally got positioned on the ahu, it also got eyeballs put in (white rocks with red pupil-rocks in the middle). This meant that the ancestor had inhabited the statue, and was now looking over the rest of the family/tribe.
7. They All Got Destroyed and Only Some Restored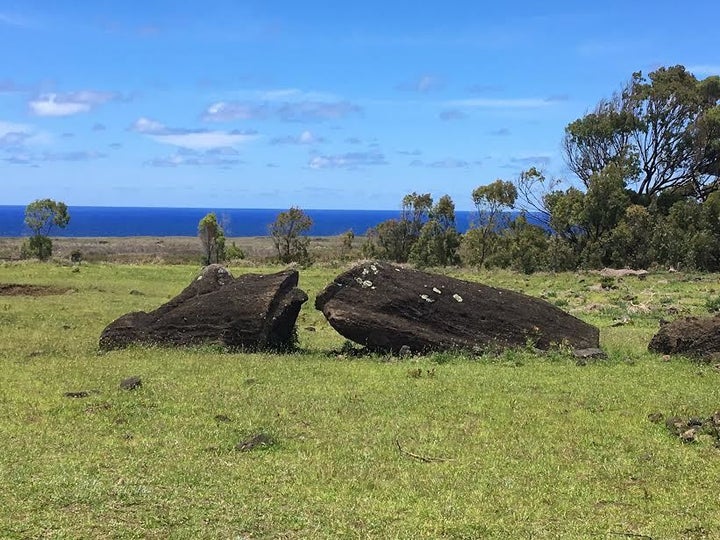 The era of the giant Moai building was called "megalithism", and that lasted hundreds of years, but eventually died out. When it did, the giant statues were destroyed from wars, weather, and theives. The few areas you see them in today on Easter Island, are all restorations, and you can also see areas where they're still crumbled or fallen.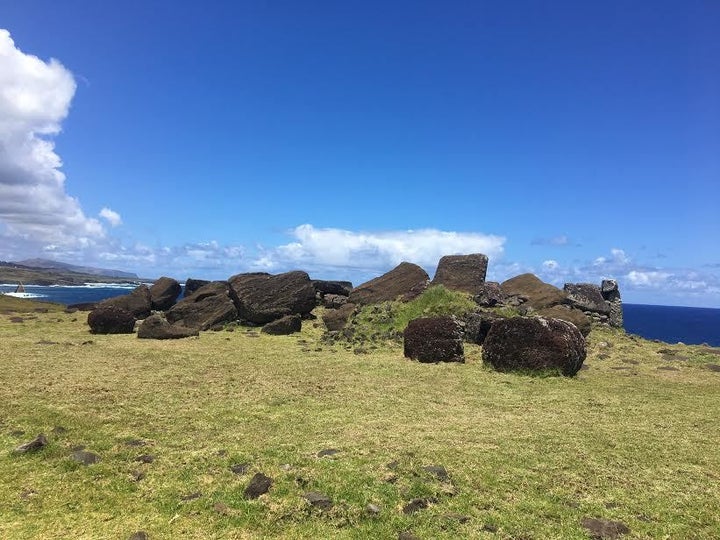 The heads sticking out of the earth at Rano Raraku obviously couldn't fall over because they were stuck in the ground, and weren't destroyed because they didn't belong to anyone.
Hundreds of years after the Rapa Nui's were over the whole giant statue worship thing, they came up with a new belief: The Birdman. Which involves competing for an egg. Both an actual egg and a figurative egg. I definitely got called "the egg" twice when I was there.
9. How the Moai Were Moved is Still a Mystery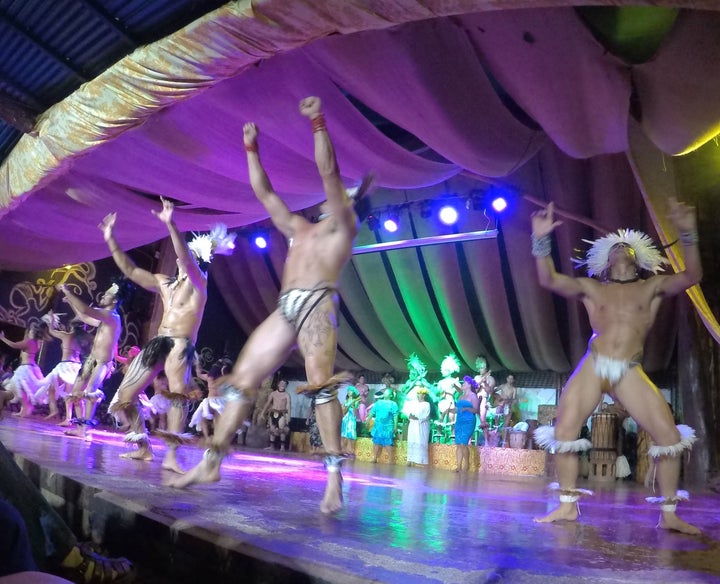 Scientists and other smart people still have not been able to figure out how massive statues weighing several tons were transported from Rano Raraku to various parts of the island. They've tried replicating several techniques, but are apparently still stumped.
My opinion? Have you SEEN how big and muscular the Rapa Nui guys are?! My guess is they pulled some Iron Man/stiff-as-a-feather-light-as-a-board magic and just carried them as a group. Makes total sense.
10. Where You Can See the Moai Statues
Obviously you can only see them on Easter Island, but there are certain places where the restored statues are. You can take a tour to see them, or you can drive to them on your own. I drove by myself to all of them, and have listed all of the sites on my blog.
So there you have it! Mystery kind of solved! And again, this is just a vague explanation with a lot of photos, if you'd like more in depth information, please visit my website, mylifesamovie.com!
Popular in the Community