The first time I saw stand up paddleboarding (or "SUP-ing" as it's known), I was on a beautiful cove in Gloucester, Massachusetts. A young teen was gliding on the water in the distance along the rocky shoreline. It looked both peaceful and freeing--a hybrid somewhere between kayaking and surfing. I was immediately captivated, but it seemed so inaccessible. When I heard of paddleboard yoga later, it seemed like a sport I'd only find in California. It wouldn't be until a few years later that both these assumptions proved wrong.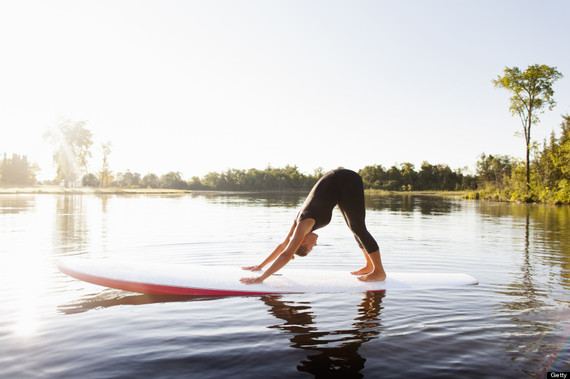 On a recent trip to Block Island, I finally got to try SUP yoga. It almost didn't happen. I was deciding between a complimentary hot breakfast versus morning paddleboard yoga, and I was close to choosing hot coffee and muffins, but pulled up 10 Reasons You Should Try Yoga On A Stand Up Paddleboard to get myself motivated. If I didn't try it now, it probably wouldn't happen. The closest paddleboarding to me otherwise is in Manhattan, and I am not prepared to fall into the Hudson River.
I had made reservations the day before with the paddleboard yoga instructor, Trey Barefoot, a yoga teacher from a small island in North Carolina who has been teaching yoga since 2009. The studio's SUP yoga program was in its third season, started by Julia Collins, who grew up on Block Island. Both of them had become yoga teachers first, paddleboard yoga second.
I was honest about my hesitation. Would I have enough core strength to make the short paddleboard journey across the salt pond to start the yoga class? He reassured me with a smile, I think you can do it. We'll get you there, he said, with more confidence than I had.
Here are questions I had before trying SUP yoga and what I learned. Spoiler alert: Paddleboard yoga is a beautiful, thrilling way to combine the element of nature and water and a fun way to spice up your yoga routine.
1. What should I wear and bring?
You can wear usual yoga clothing or shorts that you don't mind getting wet. If it's a sunny day, don't forget sunblock and a cheap pair of sunglasses (in case you lose them). A small towel would be useful to cover your eyes and block out the sun at the end of class in corpse pose.
2. What if I fall into the water?
This was a big reason why I hadn't tried SUP yoga yet. I was really surprised how sturdy and stable the paddleboard was on the calm waters of the pond. As long as you know how to swim and are comfortable around water, the idea of falling into water is much more about being held back by fear in our minds than a real issue. Once I was on the paddleboard, that concern disappeared. I didn't end up falling. But even if I had, you just get back on the board.
Giving myself the chance to get over the fear of falling and to trust my body was the most freeing feeling. Balance and stability are not about perfection, and there is no better reminder than the constant shifting of the water underneath you.
3. Was yoga a lot harder on water?
Being on a board is more "difficult" in the sense that you need to pay attention to alignment, foot placement, and smooth fluidity of movement in order to maintain balance and stability on the board. It's harder to "cheat." For example, if you tend to lean more on your right leg in your standing Mountain pose, you'll notice right away. If your legs are not evenly placed or wide apart enough in Warrior I stance, you won't be steady on the water. Also, your stability on the board improves when you use your core muscles.
All of these elements should also be in place in your yoga on land, so if you're already doing that, it is not that much more challenging. But SUP yoga highlights this awareness and improves your yoga practice for these reasons.
In the end, I found it to be less rigorous than a hot power vinyasa yoga class, but that can also depend on the level of yoga class (mine was beginner) and how calm the waters are. For me, the most challenging part was carrying the paddleboard to and from the pond (which the teacher thankfully helped me with).
4. Was there anything I didn't expect?
I didn't expect that being in such a beautiful environment made it much more difficult to go inward. It was actually more challenging to meditate than do the postures. Also, the natural narrative arc of yoga indoors, with lights dimming at the end of class for corpse pose (savasana), obviously isn't possible. But, at the same time, being surrounded by nature is both inspiring and good for the mind--science shows that it makes us more attentive and content. Seeing a crab scuttle by in the clear waters of the salt pond became a wonderful metaphor and reminder to observe and let things pass.
5. Would I try paddleboard yoga again?
Definitely. I realized that fear often holds us back much more so than the physical challenge. When we're adults we feel like we have a good sense of what is comfortable and familiar already and stick to that. Unless you're an adrenaline junkie, it may be difficult to get out of a routine or to try things that we aren't already good at. Why bother trying something where you might fail?
But that's our own judgment and fear talking--exactly what the true spirit of yoga aims to help us let go of.
I had a lot of questions about trying paddleboard yoga, but most stemmed from fear. These kind of questions are similar to fears people have when they are completely new to yoga. The experience was a good reminder to give ourselves the space to learn, to fall, to play, and to move past all of what happens in the process without judgment.
What can be more fulfilling about yoga-- stand up paddleboard or not-- than that?
Want to try paddleboard yoga? Find locations near you.
Or try it on the scenic Block Island at Elevation Studio (New Shoreham, Rhode Island) and get a smoothie at their vegan cafe afterwards.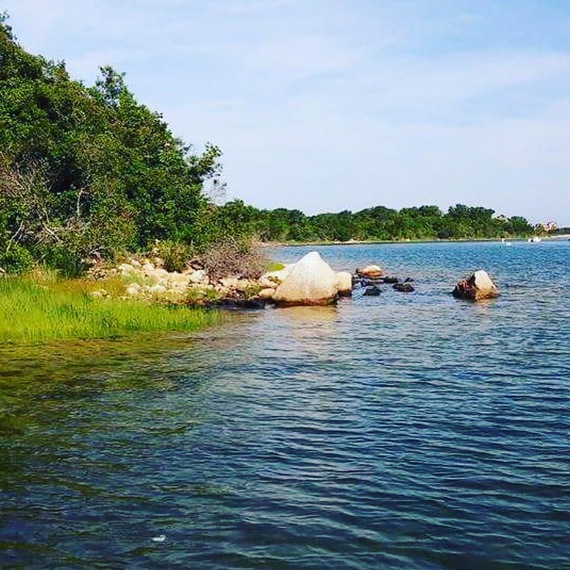 Related