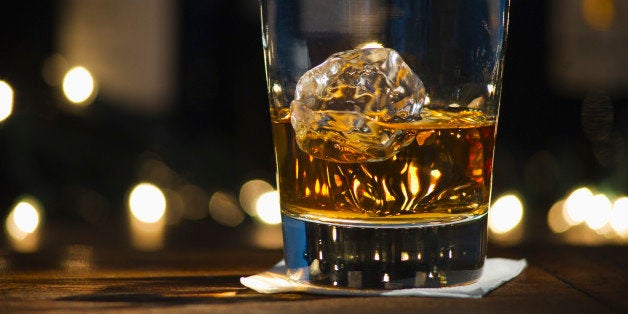 A funny thing about bourbon. Twenty, thirty years ago, it was the least sexy spirit this side of kirschwasser. In the whiskey pantheon, bourbon was the cheap stuff, the bottom-shelf booze, the uncouth corn likker for louts and hooligans. It got you drunk, it went down easy, but it was to Scotch whisky as a diner burger was to a dry-aged strip steak.
Well, times have changed, and bourbon is now taken as seriously as any other spirit (come to think of it, burgers get a lot more respect too. Makes you think maybe the world isn't going to the dogs after all). A new generation of hipsters has made celebrities of the distillers who've worked in the trenches for decades, and many of these youngsters are trying their hand at making their own bourbons, with decidedly mixed results. Liquor stores get sought-after bourbons like Pappy Van Winkle and the excitement is so great you'd think that Elvis was coming back from the grave to sell the bottles himself.
Yes, bourbon is cool again. And there are a whole bunch of new ones coming out, both from venerable distilleries and new, hungry brands. Here are eight that are worth your time, your money and your liver enzymes.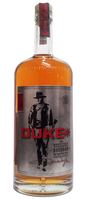 THE DUKE KENTUCKY STRAIGHT BOURBON (44% alcohol by volume, aged 5-10 years, suggested retail price $35). Actor. Man's man. Patriot. Right-winger. John Wayne was all those things. And, apparently, a connoisseur of fine booze as well. According to his son Ethan, The Duke often mused about owning a distillery and producing the kind of whiskey he liked to drink. And what exactly was that? Well, Ethan found a bunch of his father's unopened bottles in storage not too long ago, and set out to recreate those flavors by traveling to Kentucky and sourcing the most appropriate bourbons. No names of brands or distilleries have been made public, but what's in the bottle is a no-nonsense, straightforward and very drinkable bourbon. The result is a little on the dry side, with notes of vanilla, caramel, oak and just a wee bit of sweet cherry that makes for nifty sipping and excellent cocktails. Also perfect for drinking while watching The Shootist, my favorite John Wayne film.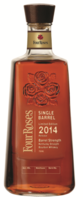 FOUR ROSES 2014 LIMITED EDITION SINGLE BARREL BOURBON (approx. 60% ABV, aged 11 years, $99). When I first wrote about Four Roses, maybe five years ago, it was a well regarded bourbon. But its reputation has kept growing since then, to the point where it's almost a fetish whiskey, especially its annual limited edition small batch and single barrel offerings. Not Pappy Van Winkle type fetishism, but... well, let's just say there's a strong enthusiasm for the stuff. The 2014 Single Barrel, bottled at cask strength, is a good example of why people love Four Roses so much. With a mash bill coming in at your standard 75% corn, 20% rye and 5% malted barley, it's a big, enormous, colossal, gargantuan, downright huge bourbon. Yes, you'll taste all the alcohol, though there's less burn than you'd expect at 120 proof. But along with the heat comes a whole lotta caramel, cinnamon and oak, and just a wee bit of fruit, notably green apple. It goes down surprisingly easy for such a big, high-proof whiskey, so much so that water dumbs it down rather than softening the blow. Not for the faint of heart or weak of constitution, but man oh man, this is good.

HENRY DuYORE'S STRAIGHT BOURBON (45.65% ABV, aged at least 4 years, $55). This bourbon from Tad Seestedt's Ransom Spirits isn't quite new -- it's been out for about a year -- but it's not a brand you'll see in every Liquor Hut in every mall in town, so let's just pretend it's new, shall we? And hey, whether or not it's the newest kid on the block, it's pretty delicious. Aged in American oak and finished in French oak barrels, it's a bourbon with heft. It's got notes of caramel, brown sugar and a touch of cinnamon, but it's also pretty spicy, reflecting a high rye content. High-rye bourbons are pretty trendy nowadays, but if it tastes this good, who cares? Henry DuYore's makes for a great Old Fashioned and a nifty Manhattan, and it's very nice sipping straight or on the rocks. This is like the Dick Cavett of bourbons -- dry and endlessly fascinating.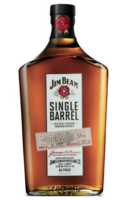 JIM BEAM SINGLE BARREL (47.5% ABV, aged 4-7 years, $35). Between its namesake brands and the Small Batch collection (featuring Booker's, Knob Creek, Baker's and Basil Hayden), Jim Beam makes, by my last count, about 12,467 different bourbons. Here's number 12,468 -- and surprisingly, Jim Beam's first single barrel bottling (though Knob Creek Single Barrel came out a couple of years ago). It's standard Jim Beam white label bourbon from a mashbill point of view, but it's the créme de la créme of their stock, as less than 1% of their whiskey is deemed suitable for Single Barrel use. Throw in the fact that it's barreled at a high-but-not-too-high 95 proof and you've got a fairly swanky bourbon. Orange peel, vanilla and caramel notes mix with cinnamon spice and a fair bit of sawdusty oak, giving a nice balance of sweet and dry, without much alcoholic burn. It's not big and bold like Knob Creek Single Barrel (which is one of my favorite bourbons around), but then again, it's not supposed to be. On its own terms, it's damn nice. And at a user-friendly price, too.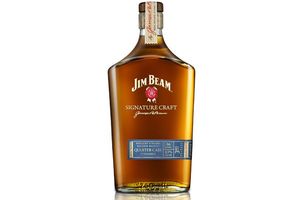 JIM BEAM SIGNATURE CRAFT QUARTER CASK (43% ABV, aged at least 4 years, $40). Yep, another new Jim Beam release. So what's the deal here? Quarter cask... sounds vaguely nautical, like quartermaster. Perhaps it's distilled by pirates? Actually, a quarter cask is a barrel that's a quarter the size of a standard (53 gallon) bourbon barrel. In a smaller barrel, you see, more of the bourbon is in contact with the wood, and that speeds up the aging process. Not necessarily in a good way, as you can tell from drinking lots of start-up brands aged for a short time in minuscule barrels. But in this case, it works, and works well. It's not all quarter-cask bourbon -- it's a blend of standard 5-6 year old Jim Beam with various 4-6 year old quarter cask whiskeys. If you're expecting a big wood bomb, think twice. This is a big, sweet, luscious bourbon, with lots of vanilla, caramel, candied citrus and even some banana/coconut notes for the tropical fruit lover in you. It's got a little bit of a kick on the finish, but all in all this is smooth, decadent, and altogether yummy. Not quite dessert in a glass, but many's the night I'd take it over an ice cream sundae. Or perhaps pour some on top of an ice cream sundae....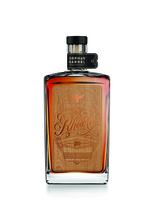 ORPHAN BARREL RHETORIC BOURBON (45% ABV, aged 20 years, $85). 20 years in oak can make for a beautiful Scotch whisky. But when you're talking bourbon, two decades of aging in the more temperate climes of Kentucky is pushing the limits of drinkability. Diageo's new Orphan Barrel series has already produced a pair of 20-year-old bourbons (Old Blowhard is actually 26 years old), and Rhetoric is the third. Produced at the new Bernheim distillery and aged, at least in part, at the old Stitzel-Weller warehouses, Rhetoric is one woody whiskey. It's big, dry, and spicy -- all thanks to that American oak. But not to fear, Rhetoric won't put splinters on your tongue. There's also caramel, cinnamon, dried apple, a little allspice, a touch of dark chocolate... layered sweetness that cuts through the leathery dryness and peppery spice of the wood and makes for a nicely balanced sipper. Rhetoric is a dignified old codger whose acquaintance you'll be pleased to make. And like the other Orphan Barrel releases, it's a limited edition, so get it while you can.

SEVEN STILLS WHIPNOSE WHISKEY (47% ABV, no age statement, $40). It's true that all whiskey starts out as beer, but Whipnose damn near finishes up as beer, too. The difference here is that most whiskeys aren't meant to be drunk in their beer phase, and thus aren't hopped. The roots of Whipnose, however, lie in a genuine finished product, the highly quaffable Whipnose Imperial IPA. The result is technically a bourbon, but in spirit it's as much India Pale Ale as America Brown Whiskey. The hops predominate, with some cinnamon spice, a little oak and winter spices like nutmeg and clove. The finish, and the aftertaste, are beer through and through -- ask someone to smell your breath a minute or two after drinking and they'll swear you just downed a brewski. Whether or not this is a good thing depends on how much you like beer, I guess. Though at 94 proof, the adage "liquor is quicker" never rang so true.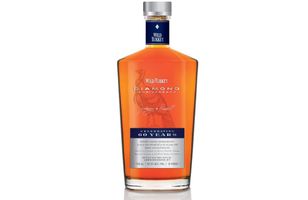 WILD TURKEY DIAMOND ANNIVERSARY WHISKEY (45.5% ABV, aged 13-16 years, $125). Anyone who can keep a job at the same company for sixty years ought to be celebrated. And when that job is making some of the finest bourbon and rye this country has known, well, deification should be in the discussion. If anyone deserves to be fawned over and lionized, it's Jimmy Russell, who's not only a great distiller but also a man possessed of a sparkling wit and a heart as big as Kentucky. So Wild Turkey -- along with Jimmy's son Eddie, who's head honcho-in-waiting until Jimmy decides to hang up his distilling shoes -- have pulled out all the stops with the brand's oldest and most expensive bottling to date. Given its age, you'd think Diamond Anniversary would be a big, woody flavor bomb. But it's actually quite light and delicate. It's sweet and fruity, all chocolate and caramel apples and candied orange peel, with the oak and spice coming through a little more than with traditional Wild Turkey 101, but not much more. A very tasty sipper indeed, and worth the hefty price tag. I'm already excited to try Jimmy's 65th anniversary commemorative bourbon. To say nothing of the 70th.