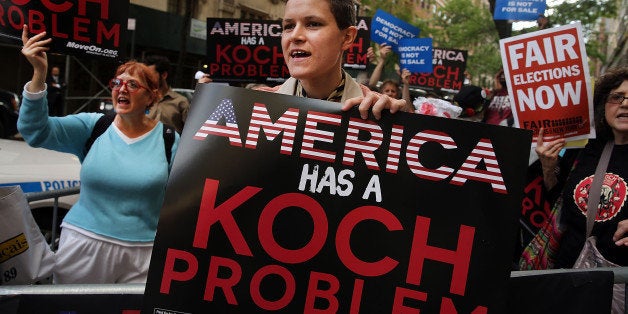 The Koch brothers' donor retreats are notoriously secretive affairs, but after my publishing of several hours of audio from their 2014 summer confab, the network began to bring select journalists behind its closed doors. With strings attached. Six media outlets gained access this year under the condition of not disclosing donor identities, while the Kochs enlisted hotel security staff and police officers to intimidate this reporter from exercising her First Amendment rights.
As Koch grand strategist Richard Fink sat in the Glo Lounge of the posh Renaissance Esmeralda Indian Wells resort in Palm Springs on Thursday, I heard his communications staff report to him that Fredreka Schouten of USA Today was "prepped." Sure enough, just hours later, at 5 AM on Jan. 29, her piece went live on the USA Today site: "Koch brothers' new group will take on poverty, education."
That piece dutifully relayed Koch talking points about the $15 million the group, "Stand Together," is trying "to raise." The exclusive "first interview" about this new operation was just the kind of uncritical "earned media" the Koch team wanted by launching the group's website just as the Kochs gather with their billionaire buddies to discuss spending another nearly half a billion dollars in the 2016 election.
Schouten even adopted Koch rhetoric that the billionaires' money-raising effort to achieve their political ambitions was a "seminar." The story accepted all manner of Koch assertions and gloss as true and without acknowledging key facts to the contrary in many instances.
For example, it noted that the Kochs have been pushing for criminal justice reform, without noting that a key component of their agenda is to make it harder to prosecute corporate crimes, as Koch Industries and some of its employees had been charged with breaking environmental laws in the 1990s. Their general counsel, Mark Holden, admitted their interest in this reform stemmed from that prosecution over leaking tons of cancer-causing benzene.
The U.S. Senate Judiciary Committee held a hearing on that part of the Koch agenda just two weeks ago in which some Members expressed deep concerns about the effort to use the need to address the disproportionate mass incarceration of African Americans as a vehicle to let white-collar criminals off the hook.
It also favorably mentioned the Kochs' recent funding of the United Negro College Fund, without noting the strings the Kochs put on the scholarships and the role of Koch Industries in determining who is sufficiently supportive of their ideology to get the money.

It noted that the Kochs' Libre Initiative, which basically markets Koch kool-aid to Latinos, gave out holiday turkeys to some families--without noting how the group has come under wide criticism for peddling policies that hurt many Latino families like opposing increasing the minimum wage, opposing access to affordable health care, and undermining workers' rights.
It also portrayed concerns about the Kochs' secretive but enormous role in elections as partisan--saying they "face deep skepticism from Democrats"--even though polling consistently shows that Americans from both major political parties and independents are deeply concerned about the influence of special interests on our elections and super-majorities oppose the Citizens United decision that has helped unleash the Koch election machine.
It also uncritically quoted Bob Woodson, a black conservative who was an architect of George W. Bush's faith-based initiative, and who is working with the new group. He claimed the Koch brothers and the right-wing CEOs and trust-fund babies they gather are just "grass-roots rich people" and "not the kind of corporate elitists who boast all the time about their vacations in France." And it comes from a guy who claims the Kochs' "philosophy and operating principles [are] ... 100% compatible with the way we help the poor." That's some nice spin.
Meanwhile, the Koch family fortune is the biggest funder of the American Legislative Exchange Council and for more than twenty years Koch Industries has been a leader of ALEC, as it pushed bills to make it harder for Americans to vote (legislation that disproportionately affects impoverished Americans who rely on public transit), to repeal the minimum wage and stop any increase to it, to pre-empt local rent control laws, to oppose limits on ATM fees and interest charges on credit cards and payday loans, to impose a panoply of restrictions on food stamps and welfare aid, to privatize Medicaid in favor of Health Savings Accounts that cannot possibly cover costs for serious accidents or illnesses, and many more bills that hurt the poor.
The story also noted that David Koch's Americans for Prosperity group has been giving poor folks lessons on coupon cutting, without noting AFP's role in pushing other policies like ALEC bills that hurt poor Americans.

USA Today also put the story in its weekend edition, as the top story above the fold with a new, even more positive headline: "Kochs' new group aims to 'revitalize' society." This messaging is consistent with Richard Fink's stated goal to rebrand their free-market ideology as a "movement for well-being." For Fink, the man called "Charles Koch's brain," the prepping of USA Today by his team certainly paid dividends in positive press for the Koch operation.
While selecting a handful of reporters to come to their gathering on the condition that they not tell the American people which billionaires are there funding the Kochs' unprecedented amount of spending in the 2016 election cycle, Charles Koch claimed that they are not "some secret cabal." This the day after the Kochs deployed hotel security and local police officers to pressure this reporter to stop taking photos of the incoming conference attendees from a public sidewalk, despite my First Amendment right to do so. I asserted that right and asked for a clarification of the property line, so that I could comply with the full letter of the law.

After falsely claiming the sidewalk was private property and sending local police to intervene, the security team was forced to allow me to stand right next to the guest checkpoint and continue to photograph attendees. Soon thereafter, staffers moved the checkpoint 50 yards or so further into the property, where it is harder for a camera to see into stopped cars. (Video of this below.)
Meanwhile, inside the luxury resort, on that very same day the Kochs held a panel on the First Amendment featuring legal commentator Jeff Rosen, Nebraska Sen. Ben Sasse, and a staff writer for the conservative National Review, David French.
Apparently the constitutional rights of the Kochs and their secretive billionaire cabal are the only ones that matter.
Disclosure: Lauren Windsor is also the executive director of American Family Voices, a non-profit organization that works on middle class economic issues, with a particular focus on Wall Street reform, money-in-politics, and climate change.
Popular in the Community