Partnership Walk is a purpose-driven public event held each year by Aga Khan Foundation (AKF) and its network of volunteers across the United States to raise funds and awareness in the fight against poverty especially in African and Asian countries.
Houston, Texas was honored to host this great event at Sam Houston Park on Saturday -- November 2, 2013. I was eagerly waiting for this day. For me, the partnership walk is more than walking a few miles to raise money. It has a special connection with my life -- a connection that is based on a common goal, commitment and a purpose in life.
The Partnership Walk provides me with a chance to remember those beautiful days of my life when I used to work in far-flung and mountainous regions of Pakistan, Afghanistan and Tajikistan. It provides me with a special place and time to pay homage to those hundreds of thousands of courageous people who lost their kith and kin and became homeless during war in Afghanistan and Tajikistan but never lost infinite hope in any situation. It provides me a chance to thank those poor but hospitable people who always stood behind Aga Khan Development Network (AKDN) and supported its work. There can't be a better platform than the Partnership Walk to recognize the contributions of all those AKDN staff and volunteers who work under extremely difficult circumstances to alleviate poverty and suffering amongst some of the world's poorest communities.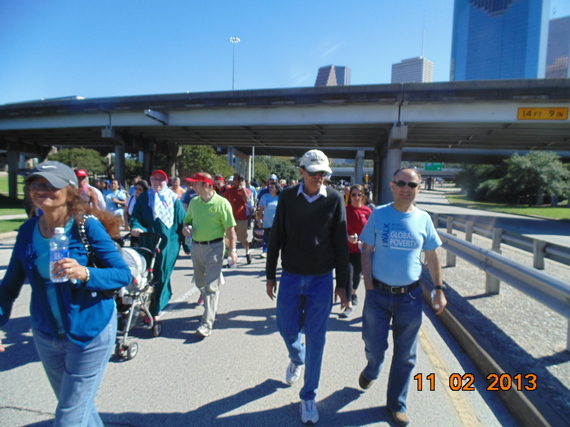 As the sun rose on the day of the walk, a ray of hope flamed up in my heart. As soon as my wife and I started driving to Sam Houston Park, vivid scenes from my past started flashing before my eyes. I recalled the emergency situation in Afghanistan when AKDN initiated its humanitarian aid program through Focus Humanitarian Assistance in 1994. It was the most grueling situation that Afghanistan has ever faced. Hundreds of thousands of people were dying from malnutrition and hunger. Women and children were living under open sky during extreme winter with no access to shelter, heating, clothing and medicine.
There is not a day that goes by when I do not think about a remote village in Badakhshan, Afghanistan where a 10-year-old girl was sold by her father to an influential commander for just 50 kilograms of wheat as the family had nothing left at home to eat.
The story of a 20-year-old young mother from Wakhan, Badakhshan is also still fresh in my mind. She was not only herself an opium addict but was also puffing smoke in the nose and mouth of her six-month-old child so that she could fall asleep. In response to my question, "Why are you consuming opium?" she replied:
We are very poor. Due to extreme cold weather, we cannot grow anything. Our farm production is barely enough to sustain us for four to six months. We use opium every day as it suppresses our appetite and enables us to consume less food. In this way, we prolong the food stock until the next farming season.
My write up will be incomplete if I do not mention about those hundreds of thousands of Afghan pregnant women who lost their lives on their way to a health facility. In the rural province of Badakhshan Afghanistan, 6,500 out of every 100,000 women died during child birth. It was the highest recorded maternal mortality rate in the world. The story of 40-year-old Watan Sultan of Shughnan district of Badakhshan which has also appeared in one of my articles published on The Huffington Post on March 21, 2013 is still ringing in my ears. She shared with me the most heart-rending story of a family member who died during pregnancy because of unavailability of a midwife. She said,
Fifteen years ago, an immediate relative of mine got pregnant. We were very excited to find out the good news. Everyone was waiting anxiously for the new addition to our family. Anxiety began to pile up when the due date passed, but she could not give birth despite of arduous labor pain. We waited a few more days but her condition started deteriorating because of the massive bleeding she had. Finally, we decided to take her to Faizabad Hospital. As there was no road, my husband placed her on a donkey and we departed for Faizabad at night. It was almost a 10-day walk. The patient was crying and bleeding continuously, but except praying we could not do anything as we were all helpless. After two days when we were somewhere close to Ghoron village, the patient breathed her last. We started moving back to our village with tears in eyes, pain in heart and prayers on lips. We arrived home with the dead body after two days. It was the most terrible day of my life. I saw a family member dying in front of me, and there was nothing we could do to save her. Though it happened over 15 years ago, the incident is still fresh in my mind.
A collection of such heart-touching stories from Afghanistan will never end. However, it would be injustice on my part if I do not write a few lines about the world's deadliest earthquake in Pakistan on October 8th, 2005 that killed nearly 80,000 people, injured hundreds of thousands and displaced millions. During my deployment in Azad Kashmir, I met a 20-year-old girl from Chakama valley who shared with me her breathtaking story. Even today, I can't control my tears whenever I think of her. She said:
On Saturday, I got up in the morning, wore my school uniform, did breakfast with mom and dad and left for school with a hope to return home in the afternoon and meet my parents again. I was less than a mile away from my school when a powerful earthquake shook the ground. Within just a few seconds, all houses, schools and clinics collapsed to the ground and the entire village plunged into sorrow. I was very worried about my parents and hence rushed home quickly. What I saw was unbelievable. My house was reduced to rubble and my parents were buried underneath the collapsed structure. No one was available to help me at that crucial time. It was such a chaotic situation that everyone was busy with their own battle. I started removing the debris with a hope that my parents would be alive, and I would take them to the nearest hospital. After many hours of searching frantically, I saw their lifeless bodies. I was standing hopelessly in front of them like a bird that has lost its feet and is unable to alight upon the ground. With the help of a relative, we dug a hole in my garden, buried them there and offered prayers at their graves. I don't understand why life is so unfair to some people. In just few seconds, I lost everything: my parents, my house, my joy, my dream in life.
Thanks to AKDN for supporting these underprivileged communities in the mountainous regions of Afghanistan and Pakistan. Today, when I look back, I know without a doubt change has started to blossom in Afghanistan. Badakhshan is no more the most dangerous place in the world for a woman to give birth. Majority of the people have access to basic necessities like safe drinking water, electricity, road, schools and clinics. Pen is replacing gun, life is replacing death and hope is replacing despair. No doubt, there are still many places in Afghanistan, Pakistan and Tajikistan, where people have no access to some of the basic necessities of life. But it is also our moral responsibility to continue to support AKDN in the fight against global poverty, hunger and inequality. I strongly believe that today is better than yesterday and tomorrow will be better than today if we reaffirm our commitment to these poor people in Asia.
Today, God has blessed us with everything that we need. We live in a country of opportunity. We have ample financial resources, we live in good houses, we wear good clothes, eat good food, have access to good medical facilities and moreover, our children go to the best institutions of the world. But my question is: Are we really thankful to God for what we have? I certainly don't think so. Despite living in a knowledge society, we have not yet grasped the meaning of poverty. We assume that people living in apartments are poor, but do not know that there also many places in Asia and Africa where people live in slums. We believe that people using public transport are the disadvantaged ones, but do not realize that there are many places in Afghanistan where people walk for 15 days in order to get to the nearest hospital. We deem that people on Medicaid are the less fortunate ones, but still do not understand that there many poor countries in Asia and Africa where people can't afford to buy a single tablet of Tylenol. We think people who shop at thrift stores and resale shops are poor, but do not recognize that there are millions of people in developing countries who have no shoes and clothes to wear. We label people rich and lucky if they are able to send their kids to private schools, but fail to realize that there are millions of children in Asia and Africa who are deprived of their right to education.
While returning home in the evening from the Partnership Walk, I was asking myself, what did I learn from the day? How will I make a difference in the lives of others? Whilst finding answers to these questions, a beautiful quote came to my mind and touched my heart. "Never underestimate the difference you can make in the lives of others. Step forward, reach out and help. We can make a big difference by just reaching out to someone who might need a lift." -- (Unknown)
Related