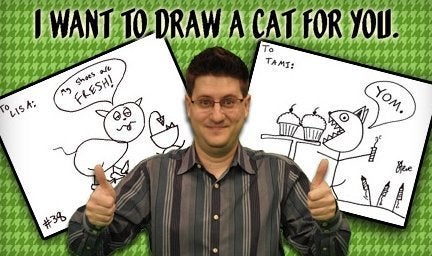 Steve Gadlin is always cooking up silly ideas. From comedy acts to game shows, the Chicagoan and father of two likes to keep busy. A few months back, Gadlin decided to start a small business of sorts--cat drawings.
While drawing felines is not a typical business venture, Gadlin figured that "I Want To Draw A Cat For You" would be low maintenance. All he needed was some paper, a few Sharpies and a website. Gadlin works as a web developer for WCIU/Weigel Broadcasting by day, so the site was easy enough. Then he made a commercial:
The web presence brought some interest to his $10 stick figure cat drawings, but he wanted to go big. So, a few months back he reached out to Groupon.
"I submitted this deal to them," he told HuffPost Chicago. "I just pretended that this was a very legitimate business...that draws cats for ten bucks."
A Groupon sales rep got in touch with Gadlin, and loved the idea. While some higher-ups resisted, Gadlin's cat art offer ended up as a Santa Cruz side deal...$3 cat drawings on Cyber Monday.
Initially, he expected to sell maybe 20 or 30 drawings through Groupon. That was not the case, and the deal ended up selling out. Now, he has more than 1,000 cats to draw.
"I've woven [the drawing] into my normal schedule," Gadlin said. "Get the kids fed and in bed.... I'll sit down in my dining room with a stack of fresh Sharpies, and try to do between 30 and 50 per night."
His drawings are very basic--stick figure cats with round heads and pointy ears. That is why he chose to make them his subjects.
"I'm allergic to cats and I don't like animals very much," he said. "I'm terrible at drawing period...Cats are easy."
Since the Groupon deal, Gadlin has been sending his cat drawings all over the country. Each one is custom made--and he has had some interesting requests. He shared a recent description that came from a Groupon redemption:
"A fat cat, Minnie, who is lounging around while a Sharktopus (1/2 Shark, 1/2 Octopus) is mangling a living room. All while Leigh Anne is watching hopelessly. Meanwhile, Andre, a handsome junkyard cat looks through a window at the carnage."
Gadlin calls the success surprising and fun--but does not plan on quitting his day job to pursue it. He said the Groupon team was surprised by the response to the drawings--and many of them ordered cat drawings of their own.
"What a ridiculous story to tell," he said.
Check out Gadlin's cat art gallery here and here. Oh, and you can still order one for yourself on his website.
Calling all HuffPost superfans!
Sign up for membership to become a founding member and help shape HuffPost's next chapter