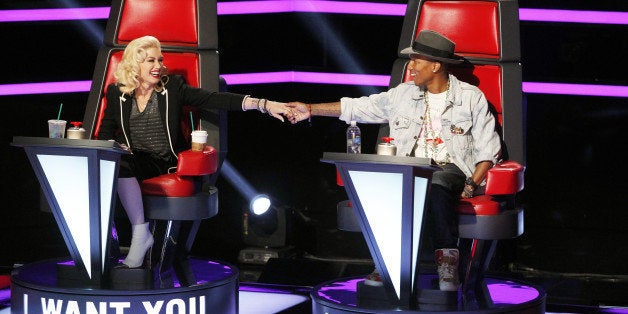 On the hit NBC show "The Voice," it goes something like this:
Someone who loves to sing begins to sing. Could be a guy who once tuned up a doggie day care, or an approaching-mid-life nanny, or a tiny girl with tinsel teeth, or a boy who has rassled cows. Could be a back-up singer for a kaput band, or a preacher's son, or the guy who collected coins in his guitar case as he played the noon-time crowd at a Philadelphia market. Could be any somebodies with serious talent and quintessential luck, and if the further luck is with them, they will (through the Blinds, the Battles, the Knockouts, the Playoffs, the Lives, the courtesy of celebrity coaches) become part of "The Voice" family.
That's the format, the general frame, but what gives the show its enduring sheen is its politics of kindness. The awe the celebrity coaches (Blake Shelton, Adam Levine, Gwen Stefani, and Pharrell Williams, most currently) profess to feel at the trill and croon of perfect strangers. The Choose me as your coach gymnastics. The Standing O's perched upon the arms of the I WANT YOU chairs. The favors begged: Tell us your name.
"The Voice" is the show that hopes for good. It is Blake expressing shock at the vocal range of a young contestant, and Gwen wet eyed and believing, and Adam in his hair du jour signaling galvanizing admiration, and Pharrell receiving the songs like a lake receives the rain, every dent and bend of sound reflected in his gorgeous, plastic features. In a world of racketeering politicking, regressive race relations, murderous sinkholes, and unleashed ISIS "The Voice" is people, right there on our TVs, being nice to one another, being moved by one another, eschewing the ironical distance, putting schoolyard bullies to shame, banishing the barriers between the famous and unfamous. Sure the celebrities are ribbing one another, but that's not what I mean. I mean that "The Voice" (momentarily) irradiates defeat. It glorifies appreciation. It proves love to be its own kind of intelligence, suggests enthusiasm as a form of instruction, and posits personal discovery as a journey that might be carried out within the context of well wishes.
"The Voice" is TV extravaganza, well-promoted entertainment. Its stars are, ultimately, people. It winnows and it winnows until just one Voice is standing. Its immediate mandates are pitch and song choice, hat or no hat, but its overarching message runs far deeper:
Love is not merely sentimental. Mutual respect might yet save us.
Beth Kephart is the author of 20 books, including, most recently, Love: A Philadelphia Affair, an appreciation of her city.
Calling all HuffPost superfans!
Sign up for membership to become a founding member and help shape HuffPost's next chapter