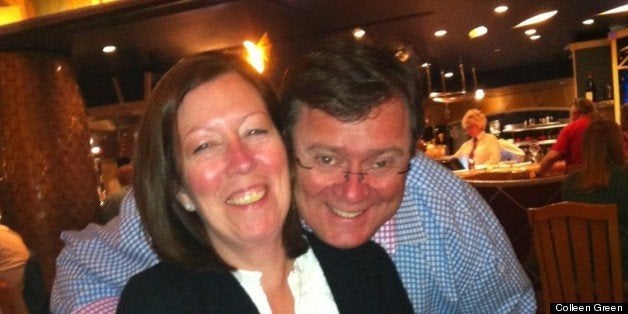 My name is Colleen and I am an alcoholic in recovery. There are still pervasive stereotypes and myths in our society regarding what an alcoholic/addict looks and acts like. Many people think they would be able to tell if they were in the presence of an alcoholic/addict. The truth is, addicts are lawyers and doctors, teachers and government officials -- and yes, addicts are even working and stay-at-home moms.
I grew up with an alcoholic mom and made myself a promise at a very young age that I would be nothing like her. I was going to be the mother she could never be and most importantly, I would not be an alcoholic! I would be the perfect mom to my children, our home would be spotless and I would always be the gracious hostess. I would volunteer for everything under the sun; nothing would ever be too much. The word NO was not in my vocabulary. I could do it all... perfectly.
After I married and had two children, people came to know me as the PTA mom who kept an immaculate house, always remembered birthdays and organized meals when someone was sick. I also started a playgroup while going back to school for a second degree (and graduating Summa Cum Laude).
My husband traveled frequently for work, so I often had to be both mom and dad to our two boys. When my husband was home, I played the perfect wife -- cooking gourmet meals, accompanying him to business events and spending time together at our country club. But trying to be the perfect mother, wife and friend was exhausting. I was overwhelmed and became anxious. I constantly had too many things on my plate. If someone asked me for help, I could not turn him or her away. I did not want to disappoint anyone, ever. I could do it all and I was very successful for many years.
I began drinking more often and little by little, I was out of control. But, I couldn't admit it to anyone. If I said it aloud, it would be an admission that I was a failure. At the time, I felt that I'd rather be dead than a failure -- a less-than-perfect mom.
While I was working hard to keep up this "perfect" image, I would drive under the influence with my children in the car, blackout during the middle of the day -- losing pieces of time, allow the television to parent my children at night while I drank wine, talked to friends on the phone and lied about it all to everyone I loved.
I always felt that I had to put a different mask on -- it was like a constant costume change. Sometimes, I would become mixed up -- which mask was I suppose to be wearing that day? I turned to alcohol increasingly to take me away from that people pleasing performance and temporarily soothe my anxiety, anger, fear and loneliness.
I kept telling myself that as long as everything looked perfect from the outside, then everything would be okay. But it wasn't. I was slowly dying and I'm certain that tragedy would have ensued if I'd continued on that path.
Very close to the end of my active alcoholism, I recall looking in the mirror in my master bathroom and not recognizing the person looking back at me. I just wanted it all to stop. I love my kids and I love being a mom -- I couldn't envision them growing up with a mother who was a failure and an alcoholic.
Still, it took me a long time and a series of consequences -- fortunately none of them catastrophic -- for me to ask for help. I went to treatment at Caron Treatment Centers, a nationally recognized non-profit provider of alcohol and addiction treatment, for four months. And that was just the beginning.
My family also received treatment at Caron and together we worked hard to rebuild our lives. I learned I have a disease that requires clinical treatment and I am not a bad person, but I am sick. But I also learned when I'm using, I can act in really unhealthy and dangerous ways.
Many women (especially moms) hesitate to seek help. In fact, Caron recently conducted a survey of former patients who are also mothers. The questions asked were honest and cut to the truth about how and why moms, like myself, are impacted by addiction.
The survey revealed that over 30 percent of respondents were reluctant to seek treatment because they were worried about leaving their families. However, over 55 percent sought treatment at the request of their families. The survey also showed that the top five factors to addiction for mothers included stress or anxiety, romantic relationships, pressure from family/friends, a traumatic experience and/or boredom.
I know I'll never be cured. I need to manage my disease every day for the rest of my life, as if I had diabetes or heart disease. On May 8, I celebrated seven years of continuous sobriety. I still have days where I have to slow down, breathe and remind myself that my sobriety must come first and the world will not end because I'm not the "perfect" mom or wife.
I am truly grateful for the beautiful life I have and I can now honestly say I like myself. Today, I am comfortable in my own skin; I have self-respect and confidence. I am not ashamed to say I am an alcoholic in recovery. I am proud of the person I'm becoming. I have earned the respect and trust of others. Just being honest with myself and others has opened so many paths and joys in life.
My heart breaks for all the moms still suffering in silence and for their families who may not know how to help them. I'm sure their pain is unspeakable and I hope and pray for them to find a way to heal. With Mother's Day as the "official" time of year to honor moms, the best gift to give yourself is that of wellness and the ability to be present for yourself and your children.
My drinking caused so much pain for the people I love the most in life. I know today the damage and consequences could have been much worse for my family and me. I also know if I pick up a drink tomorrow, all my hopes and dreams would disappear. My boys would grow up without the mother they truly deserve to have. The kind of mom I want to be for them for many more years to come.
Today, when I meet a woman who is struggling, I share with her what others told me -- you are not alone and there is hope. There are so many wonderful women who suffer from the disease of addiction. They do not have to continue living in constant fear or pain. There is a better way of life, a new life called recovery. Take a chance because you are worth it; your children are worth it. In the long run, you will be a healthier woman and a mother you aspire to be.