A few weeks ago, my partner Brian and I were asked to ride on a float in a gay pride parade in New Hope, Pa. The invitation came from The Raven, a local gay hotspot.
We jumped at the opportunity.
In full, fabulous drag as our alter-egos Miss Thunder Showers (Brian) and Miss Summer Clearance (me), we wore matching rainbow-striped dresses that Brian had designed and sewn furiously the week before. Brian, who is hilarious, was given a microphone to sing to the accompaniment of a live piano player. I blew bubbles that wafted on the wind as we progressed through the streets. The Raven's float was festooned with bright colors, glitter and sequins. We were as gay as geese up on that float.
It had been a few years since we had participated in, or even attended, a gay pride parade. Things have changed. For the better. I noticed this immediately as the float slowly started to make its way to the parade route. The first leg of the ride was through a suburban neighborhood. Locals sat in lawn chairs outside their homes, waving small rainbow flags. Heterosexual couples sat with their kids cheering us on. Seeing small children surprised me at first, but it soon made sense. The vibrant colors, costumes, and glee -- the pure gaiety -- are wonderfully attractive to kids. Some may say that exposing children to an outward display of "the gay agenda" is detrimental. However, in reality, these parents are showing their children examples of being true to oneself, of authenticity. Plus, these moms and dads are exposing their children to their own appreciation of the gay community, a nonjudgmental family value that will be passed on to the next generation.
We made a turn and hit the main drag (pun intended) of the parade route. New Hope is not a large town, only a few blocks in length. But thousands of people lined the parade route, and when they saw our vivid, wild float, cheers erupted. Josh Kilmer-Purcell says that a drag queen is "a celebrity trapped in a normal person's body," and at that moment, I knew this to be true. I felt like Kim Kardashian or Paris Hilton in front of crazed paparazzi on a red carpet. Hamming it up for the phone cameras that flashed everywhere, I affected mock glam poses, grinning from ear to ear. Miss Thunder sung her heart out, changing the words of "New York, New York" to "New Hope, New Hope." It was pure fun. Within about 10 minutes, it was over.
When I was a kid, I would never have allowed myself to act this way. Being a "homo" was shameful, and outwardly expressing pride in gay sexuality was unthinkable. In addition, the worst sin as a boy was to act like a girl. I taught myself to tone down effeminate mannerisms (to no avail, I might add) in order to avoid bullying. But on this gay pride day, I was a gay stereotype in rainbow drag, being as feminine as can be and having the time of my life. New hope, indeed.
There are people in other countries fighting, literally, to hold gay pride parades in much more hostile environments. These are valiant fights, because the joy that emanates from these parades is important. The pride from the gay community and the appreciation from our supporters are immediate in moments like this, giving a much-needed jolt of positive energy. For those of us who do not live in supportive places or metropolitan areas with large gay populations, moments like these provide at least a day's worth of what it feels like to be whole, to be genuine, to be loved and appreciated.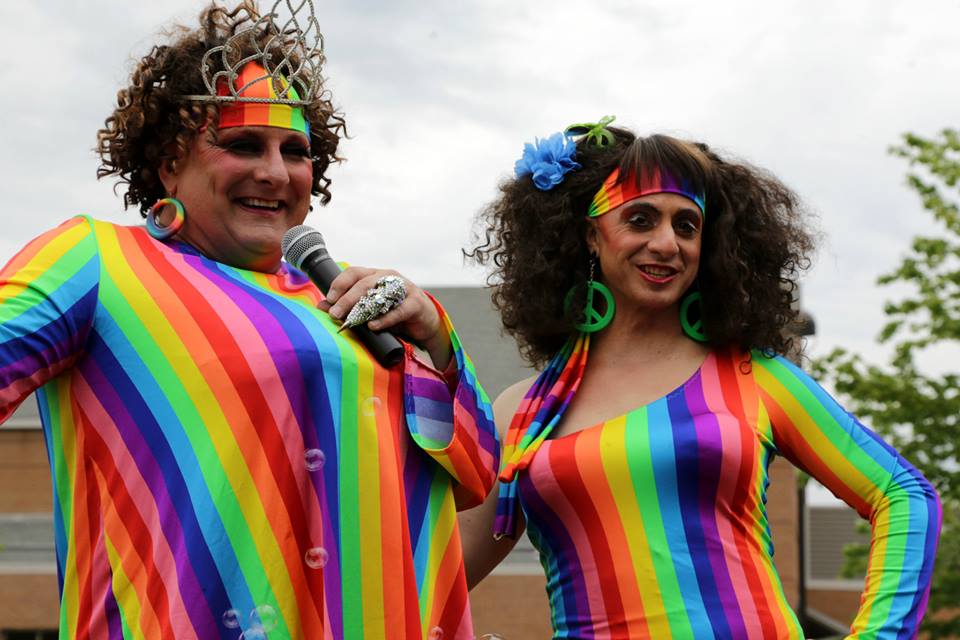 Thunder Showers (left) and Summer Clearance (right) on The Raven's float in the New Hope Gay Pride Parade 2013
Related