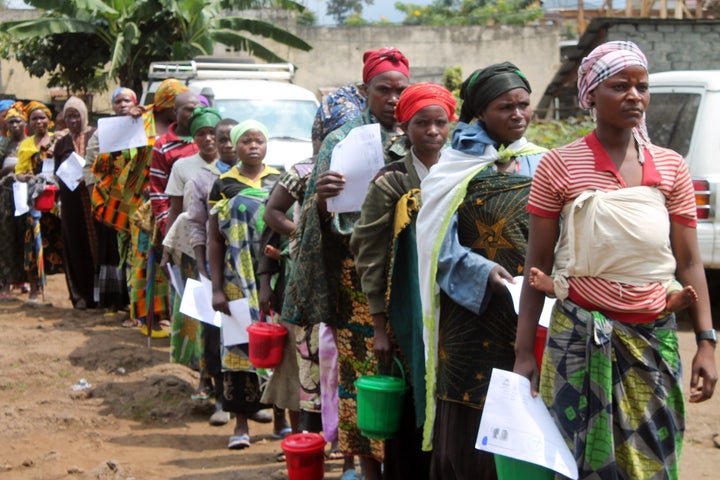 People often ask me why I chose to leave my country, but as a refugee, I can tell you that seeking asylum is not a choice.
Refugees are not leisurely tourists who have the luxury of time and full information to plan their journey from start to finish. Imagine, right now, you are in a classroom or in your office ― a routine day. Suddenly, you are threatened, authorities will not help you, and you find yourself on the next train or plane to leave the country for your own safety. You didn't have time to go home and get your things, to say your goodbyes, to sort out your financial matters. You suddenly end up in a foreign land you never thought you would go to, with no family, friends, roof over your head, local money, medical insurance, nothing. How are you going to live? Becoming a refugee somewhere is not an experience I would wish on anyone, but seeking asylum is a right for all human beings, no matter their race, religion or nationality!
By now we've all heard about President Donald Trump's executive order putting a hold on refugees entering the USA for at least 120 days. For refugees from Syria, the postponement is indefinite. While federal judges have temporarily halted the order, the fight to contest this executive order is far from over, as the courts have yet to assess its constitutionality. What I can tell you is that not only is this ban discriminatory at its core, but it is also deeply hurtful to some of the world's most vulnerable people. Refugees should be afforded protection and assistance, not be pushed away and ignored under the guise of 'national security'. These actions are, in fact, completely contradictory to the values that the United States purports to promote abroad.
I know this because I've been in that position of desperately needing help. I left my country ― the Democratic Republic of Congo ― more than 15 years ago and have not been able to return since. From 1997-2002, I was employed by Congo's National Intelligence Agency (NIA) as a spy, collecting information on anti-government organizations and opposition parties amongst other things. In 2002, about a year after President Joseph Kabila took office, I came across some information that clearly highlighted some ugly dealings between President Kabila's administration and the rebel army. I mailed that report to the opposition party and was soon arrested, imprisoned and tortured. However, I am one of the lucky ones. Fleeing from my home country, after a long journey with unexpected twists and turns, I ended up in South Korea. After an arduous six-year wait to be recognized as a refugee, I was finally granted status by the Korean Government, and am happily living with my family in the city of Gwangju for many years.
I also know this because I am the Chair of one of the largest refugee rights networks in the world - the Asia Pacific Refugee Rights Network. I've met with countless asylum seekers and refugees from every range of the spectrum and at every stage of their own refugee journey. I've met both with people desperately trying to navigate the often-drawn out legal process of obtaining refugee status, as well as remarkable individuals who have come out the other side ― rebuilding their lives and driving amazing initiatives forward in their countries of resettlement.
For many people though, they didn't have the same fortune and luck as I did to be able to travel far away for safety and go to a country that would face their responsibility to grant protection. Many people across the globe are stuck in camps or detention centers for years on end in indefinite legal limbo in places with no refugee frameworks. They are unable to enjoy fundamental human rights ― to work, to access affordable healthcare, to receive an education, and to live a dignified life. For too many, their host countries do not and will not allow them to legally integrate into society and yet they are are unable to return home. This leaves only one option available to them: resettlement to a third country. This is particularly true for my fellow refugees in Asia-Pacific, as many governments have not yet ratified the Refugee Convention.
In fact, only 0.6 percent of the world's entire refugee population of over 60 million people will ever have access to resettlement in any country in the world."
There is no question about it, the United States has been one of the most generous countries when it comes to offering refugee resettlement places, and year-after-year has offered the greatest number of spots globally. In 2015, the country received 69,933 people, approximately half of all global resettlement spots for that year. For the most vulnerable refugees in the world today, resettlement is their only hope and their only opportunity at a new life. Sadly, even resettlement is extremely limited and is only considered for the most vulnerable people/cases. In fact, only 0.6 percent of the world's entire refugee population of over 60 million people will ever have access to resettlement in any country in the world. Let me tell you: refugee status ― without resettlement or residence ― is the worst kind of prison, one without bars but with blocks at every turn.
The way refugees are often portrayed in the media and by politicians offends me. Discourse of "illegal immigrants" is legally inaccurate, provocative and dehumanizing. We are made to be seen as a security risk just because of where we come from, or as an eternal burden to society just because we need short term assistance. These myths are fundamentally untrue and add insult to injury for those who have witnessed unspeakable horrors. Having talked with hundreds, if not thousands, of refugees over the past thirteen years, they all consistently have told me how, if they had an option, they would prefer to live in their own country. We often dream of our return and mourn for the years lost away from our country and loved ones.
'the process is slow and emotionally draining –- I almost wanted to give up.'"
Of course there are security risks with any foreign national entering a country, whether that be on a tourist visa, business visa, or a humanitarian visa for resettlement. In saying this, the vetting, security checks and background checks that refugees going to the United States are subject to, is one of the most onerous processes I have ever seen. It stretches from 18-24 months, during which refugees are screened by several intelligence agencies, must undergo health and background checks, provide client testimony on numerous occasions and adhere to any other requests made by the U.S. Government. In the words of one refugee that was awaiting resettlement from Bangkok, "the process is slow and emotionally draining –- I almost wanted to give up."
And we are not a "drain" on society, we are an economic asset often untapped. Let me tell you my personal story. When I arrived in Korea I spoke no Korean and no English, only French. In my home country, I considered myself to have an elite job, but when I arrived to South Korea I soon found out that I was unable to work. But to be able to support myself, I was forced to work illegally in a dog food-canning factory. Today, I speak fluent English and Korean, I am a university professor, and I am part of the UN Selection Committee for Civil Society Speakers. Am I a burden or a development asset for Korea and the world? Koreans often see my experience as a miracle, of beating the odds. But for me, I see this as a response to refugee stereotypes and prejudices. We all have capacities to change society and talent to offer - if others will just realize it.
With countries like the United States turning their backs on refugees, it is time for other countries to take a stand and to show their commitment towards refugee protection. Canada's Prime Minister Justin Trudeau has already publicly stated that Canada will accept refugees that are unable to enter the United States. I encourage other government leaders, especially those in the Asia Pacific, to also show their support for refugees during this crucial time. Indonesia has recently signed a Presidential Decree on Refugees and Malaysia has announced a pilot project to grant work rights to 300 Rohingya refugees. These are positive steps that should be emulated and followed through with serious consideration by these governments to ratify the 1951 Refugee Convention.
Japan and Korea both have resettlement programs in existence, and, in fact, are the only Asian nations to have such programs. Whilst this is wonderful commitment to refugee protection, the total number of resettlement places on offer is incredibly low with less than 150 places offered between the two countries. We need other countries to be the moral authority that the United States is failing us on at this time. Such an approach will also provide an impetus for other nations in the to also take responsibility - an act which is desperately needed.
Mr. Trump has clearly illustrated that he knows nothing about refugees. Instead of encouraging hostility and fear, the world needs to stand up and demonstrate humanity, openness and compassion ― and just give us a chance without pre-judgement.
Calling all HuffPost superfans!
Sign up for membership to become a founding member and help shape HuffPost's next chapter
BEFORE YOU GO