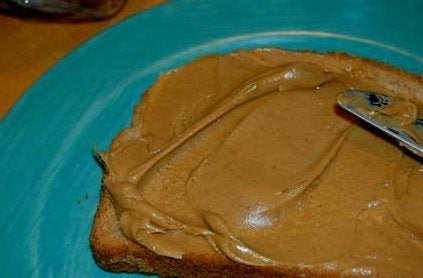 Yesterday, my wife forwarded me an "Important Announcement Regarding Your Recent Purchase of Peanut Butter" that she got from Fresh Direct, the online grocery service here in New York City.
This was not a good e-mail.
As my wife will tell you, peanut butter is very important to me. She even mentioned it in our wedding vows (along with my love for the Pittsburgh Steelers). If I had to choose one thing to eat for the rest of my life, it wouldn't even be a close contest -- peanut butter would top the list.
And you know what? Compared to a lot of the other things that I love to eat, it's not even that bad for me. Unless, of course, it's packed with Salmonella.
"Dear Valued Customer," the Fresh Direct e-mail started, "We are writing because you recently purchased a product affected by a newly expanded recall announced by the Food and Drug Administration."
I really didn't like where this was going. Turns out, the tub of "Freshly Ground Peanut Butter, Honey-Roasted" that we ordered a week ago is now on the FDA's list of recalled products. The e-mail instructed us not to eat it and to throw it out immediately (and, appropriately, offered us a refund).
Unfortunately, as I alluded to earlier, I can work my way through a container of peanut butter pretty quickly -- especially when it's honey roasted. There was almost nothing left for us to throw out.
Chances are, the peanut butter was just fine, and so am I. (Thank goodness my wife doesn't crave peanut butter as much as I do -- she didn't have any.) But it's scary to get a reminder of how vulnerable we are to problems in the nation's industrial food chain. Somehow, when you buy freshly ground peanut butter from a grocery service in New York City, you aren't expecting it to be connected to a processing plant in Blakely, Ga. But that's the way it works.
I've tried in recent years, after reading books such as Fast Food Nation and Omnivore's Dilemma, to be more aware and conscious of the food that I eat and where it comes from. My wife and I try to buy organic as much as possible, and we love getting the fresh produce at the farmer's markets around New York City.
We even joined a veggie co-op two summers ago, and I came to really enjoy visiting the church basement where the veggies were delivered once a week and picking out our share (although I have to say, I got a little tired of the endless string of lettuce). NRDC has a great Eat Local web feature that helps you find what's fresh in your area season by season, and even offers recipes from chefs around the country using only fresh foods.
But when it comes to peanut butter ... well, for me, it's always in season, and I don't pay much attention to where it's coming from -- although clearly, I should.
And so should the FDA. This peanut butter recall has been yet another reminder that the FDA, like so many other government watchdog agencies, was "one of many hobbled by the Bush administration's antiregulatory efforts," as a New York Times editorial put it yesterday. The folks over at Food and Water Watch also criticize the FDA for its handling of the matter. (And of course, peanut butter isn't the only place where the FDA has been found lacking, as NRDC's effort to get the agency to ban the chemical BPA from food packaging shows.)
If you want to see how badly the nation's system of safeguards has been decimated, look no further than Deepest Cuts, a December NRDC report that evaluated the state of environmental and health monitoring programs at the end of the Bush administration in five key areas: air, water, food safety, toxic substances and human health.
The report authors found "a disturbing and pervasive pattern of program and funding cuts that make it impossible for programs to fulfill their monitoring role. ... These cutbacks will keep us in the dark about threats to our health."
I certainly can't say that I was completely in the dark when I bought my honey-roasted peanut butter last week, but I guess, like so many people, I had the impression that someone was looking out for me. For our industrialized, highly networked food system to work, someone needs to be.
In the meantime, I guess I'm just going to have to cut back on my peanut butter consumption. Somehow.