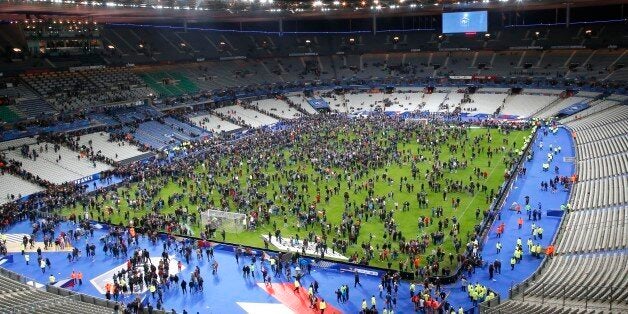 I was at the Stade de France as a greeter for the French football federation. I painted blue, white, and red flags on people's cheeks, I helped them find their way around the stadium, I gave them door prizes.
Up until 9:15 everything goes fine. We meet in the lounges to debrief with the entire staff. They tell us that we can go home shortly thereafter. Suddenly we hear the first explosion, then the second, a minute after, I believe. But time, at the exact moment, no longer had the same meaning. We felt the floor and wall vibrate in the room where we were meeting. The management team preferred to reassure us, explaining that it was a firework. But we felt that something serious had happened.
The fans in the stadium continue to applaud the game. When a goal is scored the stadium vibrates with enthusiasm. But what a difference for us. Especially after the first explosion, no one could enter or leave the stadium.
Then, someone explained that the GIPN (French SWAT) was there. A half an hour after the first two explosions, a third sounded, just as strong. The people in the room connect to social media. We learn that François Hollande was taken to safety. People start to become frustrated about having to stay confined.
People start to say anything, that there was I don't know how many attacks in Paris. Shortly before the final whistle, they told us that we could go. All around the stadium, everything was closed. I pass under a bridge to get to the RER (commuter train). There, 20 meters away, I see two cops point their guns at a young man, who says that he is a journalist. The cops don't seem to believe him. They make him get down on his knees.
Around me, everyone begins to panic. They tell us to go to an area to get to the RER (Réseau Express Régional commuter rail). We leave to take refuge at a friend's house in Bercy. I won't move anymore all night.
I was at the Stade de France but I am safe. Unspeakable horror. #Pray for Paris
This post first appeared on HuffPost France. It has been translated into English and edited for clarity.
Calling all HuffPost superfans!
Sign up for membership to become a founding member and help shape HuffPost's next chapter