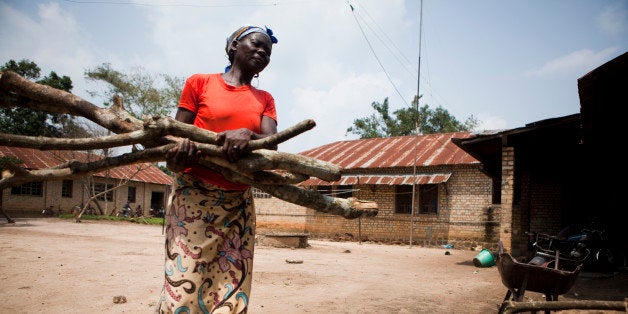 "I was attacked on Easter Sunday...my husband was in one hut and I was in another with the seven-year-old son of my younger sister..." These words were just the beginning of a tragic account read by Jane Fonda on behalf of a young woman in the Democratic Republic of the Congo who survived being raped and beaten by intruders. "I still have scars," Fonda went on to read. "But thanks to receiving medical care, I am lucky to be alive. Many others died in the bush."
This was just one of the countless stories read by women, about women, who would not be alive if not for the support of Donor Direct Action (DDA), an organization which has been providing decades-long support for women in over 80 countries. Still, although one victim survived, others did not, and this is not nearly acceptable enough for DDA's founder, Jessica Neuwith. "We need to get more money to these women's organizations that are operating with the fewest resources...those on the front lines," Neuwirth says. "The women leading organizations in countries like these are the masterminds of change, and we are key to their development."
And that is the reason why so many of us traveled on a cold and rainy night to the Ford Foundation in New York City during International Women's Week in March -- to not only celebrate DDA's history, but also to support its future. Originally hatched at Equality Now, DDA is now furthering its work by flying under the aegis of The Sisterhood is Global Institute (SGI), an organization founded in 1984 by Simone de Beauvoir and Robin Morgan. Having worked for decades to strengthen the global women's movement and women's voices around the world, Morgan believes this is a "perfect fit" due to DDA's pioneering use of the web to directly link front-line women's rights activists with donors to support the activists' work.
Specifically, Donor Direct Action partners with groups in Afghanistan, Democratic Republic of the Congo, India, Latvia, Nepal, Pakistan, Palestine, Somalia, South Africa, and Syria to provide web-based donations to support women in armed conflict and women's rights under law, while also working to put an end to sex trafficking, female genital mutilation, and violence against women. Having raised almost $1 million to date from donors in more than 35 countries around the world, DDA has successfully done so by taking the bureaucracy and the red tape out, thereby providing crucial support to women who know exactly what they need to do, and how to do it.
And the need to do so is becoming increasingly urgent. According to the World Health Organization, 140 Million Women worldwide have been subjected to Female Genital Mutilation (FGM). Further, the United Nations reports that $30 billion in profits is generated by the human trafficking industry, an estimated 80 percent of those trafficked are used as sexual slaves, and one out of three women will be beaten or raped in her lifetime. Additionally, the UN Committee on the Elimination of Discrimination (CEDAW) has released the grim statistics that 90 percent of casualties in armed conflicts today are civilian -- many of the victims women and children -- and 137 countries currently have laws that discriminate against women.

"It's been 20 years since the 1995 UN Fourth World Conference on Women in Beijing, where the international community pledged to work toward the full participation of women and girls in all aspects of life," Neuwith says. "Progress has been unacceptably slow."
The donations DDA receives therefore support such heroic organizations as the Galkayo Education Center for Peace and Development (GECPD), founded by Hawa Aden Mohamed to improve literacy rates among women since their few education and employment opportunities were destroyed due to civil war, thereby trapping them in early marriages; the Tasaru Ntomonok Initiative (TNI), founded by Agness Pareyio in Kenya, to work within the Maasai culture and the surrounding community to eradicate the practices of Female Genital Mutilation (FGM) and early childhood marriages by educating girls and their families; the Panzi Foundation and Hospital, founded by Dr. Denis Mukwege in the Democratic Republic of Congo (DRC), a nation that has suffered conflict for more than two decades and where soldiers and armed rebels use rape as a weapon. Panzi Hospital both provides medical care for the Congo's marginalized populations and rebuilds traumatized lives.
"I have never felt more one with people," Gloria Steinem says, having traveled herself to many of the areas DDA serves. "This is unique in that we are able to see exactly what these women need -- instead of telling them what they need -- and we are able to supply it...with minimum bureaucracy and maximum impact." Steinem continues, "This is a great combination of high-tech and high-touch."
Neuwirth concurs. "99 percent of each contribution goes to front line groups, and donators can pick which groups they want to support. It costs only three dollars per month to send a girl to school in the Congo, and only $500 per month to hire a lawyer to defend women's rights in Afghanistan," she continues, "We are trying to help these women put together a life of normalcy, which every person deserves."
Lori Sokol, Ph.D., is an Educational Psychologist and founder of Difference Matters magazine.