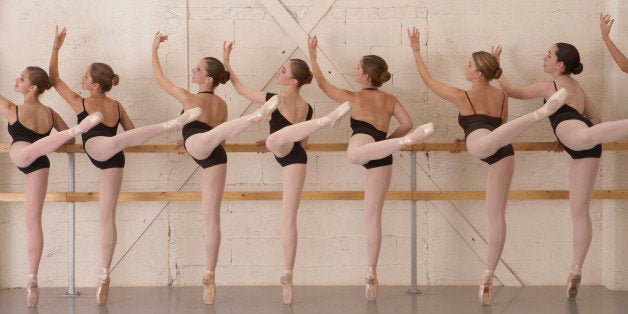 What is that old lady doing in the front row of our Zumba class? Although they don't say it to my face, I know they are thinking it. Well, I can move my booty, capture routines and shake it as well or better than most of the 20-somethings who line the front row. In fact, if you add up all their ages, it would approximate mine and I still feel confident enough to claim my front row spot. I may not kick or jump as high as I used to, but I am a trained dancer with body movement memory, a sense of rhythm, an ability to get every routine and never miss a beat. Besides, I have a hell of a time doing it. I especially love the challenge of choreography classes, where we learn an entire routine in an hour; it is great brain/body work and engages my mind as well as my body. Regardless of whatever else is going on in my life, during a dance class, I escape and refresh for an hour.
It had been a while since I had taken a dance class and when I decided to resume dancing a few years ago. I chose carefully. I looked for a studio that was easily drivable, yet far enough away from my home where I had been a public figure for years. I wanted to be able to shake my booty and breasts without being recognized or judged. I also wanted a type of dancing that would "speak" to me and make me move. You know the type of music -- you just can't stay seated quietly and have to get up and dance to the music. For me, that is salsa music with a touch of old school. I also wanted a challenging class, not a video routine, and I found that combination in classes at a storefront studio a few miles from my home. In the past six years I have been attending classes there, some instructors have moved on and the studio itself moved to snazzier digs. I followed the instructors and the studio and now regularly frequent two different places.
Sometimes I don't recognize the woman reflected in the studio's mirrors. Although I still have all my original parts, they have slowly gone south -- my arms and legs sag and my breasts are unrecognizable, squooshed into a formless sports bra. If you don't look too closely, you might not see all the wrinkles and crinkles. Perhaps you would see a fairly fit woman who gets the combinations, but who is a bit reserved. Admittedly, I do modify some of the movements and I can't touch my toes or kick my leg up to my cheek anymore, but I still have amazing rhythm and musicality and catch routines quickly. Trained as a ballet dancer, I still struggle to loosen up when dancing certain styles, like Cuban salsa hip-hop, where everything is down and dirty. Every once in a while I catch a glimpse of the little girl in pink tights, leotard and pink ballet slippers who occupied the space opposite me for so many years.
I was born to dance. The way my mother told it, I was born to cry. I cried and cried from the moment I was born and drove my parents nuts. The only thing that seemed to help was movement. My parents' friend developed an attachment for my baby carriage that rocked the carriage at various speeds. I was happiest and quiet when the machine was set at its highest setting and I was bouncing out of the carriage into the air.
Then one day when I was seven months old and my family was on vacation in California, I stood up and walked. My bohemian mom put me on a early dance path that involved creative dance at age three with Blanche Evans in the East Village, hawaiian dance lessons with a private teacher, ballet at a local ballet school and African dance lessons complete with drums in my co-op living room in a class full of adults.
At 8, I auditioned for and was accepted into Balanchine's School of American Ballet. I spent seven years in professional training there with serious Russian teachers. I especially loved performing with the company at City Center and Lincoln Center with such ballet greats as Suzanne Farrell, Gelsey Kirkland, Eddie Villella, Jacques d'Amboise and many others. A bonus was being able to watch the ballets from the stage wings, where I would memorize all the principals' parts, and reproduce the steps for my family at home.
When it came time for college I chose Bennington College in Vermont, where I hoped to blend my love of dancing with my academic interests. Instead of nurturing my love for dance, I found that the school espoused an avant guard technique that was anathema to my training and sensibilities. So I stopped dancing.
How could that happen? Dance was in my DNA. I needed movement and music to exist. For many years, I didn't have the time or space in my life to fit in dance classes. My family was growing as I welcomed four sons and I held several teaching positions -- day and night. My only involvement in the dance world was as a spectator and I frequented dance performances with a set of dance aficionado friends.
Almost 40 years have passed since I left dancing. Today I enjoy my dance classes, my teachers and the dance buddies, young and mature, who have become friends. I dance because I must. It is programmed into my DNA and as long as I am alive and can move, I will dance!
Calling all HuffPost superfans!
Sign up for membership to become a founding member and help shape HuffPost's next chapter