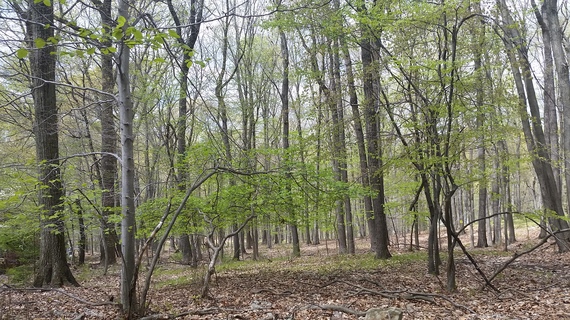 It has been two weeks since I spent the day with complete strangers up in the serene rolling hills of Bernardsville, New Jersey. Like the little engine that could, my little black hybrid puttered up the steep inclines through the meandering roads of the affluent neighborhood. Past gated mansions and castle-like compounds, I remembered arriving at the beautiful home atop the hill and taking a deep breath before releasing my apprehension. I distinctly remember the beautiful day because it was contrary to the reports of the weather prognosticators; for me, further evidence of the unpredictability of most things in life rather than a reflection on the flaw of the forecasters.
In an impetuous moment a few months prior, I signed up for a yoga and writing retreat titled, Writing from the Ground Up: A Transformational Writing and Yoga Retreat. At the time the decision seemed both adventurous and brave. Yet, as I sat in the impeccably-decorated living room with a view akin to something out of Walden Pond, I wondered what a technology professional from the Financial Service industry was doing sitting amid authors, poets, and academics.
The event was organized by Tiferet Journal (tiferetjournal.com), a wonderful literary magazine whose web site boasts it as a "nexus of literature and spirituality." A seemingly ideal environment considering my interest in mindfulness and meditation and my passion for writing. The publication and event were void of any religious or dogmatic affiliation, sans an explanation by its publisher on the magazine's moniker. Tiferet is the sixth attribute of the Kabbalistic Tree of Life, which is the primary symbol of Jewish mysticism. Tiferet represents the integration of kindness, compassion, and strength.

The organizers of the event were three diverse and accomplished woman. There was yoga and meditation instructor Julie Shaw who inextricably melded energy and passion with serenity and equanimity. Accomplished writer Therése Halscheid, provided inspiration and guidance to help us connect with our inner poets. The event was professionally and flawlessly orchestrated by prolific poet, author, and publisher of the Tiferet Journal, Donna Baier Stein.
The day's agenda provided time for personal reflection and writing which was elicited from the interspersed exercises of light yoga and meditation, group discussions and poetry reading, and quiet walks through the wooded area of majestic trees. Some used pen and paper as the conduit of their creativity while others tapped fiercely on their laptops. However, regardless of how the poetry was recorded, it flowed like a deluge that was no longer impeded by work deadlines, transporting kids, or the pressures of our normally frenetic lives. The quiet space gave the participants time to release emotions and thoughts that had long been laying dormant in their hearts and minds.
Time was given for each person to share with the group their creation. I listened as the emotions and beautiful words poured from each poet's mouth. Each artist read their work as the proverbially baton made its way around the room. I sat nervously waiting for my turn and with each reading I was astonished by the incredible poetry that was crafted in such a short period time. When it was my turn to present, my palms were sweaty and my heart was pounding. I was scared that my own work lacked the polish of those that had already been read. Apparently, I am told by those who should know, that these are the signs of a genuine writer. I couldn't decide if I would pass on reading my piece or jump in and share my soul with these strangers. But there was something about the atmosphere and the individuals present that gave me permission to swipe away my own trepidation and read aloud my poetry. To my surprise, I received encouragement and positive feedback and discovered, like all in attendance, how the quieting of one's mind can help allow the fountain of creativity in oneself to spring forward.
Today, some two weeks later, I received, via email, a copy of all the poems that were written on that day. A souvenir to all in attendance from our gracious hostesses. I sat and read them again and marveled at how even with time having passed, the words read just as sweet outside of the context of the inspirational day. I was then reminded of what went through my thoughts that day as I drove down the hills through the dusk laden sky on my way home after the retreat had concluded. Maybe it's time that as a society we make meditation and the act of quieting one's mind as routine as brushing our teeth or purchasing our morning coffee. If moments of stillness can elicit such beautiful poetry from such a disparate group of strangers, imagine what it could do for a group of scientist working to fight disease or combat hunger. What if politicians created policies through the lens of stillness? Might political bickering and shocking sound bites take a back seat to more important issues such as solving economic inequality or energy independence? If those things could happen, then wouldn't it also stand to reason that meditation on a more global scale could help world leaders to work deliberately toward something as monumental as world peace? Call me a fool or call me an idealist. All I know is through stillness and meditation at least for one day, I was called a poet.
For information about the Tiferet Journal visit tiferetjournal.com or email editors@tiferetjournal.com.

Related