This blog is part of a series on LGBT Catholics who have held on to their faith, despite being publicly rejected from the church. For more stories, click here.
Daily mass with my grandmother, reading my children's Bible with pictures that have been indelibly etched in my imagination, singing along at the new guitar mass... these images capture my religious experience as a young Catholic.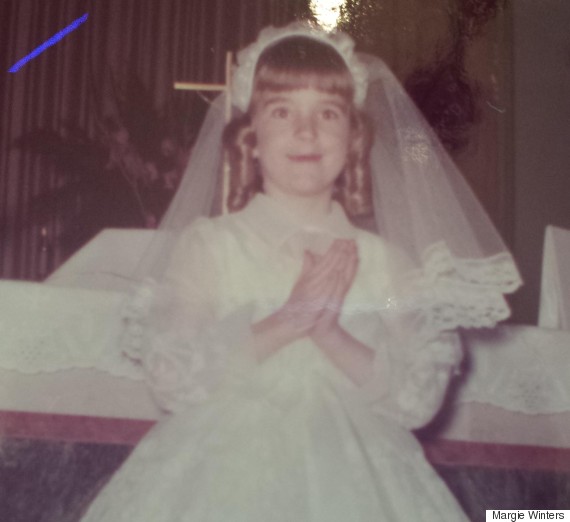 I grew up in Good Shepherd Parish in Philadelphia, where my religious imagination was formed by the music of the Church, calling me to respond in faith and act with justice. My Confirmation stands out as a vivid memory -- being marked with the holy chrism, smelling the oil's sweet fragrance, knowing that I was called to listen intently to God's voice in my life and to make a difference in our Church and in our world.
Listening to God's movement in my life recently brought me to minister to Waldron Mercy Academy. For eight years, this community and I walked a journey of faith that brought us deeper into our understanding and practice of faith and mercy. We learned about Catherine McAuley, foundress of the Sisters of Mercy. Her charism of mercy, a distinct vision and mission shared by all of the Sisters of Mercy, drew us outward to touch the lives of men, women, and children who experienced loneliness, poverty, and hunger. Our bonds of faith and friendship were strong.
At the end of this school year, however, I was fired because of my same-sex marriage to my partner, Andrea Vettori. The school believed it had to fire me in order to preserve its Catholic identity.
In the midst of the chaos of this event, oddly enough, my faith remains grounded. During my college years, I began to understand myself as lesbian and came to know that God loved me for who I was. This God of infinite, unconditional love holds me now, giving me the strength to stand. For me, this rejection has not come from God.
God created me, accepts me, and wants me to be a whole person, integrating my sexuality, just like my spirituality, into my person. This rejection comes from a Church hierarchy that clings to a teaching formed without the lens of current scholarship in scripture, psychology or sociology.
Instead of feeling alienated from God, I recognize how much God has given me. Freedom is the greatest gift. Freedom to speak the truth that I have known for so long. My partner, Andrea and I, can be a married couple without fear.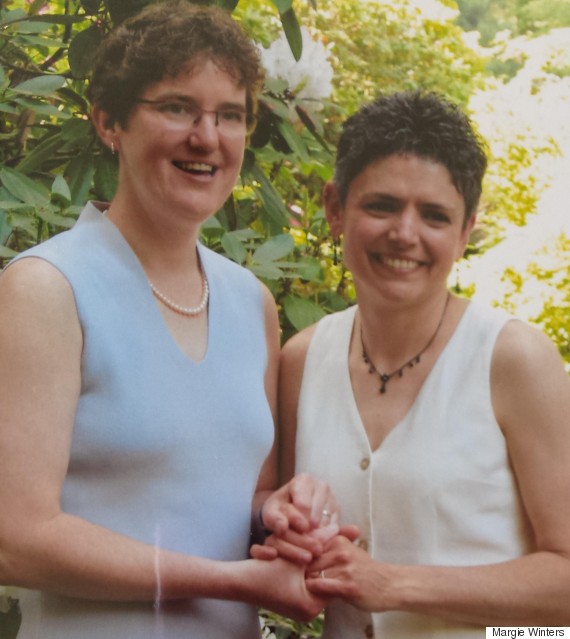 This freedom has strengthened our understanding of our marriage and love for one another. We are more connected with people in the Waldron Mercy community, which has enriched our lives. We have been freed to speak the truth in love to our Church which is in great need of reform. All of this while being tenderly cared for by a God of mercy and compassion who knows our loss and grief and who draws us constantly into the light.
In the midst of this, Pope Francis travels to the United States! What a confluence of events: my firing, the SCOTUS ruling in favor of marriage equality, polls that show 60 percent of the Catholic community support marriage equality, and Pope Francis' visit!
From the moment Pope Francis appeared on the balcony and asked the people to bless him, I have had great hope in his potential to bring our Church back to the work of Vatican II. Many people put a lot of emphasis on his saying, "Who am I to judge?" Where I place my hope in Pope Francis is in his steady, thoughtful, calculated actions. His actions speak of mercy, inclusion, and welcome, moving the Church away from its imbalanced focus on doctrinal adherence towards pastoral concern.
His namesake, St. Francis of Assisi, said, "Preach the Gospel. When necessary, use words." During Pope Francis' visit, Andrea and I will be in Washington and Philadelphia. We have written to him in the hopes of meeting him while he is here. We're keeping our cell phones at our sides! One never knows if they will get a cold call from the Pope!
We continue to walk this journey in hope. Hope is an easy word to throw around, but in practice it requires patience and perseverance. This journey of ours has demanded much hope. Andrea and I, with the support of our communities of faith, have put ourselves at the service of the Spirit, a Spirit of hope which resides in the People of God, who cry out for her Church to reflect the tender mercy of God.
Pope Francis appeals to people of many faiths because his message of love, mercy and inclusion resonates. God is a God of overwhelming mercy and love. We believe that the Church should reflect that to her people. As Pope Francis has said, "Let the Church always be a place of mercy and hope, where everyone is loved, welcomed and forgiven."
Related
Popular in the Community