Kevin Gentry is the top fundraiser for the Koch brothers' right-wing political empire and a board member of its money hub, Freedom Partners. He emcees their twice-yearly seminars, where millionaires and billionaires convene to strategize on how to manifest a deregulated, libertarian, Ayn Rand utopia -- or dystopia, depending on your viewpoint.
Gentry also laughs after physically assaulting women. I know because he did so to me and my friend, Tara Margolin.
But first some background. I am the journalist who released several hours of audio from the 2014 Koch summer seminar. Last Friday, Tara and I stayed at the St. Regis Monarch Bay Resort ahead of this year's donor fest. I was recognized by their security staff early that morning - after breakfast, we were followed by a young man in a blue shirt with a buzz cut and a penchant for texting. We called him 'blue shirt' and later 'BS.'
Tara and I purposely changed up our routes to see if BS would continue walking, or stop when we stopped. Sure enough, he was tailing us, so I called him out. "Who are you?" No response. "What do you want?" No response. And finally, "Stalking is illegal! Stop following us!"
Later Freedom Partners Executive Vice President of Communications James Davis approached us in the lobby. "Didn't you cover our retreat last year?" When I responded in the affirmative and introduced myself, Davis offered to answer any questions I might have on criminal justice reform or ending corporate welfare. He declined to do so on camera.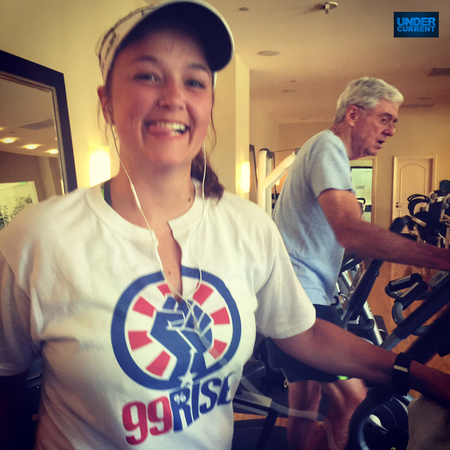 Wearing a t-shirt for an organization, 99Rise, that advocates getting big money out of politics, working out next to Charles Koch.
Shortly thereafter, Tara and I went to the gym, where we ran into Charles Koch himself. I was side-by-side with the ruler of the Koch empire on the elliptical. I did not speak to him because I thought it would be journalistically inappropriate to accost the man mid-workout. Plus we had information that the hotel restaurant, Stonehill Tavern, was bought out for a private dinner for the network, and I didn't want to jeopardize our ability to get in. Tara made small talk with Charles and one of his operatives, Steve Lombardo, the chief communications and marketing officer for Koch Industries.
Tara and I were able to get a table in Stonehill despite the buyout. At a table across from us was Daniel Garza, the executive director of the Kochs' Latino front group, The LIBRE Initiative. We were seated in the perfect vantage point to see inside the private dining room, and were able to catch glimpses of Charles.
When we began to see people exit the dining room, Tara and I closed out our check and went to wait by the bar. But Charles lingered inside. And we waited, in the bar, in the hallway, back inside the bar.
After spending some time talking to Koch security officer Randy Landen in the hallway, I returned to the bar to find Tara talking to James Davis. "James was just telling me about criminal justice reform and mass incarceration," she said.
I turned to Davis and told him I thought we probably had more in common than he might imagine, as I am a libertarian - albeit a progressive one. I explained the difference to him, "You know how you guys want to eliminate the EPA? Well, I think my right to breathe clean air and drink clean water should supercede your right to pollute it."
Davis clammed up, and Kevin Gentry walked over, positioning himself in such a way as to block my ability to approach the private dining room door. He faux-congenially asked my name, and then pretended not to be Kevin Gentry, although I identified him immediately. As I saw Charles Koch exit into the bar area surrounded by a phalanx of security, I walked towards him, and Gentry grabbed my arm, forcibly detaining me.
When I saw that I would not be able to get to Charles to speak with him, I shouted across the bar, "Mr. Koch!" He turned, and I continued. "We were at the gym with you earlier, I just have a couple questions!"
Charles turned and walked towards an alternate exit through the main dining room. I tried to make my way around the other side of the bar, but was held back, perhaps by multiple people - this all went down pretty quickly and they were behind me.
Once I could see that my efforts were futile, I turned around and walked over to Gentry. I told him if he ever laid hands on me again, I'd be filing a police report for assault against him. He replied, "Keep talking, honey. I'm recording you." I said that he better not be, as California is an all-party consent state, and that I did not authorize it. Gentry blanched.
At that point I didn't know what Gentry had done to Tara. They had been shaking hands, when this whole scene went into motion. He crushed her hand and twisted her wrist, also forcibly detaining her. Tara's hand and wrist were hurt and incredibly sore. Gentry and Davis laughed off her injury.
We decided to file a police report for her assault after speaking with two lawyers. An officer with the Orange County Sheriffs Department came to take Tara's complaint, and paramedics came to ice her hand.
In a statement for this article Tara said, "I was very surprised and disappointed that after the charming and polite conversation I'd had earlier with Mr. Koch in the resort gym that he would have his representative treat me in such a thuggish and frightening manner."
This situation became a full-blown circus, but it didn't have to end that way. Both security and Koch staffers knew who I and Tara were. If Gentry really thought we were a threat, then he should have had hotel security escort us out of the restaurant before Charles made his exit. That would have been the appropriate thing to do, and we both would have complied.
Instead, Kevin Gentry thought he would show us how much of a tough guy he is. As a private guest, not to mention a top Koch confidante, he appropriated the role of security when he laid hands on us - two women who were only trying to exercise their rights to free speech and the press. It's shameful behavior from a network that claims to cherish the First Amendment.
Support HuffPost
The Stakes Have Never Been Higher
Popular in the Community