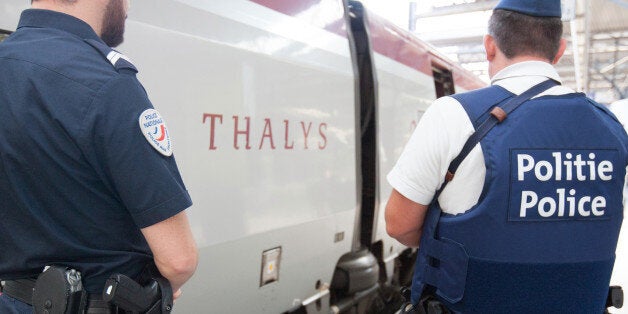 My name is Laurent Duquesne and I was a passenger on the Thalys train that came under attack en route from Amsterdam to Paris. I was in car number 11, seat number 41, the same car that Jean-Hugues Anglade and his family were in, and I saw things from the inside following the unfolding of events. It's a train that I take regularly since I work in Antwerp and live in Paris. The first thing that we saw was the Thalys staff running into our car, which shocked us, as we didn't yet know what was happening. My eyes followed the people that sought refuge inside the space situated between the engine and car number 11, which is used as baggage storage. This vault is accessible from the inside of the train through a door that opens with a special key that train staff have. After that, we saw some movement in car number 11 and some people from car number 12 heading towards our car saying, "There's shooting, there's shooting." Jean-Hugues Anglade headed toward the end of car number 11 and broke the safety glass of a box that stores a hammer used for breaking the window panes on the train during emergencies. There were several people at the back of car number 11, and Jean-Hugues Anglade came back and positioned himself in the aisle next to the car number 11 access door with the hammer in hand. There were Americans, Belgians and French people at the back of car number 11 trying to get further away from the shooter. People were in shock and some were saying "on va mourir," or "we're going to die." I must point out that there were announcements from the staff on board via the Thalys audio system, but the messages were incomprehensible and very unclear. A little later, a lady came into our compartment and said to us, "My husband was wounded by a bullet, is anyone here a doctor?"; I am not a doctor but my company trained me as a first aider. I hesitated for an instant before going in because we didn't really know what was happening and, in particular, if there was a shooter on board. This lady turned out to be Mark Moogalian's wife. I learned his name in the news the day before yesterday. Once we had clearer information from some people on board, I heard at some point that the suspect was under control and I got up from my seat and went towards car number 12 so that I could lend assistance to those that were hurt. When I went into car number 12, I saw the American soldier that gave Mark first aid, and I also noticed the person in charge of the train communicating with the driver and the SNCF authorities to get help. He was very shaken and he told me that some people told him that if the train stopped we would arrive in Paris late. He also told me that he hadn't spoken too much on the subject in order to avoid general panic and I told him, "Very well." I also noticed the suspect who was lying on the floor face down, securely bound hand and foot and therefore unable to cause any harm. I kneeled down and got closer to Mark to hold his feet down because he was moving his arms and legs too much, without much success. The American soldier was on top of him, and looking a little more closely. As soon as he lowered his head, I saw that he had been slashed three times during the attack. The ticket inspector on the train found a first aid kit for us that we opened and went through, but the material wasn't useful for treating bullet wounds. There was a survival blanket that I tried to cover Mark with, but I ended up removing it and throwing it on a seat. With a pair of scissors, Mark's wife cut off the sleeve of her shirt up to the shoulder. I saw that the American soldier had given Mark first aid, the emergency services had been contacted and I then talked to his wife and tried to reassure her as best as I could. She didn't understand why the train wasn't stopping, why help hadn't arrived, and she was very worried about her husband.
Throughout this whole time, the train continued going at a reduced speed without stopping. I rightly explained that it made more sense for the train to continue moving because if it stopped out in the country, organizing help and evacuating passengers would be more difficult.
I also told her that I wasn't a doctor but that I could see that Mark was conscious and moving around, and that these were good signs ahead of the arrival of help. We found out from the ticket inspector that the train was going toward Arras. She asked me if there was a hospital in Arras, and I confirmed that there was, as I know the Nord-Pas de Calais region well (I was born in Nord) and at worst, according to how serious his injuries were, he would be transferred to Lille or even Paris. She also asked me how she would be able to recover her luggage, and how the emergency services would take care of her and her husband. The ticket inspector told me that he needed to head over to one of the car number 12 doors, the other door having been taken charge of by a Thalys worker in order to send up emergency services and the police. I cast a last glance through the window to catch sight of a station platform. I also thought of Arras, and I then realized that the emergency workers were all going to quickly run into car number 12 to help the injured persons, as they were visible from the platform. The police came up first, and then the emergency medical team and the firefighters. I pointed out to a firefighter that the lady next to them was the wife of the injured person on the floor (Mark). She had a white Yorkshire Terrier that the emergency team asked her to pick up. I went back into car number 11 to make room for the emergency team and to get my belongings and get off the train because the Thalys staff told us that we were being transferred to the front carriage of our train. Jean-Hugues Anglade, along with his wife and two children, were taken into the care of the emergency team to treat his wound. I kept watching the injured people leave and I saw Mark with his wife and their luggage as well as the American soldier. I didn't make too much of it, to be honest, but after this incident, I was comforted by the fact that I helped out, and that's helping me to get through it. I warmly thank those who intervened to neutralize the suspect because there could have been a massacre, from what I saw in car number 12. I gave this testimony to the authorities and the journalists present in Arras and Paris. I would like to get some news about Mark and his wife. All the passengers got out of the train at Arras station and we were carried to a gymnasium nearby. At the station's exit, I ran into the mayor of Arras, and we were given water and food. The civil defense was there, as well as the emergency medical team and the firefighters. Things were being organized. The police tried to give us news to keep us up to date with new developments, and I translated this information into English to the people inside the gymnasium. A little later in the evening, the SNCF had organized the transfer to Paris with another Thalys train, where those who wanted to got water and food. They also organized a taxi transfer, which took some time as there was also a fire in a Paris station.
This post first appeared on HuffPost France and was translated into English.
Related
Popular in the Community