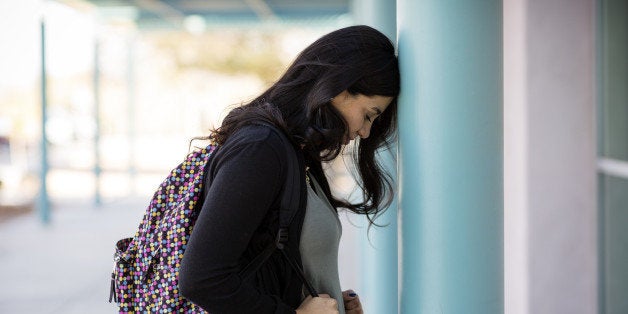 A bunch of chatty, female college freshmen were discussing their high school years that were barely distant. Dressed casually, computers on their laps, phones in their hands, one young woman turned to another showing her old Facebook photos to her friends:
"I was ugly, cute, and ugly again. Now, I don't know what I am. Look how fat I was."
The other girl reassured, "Oh, that's not fat. You don't know what fat is."
Here they were at college preoccupied with how they looked. Not to say their grades weren't important or even what they wanted to learn, but that's not what was on their minds.
"That teacher in my literature course called us in after class and said, 'I'm so disappointed in you.' I couldn't believe she talked like that to us. Then she said in that sarcastic tone, Don't you ever listen? Who'd she think she was talking to? You don't talk to your students like that!"
Interpersonal relations with peers and those in authority were central to their thoughts. Fortunately, they had each other, friends who could confide honestly with each other about what mattered to them. To me, however, from the next generation, it seemed so sad that how appearances and their struggles with authority plagued them so much. Their high school years just seemed to be extended into their college years.
Young women today have so much to look forward to in terms of building careers, possibly deciding on motherhood eventually, and having so many remarkable role models in the next generation to learn from and observe as they choose to balance different aspects of their lives. As a psychoanalyst who works with young women in late adolescence and young adulthood, many are quite studious, engage their teachers with respect but a sense of equality, and bloom as they experiment with different courses and activities testing their growing abilities.
It struck me how down in the dumps this small collection of young women were sitting and chatting in the lobby of a building with studios for actors. Around the corner from their hall, people were trying out for commercials, practicing lines, singing in musicals. This group was surrounded by many young creative people working hard at their crafts and exploring their talents. Presumably they were there for the same reasons, but pained by their appearances and the approval of others.
Late adolescence doesn't really slip into young adulthood until the importance of one's internal world supersedes external appearances. That's when girlhood shifts into womanhood. I was struck by the lack of dissenting voices in this group. Not one girl said, "Oh being pretty isn't so important" or "Who cares what one teacher thinks? What matters is what you think."
I could only hope that someone who cared would offer those ideas sooner rather than later, so they wouldn't waste these precious years pining over superficialities.
Feeling ugly is indeed painful and feeling cute is ephemeral and often diminutive. How would they gain the poise they needed, the self-esteem that would help them rise above the externals to discover who they were inside? Who would point them in their own unique directions? Maybe a wise parent. Someone soon, I hope.