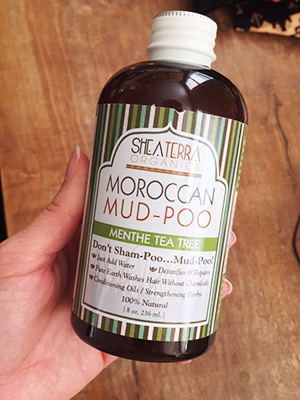 Mud--and the clay in it--is one of the oldest beauty ingredients in existence. It's been used forever in face and hair masks, not to mention the good old multifunctional Aztec Healing Clay. People favor the ingredient for its ability to absorb excess oils and deep-clean pores. But what happens if you wash your oil-prone hair with clay? Would it provide the same squeaky-clean benefits as a clay face mask? I went on a mission to find out.
I decided to give Shea Terra Organics Moroccan Mud-Poo a try. This mud-based shampoo has been around for a while, but the company just reformulated it so that it comes in powder form, rather than the premixed version it sold before (apparently people didn't like their hair mud coming to them after having already been mixed with water). And while you may be wondering who in the world first thought of washing their hair with clay, according to Shea Terra Organics, it's a ritual that goes back to ancient cultures. The company mines the clay it uses from deep within the Atlas Mountains. Here's what the product looks like straight from the bottle: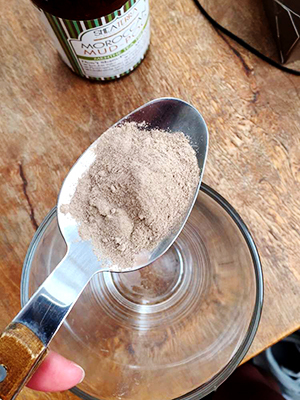 The included instructions say to spoon one to four tablespoons (depending on your hair length) into a cup, and then add water gradually until it creates a "muddy slurry" that's supposed to look like chocolate milk. I used three tablespoons (my hair goes down to the low end of my back, and I still had some left over), threw in some water, and stirred up my muddy shampoo. Here's what it looked like (appetizing, right?):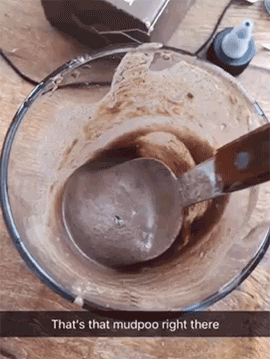 Then I hopped in the shower, brought my glass of "mud poo" with me, and massaged it into my wet hair. I must say, it felt strange. I'm so used to washing my hair with sudsy, detergent-laced shampoos that grinding powdery grains of clay into my hair felt like I was making it dirtier. If it weren't for the soothing mint scent, I would've been totally grossed out. After fully coating my hair in mud, I let it sit for about two to three minutes and then rinsed it out, following with my usual conditioner. My hair didn't feel noticeably different, except it was a little coarse.
It wasn't until I blow-dried my hair that I started to notice the benefits of shampooing your hair with clay. I'm prone to dandruff and I tend to have a very oily scalp, which means I usually have to do scalp masks every week or so to get rid of all that gunk. But after using this clay shampoo, my scalp felt squeaky-clean, and I was able to go a full three days without washing my hair, using only dry shampoo. Around the time when I would normally start scratching at my scalp (usually by the second day), I wasn't at all itchy. Cosmetic chemist Randy Schueller explains why: "Clay can absorb oil and help clean your scalp, and it contains tea tree oil, which does have some antifungal and antibacterial properties."
I do have one caveat about the mud-poo: It can be drying, so make sure you use a good amount of conditioner on the ends of your hair after using it. If you have dry hair, Shea Terra Organic's website suggests dropping a few squeezes of hair oil into your slurry before applying it, so I'm planning to try that next time. Because there will be a next time. I'm proud to report that I now love washing my hair with mud. Put simply, clay shampoo just saves time for a dandruff-prone, oily-scalped girl like me.