After being frustrated with the lack of media coverage and human rights violations Standing Rock was receiving, so my friend Nathalie and I decided to go to North Dakota to get as much footage as possible to share with the world. It was a last minute decision that has changed my view of the world and where I want to take my contributions in journalism. I even left without letting my parents know where I was going. But as the plane made its rounds on the tarmac, I texted both of them and to my surprise, they were both supportive. That's all I needed. We volunteered, made friends with Native Americans, and were ready to face the front lines with them. While we shared photos, videos, and social media updates for podcast Morado Lens, we came back with so much more.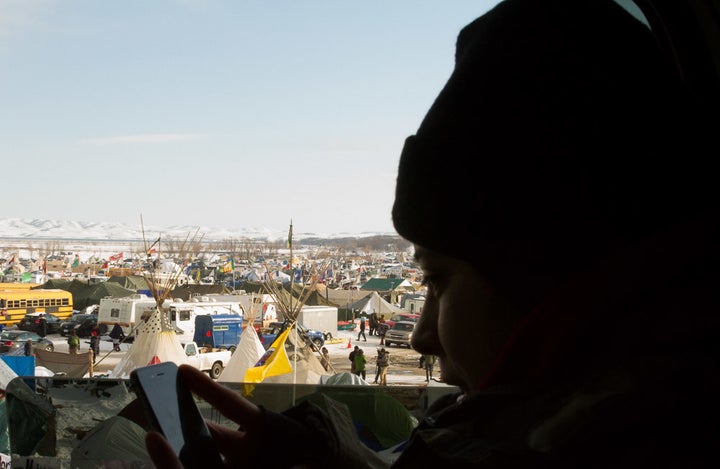 I arrived the night before and was staying in a hotel about an hour away from Standing Rock. As soon as my friend and I walked into the hotel, the receptionist gave us a dirty look. We shrugged it off but when she asked my friend how she got to the hotel and that she put the make and model of the car in her check-in sheet, we immediately became suspicious. She warned us that it would be difficult to get a taxi the next morning because of the "damn protestors" at Standing Rock. That's when we realized we might be outnumbered in Bismarck. We couldn't tell if it racism or because they were holding up a project that would bring jobs to the area. It seems my father's advice to not trust anyone was going to come in handy. We charged up our electronics and hoped for the best for our first day at Standing Rock. We didn't know what to expect and were a bit (okay, very) anxious.
The dining area in the hotel room was clearly divided by Standing Rock supporters and opposers. Those going to the reservation were dressed down wearing multiple layers. And, unfortunately, it was impossible to get a taxi the next day. So, right when we were going to give up, we saw a lady near her car with a New York license plate. We asked her if we could catch a ride and she looked at us a bit quizzically as if trying to assess what side we might be on. She kindly agreed and warned us that her car might smell like kimchi and other herbs all the way from the Catskills ― all products she was donating to the water protectors at Standing Rock. She was kind enough to give us a ride to our meet up spot with the rest of the group. We tried to meet up with her again but it was near impossible to use our phones at Standing Rock, there was either no service or it was so cold your phone would shut off.
We met with a group of others at Lowe's to buy supplies for Standing Rock, most of who we were meeting for the first time that morning. We were connected by one person who started a GoFundMe page to help raise money for supplies. We drove off to Standing Rock with propane gas, generators, and wood.
The first thing you see when you drive closer to Standing Rock are the teepees. Then all the cars. And, finally all the thousands of people who have made this place a viable, organized, and functional village of sorts. It was overwhelming to say the least.
We arrived at the California Camp, also known as Grandma's Kitchen, run by you guessed it, Grandma. The sweetest, most welcoming Native American elder we met. There were three tents that made up her kitchen: the back, pantry and dining room. It was always filled with all kinds of people: volunteers, day trippers passing through, veterans, children, natives, and those who have been there for weeks if not months. The camp had an orderly system and the kitchen made miracles happen with what they had and served: flan, granola, fried bread, curried potatoes, salad, and, by the last day, there was an abundance of strawberries in every corner. So much in fact that they had to be donated to the vet's camp. Everyone loved grandma.
I even met a couple who drove 10 hours from Colorado just to drop off a trunk full of goodies like flashlights, tarps, tissues, hand warmers, snow boots and even gum. They were so happy to give. It seemed the whole camp was running on generosity, love and the willingness to show up.
By the time everything was unloaded, most of the group left to go for a second run but Nathalie and I stayed. It was still early and we wanted to help as much as we could on the ground. So we hopped on a multicolored bus looking for volunteers, drove to another town, and helped sort out donations from all over the world. Blankets, clothes, hand warmers, socks, and so much more.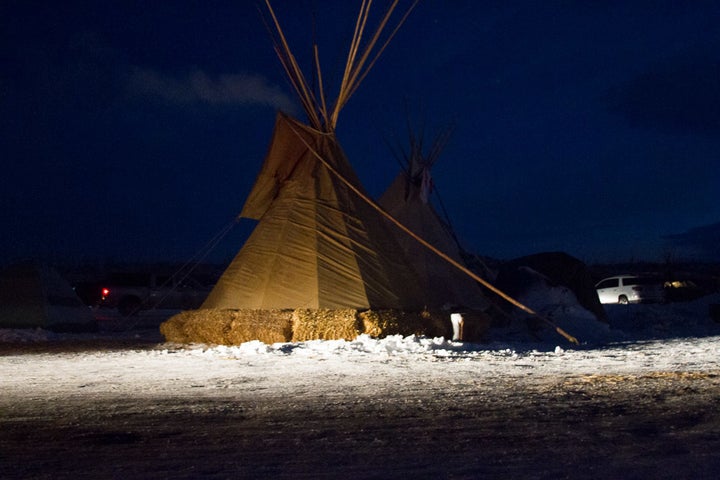 Our main point of contact at the California Camp was Kat Bagley, a photographer who has spent weeks helping out in Grandma's Kitchen. She was open, kind, and super welcoming. And, she helped us get a ride back to Bismarck that evening. So we hitched a ride with documentary filmmaker James Spione, a New Yorker who also somehow found his way to Grandma's Kitchen. Our other option was to stay in someone's tent, which we were open to but our stuff was back in Bismarck. We kept going with the flow and everything kept falling into place.
The next day we felt more comfortable in our slightly uptight surroundings in Bismarck. We caught another ride with James, aka Jim, and as soon as we got to camp, felt the tension in the air. And, everyone seemed to be waiting for something bad to happen. We got some footage and then volunteered at Grandma's Kitchen again for a few hours. I wanted to take portraits of Grandma but when we got word that people were headed to the front lines, we packed up our gear but not before getting stopped by Grandma.
She kind of hobbled her way to the bottom of a rack and handed us goggles, respirators, extra filters, and knee pads. As she put it, "they'll try to get you at the knees to take you down, put it on."
This was the first moment where I was actually scared that something might happen. There were rumors that if arrested, the police weren't letting people make their one call for at least 48 hours. We both had family back home who were ready for that call and would help if needed.
Then, along with our new native friends Tracy, Corey, and Christine all from Iowa, we peacefully headed to the front lines but not before stopping at the sacred fire for prayer. We stood in a big circle with veterans, volunteers, natives and waited for it to start. We didn't expect to hear good news.
Tribe Chairman David Archambault II said that the United States Assistant Secretary of the Army contacted him directly and said, "the U.S. Army Corps of Engineers is going to deny the easement, they're asking for a reroute and for a full environmental impact statement. These are things we have been asking for since the very beginning, it's symbolic."
Energy Transfer Partners would need that easement to continue drilling the pipeline that would cross under Lake Oahe, which borders the Standing Rock Indian Reservation.
The crowd didn't quite cheer at first because they weren't sure what they heard. Could this be true? Then word spread and slowly but surely the positive energy dominated the area.
Actress Shailene Woodley, a #NoDAPL supporter from the very beginning, made an appearance and spoke about the largely ignored rally in Washington D.C. where only about 50 people showed up because "no one was paying attention and now months later this is worldwide news."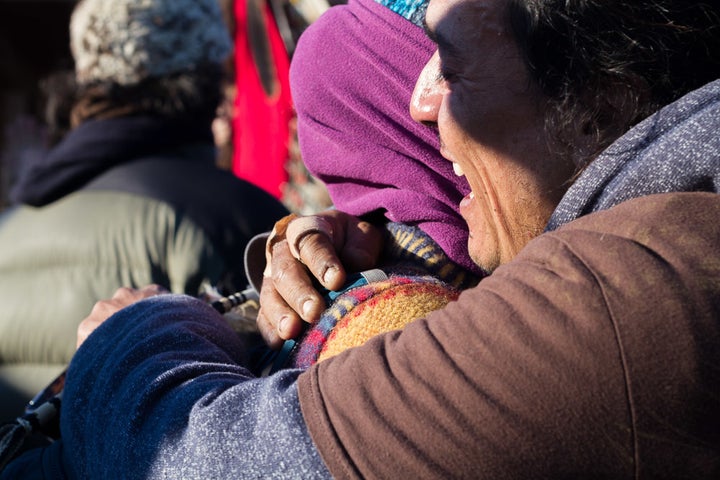 Most cheered, cried, danced and celebrated but there were many others that remained skeptical, mostly natives. It seemed odd to get this news on a Sunday. It also happened to happen the same weekend that 2,000 veterans vowed to be human shields for the water protectors. All signs pointing to this being a possible political tactic to get people off Standing Rock or even serve as a delay until President-elect Donald Trump took office. He not only favors the completion of this project but is personally invested in it -- a fact he's said is irrelevant, according to HuffPost.
According to his campaign finance disclosures, his shares were valued between $500,000 and $1 million. In other words, the chances of this not being approved at some point, is slim to none come January. It's no wonder Energy Transfer Partners are taking the 50K hit, with Trump backing them why would they think otherwise? Sigh. Yet somehow I am still hopeful.
Knowing all that, we still celebrated. The camp needed some good news, if not to boost morale. The world now knew about the injustices Native Americans face on a day-to-day basis. There were pow wows, dancing, singing everywhere you turned. As the sun went down you could see a long line for miles and miles long of cars lined up to get into camp. People from all over wanted to celebrate with Standing Rock.
Did I mention I found a camp with a Peruvian and American flag firmly planted in the ground? Their sign said, "Peruvians en solidaridad con Standing Rock." I felt at ease in coming across fellow Peruvians.
We took an alternate route and went out to dinner at Prairie Knights Casino, a first for me. The food wasn't great but the company was. Tracy, Corey and Christine schooled us on so much about their culture, history, and connections to Standing Rock.
My time there exceeded my expectations. I feel like I learned a whole new way to give back to not only my community but my fellow indigenous people. It brought tears to my eyes to read everyone's message on social media, especially those from Peru asking for updates in Spanish. I want to go back but am waiting for the right time. As long as the Native Americans keep fighting for what's right, I will stand by their side and support them. It's been long way overdue.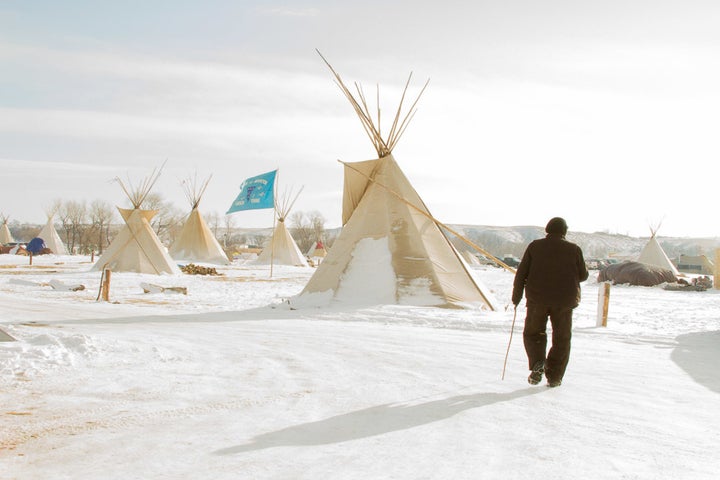 Popular in the Community