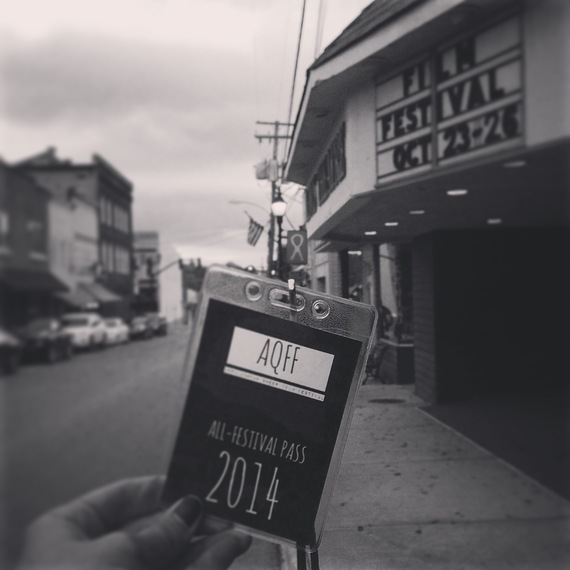 Photo credit: Valentina I. Valentini
I wasn't nervous about going to rural West Virginia until people asked me if I was.
"They do a lot of pills," my sister said.
"They drink a lot," said someone else.
"Watch out for weirdos," I was warned.
I've lived in Los Angeles for the past five years, and they might as well have been talking about Hollywood Boulevard. Still, traveling to Lewisburg, a town of 3,800 in the Alleghany Mountains, for the Appalachian Queer Film Festival isn't exactly a typical day in West Virginia.
Those words combined in the festival's title elicit a similar reaction every time: "Queer? Well, what is queer?" more than a few locals asked.
"There is that moment when people tilt their head and seem confused at the use of that word," says the festival's founder, Tim Ward, a West Virginian. "The point is, though, that they ask us to explain it. That's part of what we're trying to do here. We want to accomplish a few things with this festival. We want to show great films that might otherwise not be accessible here. We want to broaden hearts and minds, change stereotypical perceptions of West Virginians, and also change what it means to be queer here."
"Queer" used to denote sexual deviance and was used as a derogatory term for homosexuals or effeminate men. In the 1980s, many LGBT advocates began to reappropriate the word in order to establish community and assert a political identity, and it's now widely accepted in the arts, academia and beyond as an umbrella term for non-heterosexual people. It is not surprising or offensive to me that a rural West Virginian does not know this; a rural Floridian might not either, nor a rural Michigander. People in my Massachusetts-bred family do not know this.
"I like that there's a lot of space in 'queer,'" says fest panelist Rachel Garringer, a West Virginian and the founder of Country Queers, a project documenting rural LGBTQ people's experiences. "It refrains from narrowly defining me and implies a social-justice aspect that is dedicated to thinking about gender fluidity."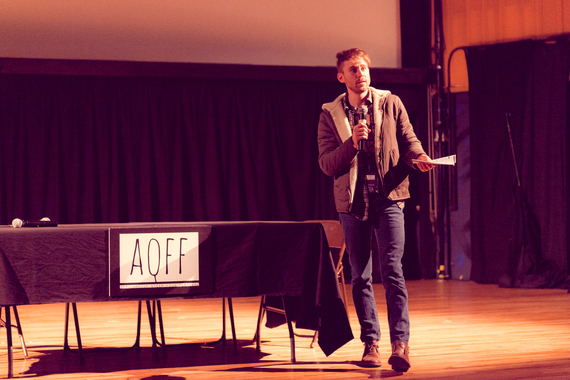 Photo credit: Carling McManus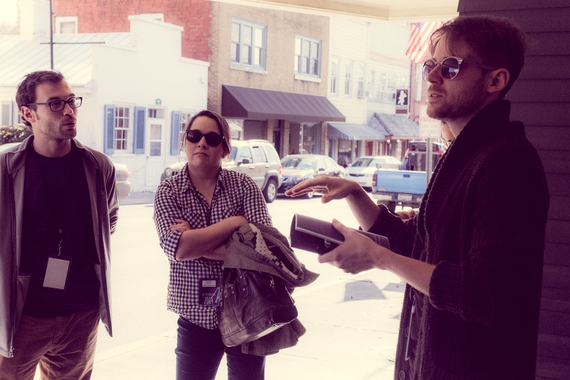 Photo credit: Carling McManus
If there are West Virginians who think the AQFF is trying to promote a political agenda, co-founder and Charleston, West Virginia-native Jon Matthews assures me that their only agenda is equality, and that "art can cause progressive social change."
"'Conservative' doesn't mean 'homophobic,' 'anti-gay' or 'closed-minded,'" the civil-rights-attorney-turned-filmmaker continues. "There are a lot of conservative West Virginians that are very open-minded and support LGBTQ rights. And for others, their homophobic beliefs can be changed when they have a gay friend or family member. Art, and films in particular, act in that same way, introducing audiences to LGBTQ characters whom they get to know and can hopefully empathize and identify with. That helps broaden their minds and shift their beliefs."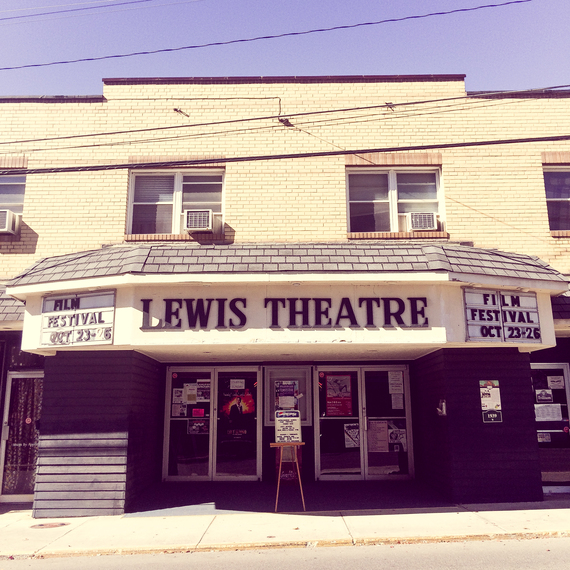 Photo credit: Carling McManus
With a respectable turnout for a first-year festival (250 people at its peak), they kicked off on Thursday night with a local filmmaker's fourth feature, Ladybeard, about a closeted West Virginian lesbian, her fake boyfriend, and her eventual coming out. The visible lack of production value lent itself to the super-super-low-budget project, and the story was poignant and presented a scenario that is all too common in more Christian and rural communities.
Next up was the psychological thriller Lyle, Stewart Thorndike's first feature, starring Gaby Hoffman. Via a Skype Q-and-A afterward -- which happened practically glitch-free for the majority of filmmakers who weren't able to make the trek to the mountain town -- Thorndike explained that the impetus for the story came from being in a relationship (with Ingrid Jungermann, who plays Hoffman's wife in the movie) and knowing that you don't want the same thing. (Thorndike wanted a baby, whereas Jungermann didn't.) That oversimplifies it a bit, I think, since the creepy, awesome tale travels well beyond a typical relationship story.
That first evening there was an unofficial afterparty at the Irish Pub -- one of three bars in town, all found on two perpendicular main streets, Jefferson and Washington. I sat with Carling McManus, AQFF's director of media, and Val, who are friends and Lewisburg transplants, listening to their tales of coming out to their families. I talked with Ward's mother, who attended every screening and panel her son's first film festival had to offer.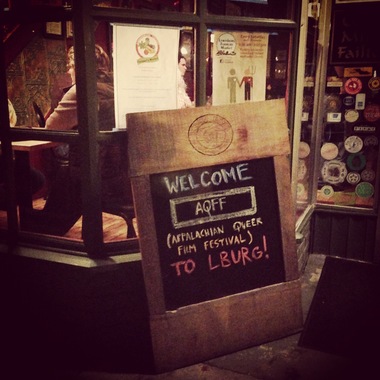 Photo credit: Valentina I. Valentini
"I always knew," she said of Ward's coming out to her in his second year of college. "He came out slowly, and only to certain family members. He didn't tell his grandmother, though, who he was really close to. I think she knew too. I'm so proud of this coming together for him. It's been a rough few weeks." (Ward's grandmother passed away only two weeks ago.)
A few beers and one bowl of surprisingly delicious Irish stew into the conversation, the curious locals and I had started eyeing each other. A couple of guys even got up the drunken gumption to hit on me as I went up to order another round. When I told them what I was there for, again the question came: "Queer?!" I invited them to come see a film or listen to a panel. Some walked away silently, and some met me with politely drunken refusals, saying if they had known about it and could have planned better, they just might have checked it out -- a local publicity outreach snafu the founders promise to rectify next year.
Other films screened over the weekend included documentaries Hotline, The Campaign, Kumu Hina, To Be Takei and Goodbye Gauley Mountain -- an ecosexual love story that I recommend Googling -- and narratives See You Next Tuesday, Sundance screenwriting-award winner The Skeleton Twins and SXSW winner Fort Tilden.
Between the screenings and Pub shenanigans -- where the locals seemed neither impressed nor annoyed with our presence, letting us melt easily into their weekend nights -- I was able to explore the town and surrounding farmlands as well. Lewisburg is a hub of American history and our country's deep-rooted relationship with agriculture. Only three miles out of town, I found Swift Level Farm, which provided views fit for a silver screen, complete with a 200-year-old mansion and surrounding barns, where Tootie and her son Everett humanely slaughter and sell their all-organic, grass-fed beef to local restaurants like Stardust, my favorite by the end of the weekend.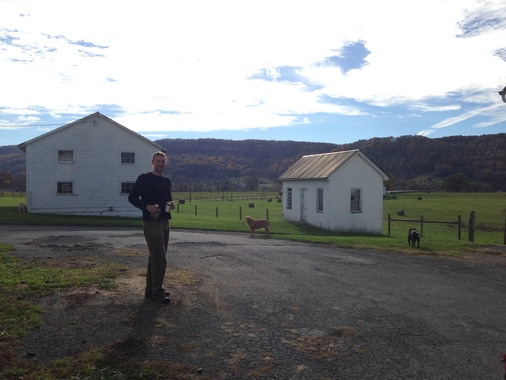 Photo credit: Valentina I. Valentini
Back at the festival, it was the two panels that held the meat of the festival's mission. "Raising an LGBTQ Child in Appalachia" introduced a reverend and mother of a gay son, a mother of a queer teen and a high-school teacher who received much pushback when he founded a gay-straight alliance. Directly before the "Queer Film in Activism" panel began, Nathan Manske, a panelist and the founder of I'm From Driftwood, had the sort of run-in that is the very reason holding a queer festival in a place like West Virginia is important.
"As I was getting coffee I had a conversation about the Lord," he told us. "A man asked me if I lived an 'alternative lifestyle,' and, politely, I replied that I was gay. He told me that he was confused as to what to call 'us' and delved into a longer conversation comparing the 'gay sin' to murder. After a while of my nodding and letting him speak, he told me that if I wanted to change, that I would be forgiven by the Lord. But he also told me a story about two lesbians at his church who were kicked out of another church, and that his congregation would never do that. So despite him comparing the 'sin of being gay' to murdering someone, I realized that he also wanted me to know that he does have some sort of compassion towards LGBTQ people. Letting someone tell their story -- instead of talking -- is a powerful tool. We all have our stories to be told."
Here's a clip of Tim Ward, the founder of the Appalachian Queer Film Festival:
Popular in the Community