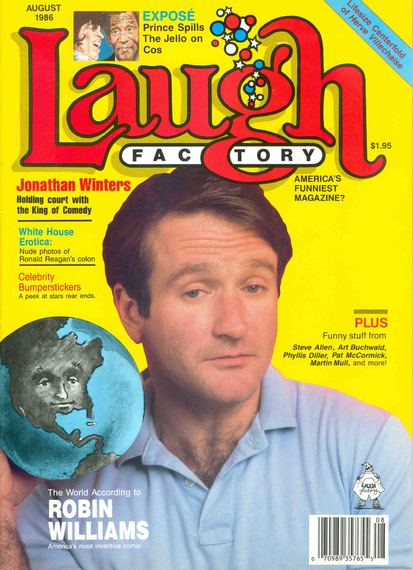 Robin Williams on the cover of Laugh Factory Magazine, August 1986

When I first heard about Robin Williams' death, I went into my office, closed the door and cried. It felt like I had been punched in the stomach several times and I couldn't breathe or stand up. Many of our comedians were calling me, and despite my own pain, I tried to be strong and did my best to take their calls and share in their grief.
A bit later in the day, Bob Saget called me and said he didn't want to be alone that night and wanted to make sure I wasn't canceling our dinner. Dane Cook was joining us, and he confirmed as well. It was clear from their reaction on the phone, that this shocking news meant they needed a night out so that we could all grieve together. When we met up for dinner, I saw in Bob's face the same look that he had a few months past at his mother's funeral. Tears were coming out of Dane's eyes, and while he blamed it on his allergies, I had seen this look on Dane's face a few years ago, when he lost both his parents to cancer within 10 months of each other. The dinner was starting to feel like attending a wake or sitting Shiva for a dearly departed.
But this was a dinner with two of the most prolific comedians working today, so there were surprises.
Bob had experienced his share of loss, having two sisters die at an early age. He was sipping his martini, choking up on occasion, and trying to make jokes about anything. When the server took our order, he had an audience for that brief moment, and he was able to make her smile while ordering appetizers for all of us. He ordered lots of meat and pork knowing I didn't eat either. Then for dinner, he ordered me a steak. He was having fun at my expense, but it seemed to be cheering him up -- although I did manage to jump in like a heckler, and told the waitress to bring me fish and to skip the pork. Once she left, Bob choked up again. He couldn't continue bantering or contain it any longer; he started telling us stories about him and Robin. Now he was a man grieving, not a comic performing.
Dane tried to pick up the slack making jokes, but I know him too well -- for nearly two decades -- and I could see it in his face: he was struggling to stay strong. It reminded me of the day Dane's father died. Dane came into the Laugh Factory that night, crying uncontrollably, and you could see from his red swollen eyes, that he had been crying all day. I gave him a hug. Then Dane told me he wanted to perform. I said "Dane, you are in no condition to go on stage right now." He said he wanted to, he had to, for his father. Dane explained that his father's wish was that on the day he died, he wanted him to make people laugh. I said "Dane, you are crying, look at your face. You cannot go on like this." He looked at me and said "Put me on next. I have to do it for my pop." Reluctantly, I went to my emcee and told him to put Dane on next but don't leave the showroom because he will probably only do a few minutes. I asked Dane to wash his face before he went on and to try and compose himself.
A few minutes later, Dane went on stage, and it was that night I gained a new understanding of comedians.
Dane performed for over an hour and had the audience hysterically laughing and screaming. He gave that audience an incredible show, filling them with joy and laughter. I just looked on in awe, tears in my own eyes now, because I knew how much pain produced this performance. When he finished, Dane said good night, looked up, kissed two of his fingers, pointed them to the sky and said, "Pop that was for you." He received a standing ovation as he left the stage, and although no one knew what had just happened to his father, I knew and I was overcome with the emotion evoked by his commitment to make people laugh.
Soon, he was taking pictures with people in the audience, while others were telling him how great he was and he thanked them and shook hands and gave out hugs. One lady without any hair walked fragiley up to him and told him that she had cancer and hadn't laughed for a long time and she laughed so much that she was ready to face all her challenges in life. Dane smiled at her, gave her a hug and said "be strong."
Eventually Dane went upstairs at the club and sat on a couch. He looked exhausted and in pain, and put his head on the couch and broke down. I sat next to him and tried to comfort him. I told him that that was one of the greatest performances I had ever seen, that his father would be proud. I also had a new understanding of comedians and the kind of experiences they draw upon for their material.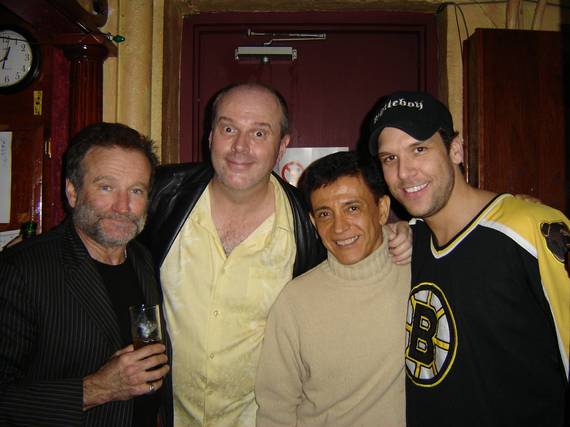 Robin Williams with Rick Overton, Jamie Masada & Dane Cook at Laugh Factory Hollywood
Comedians never allow others to see their pain.
The first time I met Robin Williams was over 35 years ago. I was with him and David Letterman at the Bla Bla Café on Ventura Blvd. He bought me a tuna sandwich because he told me that I "looked hungry." He had great intuition. He knew what you were feeling even if you tried to hide it. He might not have known that I was living in a garage, but he knew I was hungry. I ate that sandwich so fast and before I was even finished, he brought me on the stage with him and he tried to teach me Shakespeare. I was new to America, had a heavy accent and didn't know who Shakespeare was. His words of instruction are still ingrained in my mind: "To be or not to be, what is the question?" People roared when I repeated this line. Anytime he saw me after this, he would ask me "Jamie how many years is it now that you are in America? 37, 38 years? You're still speaking with an accent. I would love to come to your home one night and see you at home where I know you drop that accent and speak perfect English. You have us all fooled." This would make me laugh. Robin was one of those people who loved to make people laugh. He was a comic master -- what I call a "doctor of the soul."
One time, he and John Belushi picked me up and we went to a club located on top of Carlos and Charlie's restaurant for dinner. We had three girls with us. People would come over to the table and John would brush people off and say, "Guys I'm with a lady" and look away. Nobody knew who I was so I had no problem. But everybody knew who Robin was and he didn't brush anybody away. The people didn't allow Robin to eat his food or have a conversation with his girl, because every few minutes somebody would walk to the table and say, "Robin can you sign this?" and "Robin, we love your show." He was kind and gracious to everybody. Nothing fazed him; later that night, a guy came to the table with his girlfriend, had a magic marker, and asked Robin if he minded autographing his girlfriend's breast. One signed breast coming up!
He devoted his life to giving joy and happiness to people. Everybody felt like they knew him, because that's what Robin did, through his TV appearances and movies. He had an uncanny ability to make people feel like he was their friend and that they really knew him. He gave you his attention -- whether you were a guy with a magic marker, or an audience of 5,000 -- you mattered.

One day I'll never forget, I had the honor of interviewing Jonathan Winters for Laugh Factory Magazine. After the interview Robin wanted to meet up with Jonathan and me. I wound spending an afternoon with the two of them. It was the funniest afternoon I ever experienced. The two of them cracked me up nonstop. Everything could get a laugh; no one and no thing, was spared.
Since his passing, people have asked me how I will remember Robin. I say Robin was one of those guys that was always full of life, always bigger than life, and he gave smiles and laughter to millions of people around the world. And above all else, I'd say, he was charitable. Any charity for wounded soldiers he was the first to respond. And the charity didn't have to be well-known. Nearly three decades ago, Robin joined Paul Rodriguez and me when we went to east Los Angeles to perform for a school raising money for football uniforms. We went to their auditorium which was packed. It was a scorching hot day, and the school placed fans in the doorways to blow some of the hot air back outside. Paul, Robin and I were drenched in sweat; it looked like we showered with clothes on. The show went well, money was raised for the uniforms, but there was an additional surprise.
A couple of days later, I heard from the school's principal that Robin had gone back there and had an air-conditioning unit installed for the school and for the auditorium. He didn't want anyone to know what he did and I never told this story before, but now I'm sure he would allow me to tell it since he now must have others speak for him.
That's the Robin we all knew and loved. At the close of the dinner with Bob and Dane, we were as proud of him as ever, as a member of our comedy community. Robin will be in our hearts forever. He has a new role now and we wished him well on our marquee after news of his passing: Robin Williams, Rest in Peace, Make God Laugh.
Popular in the Community