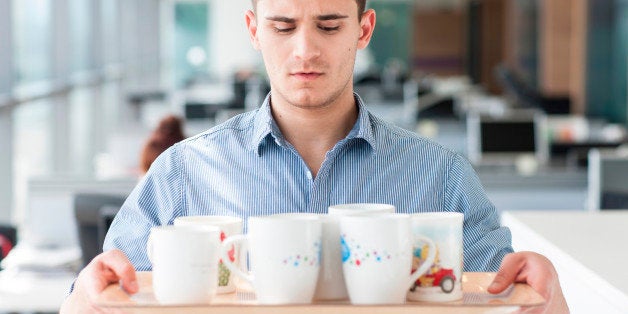 Three internships and over four different jobs have taught me a lot over the past three years. Each experience was different and enhanced my career in a different way. Managing major social media platforms for the first time, meeting people I had seen on TV and securing a job after graduation are just a few of the feats I've been blessed with while working and interning in New York City.
In the end, however, the same lesson rang clear: just simply having a job or an internship is not enough! Even if it's at the biggest company in the world with the best salary possible for your field, it' s still not enough. In order to be successful, you must demand more; and no, I don't only mean more pay (hopefully you will get paid, though) or free perks -- I mean more out of the experience. It probably sounds simple, but if I had a dollar for every time I was asked how to get more out of a job experience than just getting Starbucks and filing papers, I wouldn't need a job at all.
At one of my first jobs I faced my "getting coffee and filing papers" dilemma and while these things were part of my job title (I was only an office assistant at the time) I did have the right to demand more experience than the usual office duties. My supervisor at the time was the first person to tell me this and as confrontational as demanding more sounds, it doesn't always have to be.
It can be as simple as volunteering to do tasks outside of your job or internship description, for example: if the department needs a flyer or advertisement made -- ask if you can create it. That task enhances one's design, advertising or marketing skills and opens a doorway for more tasks of this nature that can help expand your skill set. Another example, all departments, offices and companies hold events at one point or another -- ask if you can help set up or plan certain aspects of the event, that right there is event planning experience which is a great asset to anyone's resume and experience. The absolute easiest time to get more out of an experience is when a new employee is hired. Show them the ropes and you can add the fact that you helped train a new employee to your resume; this is an invaluable leadership role for anyone in any field.
If you're in school, don't forget about that network. Join a club related to your career interests and ask if you can participate in any projects they have going on or run for an office. Better yet, try to land a student position on campus. These on-campus positions are best for college students and supervisors will most likely be more aware of the fact that a student will want to learn and expand and student run organizations have many opportunities for students to build their own experiences.
I can't lie though -- there are times when demanding more can be just as adversarial as it sounds. Those applying for jobs and internships should get serious about the position from the very first interaction with your superiors: the interview. Remember that job interviews go both ways, yes; you interview them just as much as they interview you. This is why asking questions is a big part of the job interview and why not asking questions during an interview can be detrimental to your prospects for being hired. There is absolutely no shame in asking an employer if there is room for growth and if there are any opportunities for you to participate in activities that can expand your skill set -- in fact not asking these kinds of questions and not showing that you are looking to improve your skill set through a job or internship opportunity is a very passive way of interviewing for jobs.
The days of keeping the same job your entire career as our parents did are over. These days, success is not just getting a job and keeping it, it's building a diverse career with the opportunities and resources available to you today that were not available or emphasized back then.
Personally, when asked what I want out of a potential job or internship, I have told a hiring manager during an interview "no, I will not get your coffee," not because I don't know how to be helpful or competent, but because I want more out of my positions than just a title and a big company name; and ultimately I want more out of my career than just a bunch of titles. By the way, I did get that job.
Related