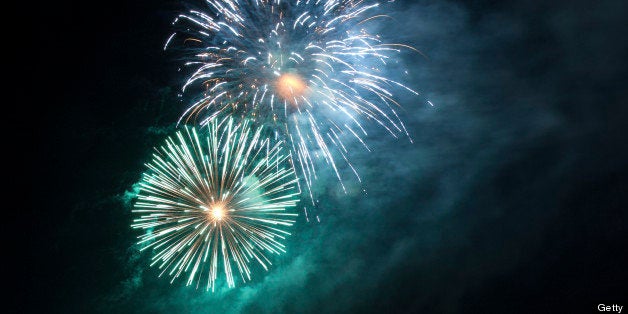 My political consciousness was forged on an anvil not made of iron or steel, but books and music. My parents supplied me with the good stuff that prevented me from achieving bliss because ignorance was never an option. Let's talk records. In 1988, during the golden age of hip-hop, I was given a copy of one of the greatest albums ever recorded -- It Takes a Nation of Millions to Hold Us Back by Public Enemy. Chuck D spat fire and introduced me to John Coltrane and Joanne Chesimard while challenging me to think critically about America's war on poor black and brown people (artfully camouflaged as the war on drugs) and the prison-military-industrial complex. As July the Fourth approaches I will listen to "Louder than a Bomb" and reflect on Flavor Flav's introductory salvo, "Picture us cooling out on the Fourth of July. And if you heard we were celebrating that's a worldwide lie!"
Let's talk books. My mother gave me a tattered, discarded Bibb County, Georgia, textbook entitled Eyewitness: The Negro in American History by William Loren Katz when I was 9 or 10. That book became my favorite possession. Its pictures are seared upon my imagination. Especially a photograph of an enslaved man named Peter who had been whipped by his overseer. The image of his grotesquely scarred back taken on April 2, 1863, has haunted me since 1983. Katz documented the beauty and horror of my heritage as a black man in America. He also introduced me to Frederick Douglass's classic oration from July 5, 1852, entitled, "What to the Slave is the Fourth of July?". It's time to reflect upon those timeless words again.
Many folk will bristle at my juxtaposition of the rhetorical artistry of Flavor Flav and the venerable Frederick Douglass. But the words of these two men have shaped my politics and given voice to my feelings about the Christmas of American civil religion, July the Fourth. Before my political awakening the Fourth was a fun day of barbecue, games, and fellowship with family and friends. Now, I reflect upon this nation's refusal to live up to the syrupy platitudes about liberty and sacrifice our political leaders will serve us like so many hot dogs.
There will be fireworks and Sousa. But I am sticking with Flav and Frederick. Why? I find little to celebrate. Douglass calls the Fourth "your holiday." He does not own it. What happened to white Americans in 1776 was hardly felt by many black Americans in 1976. He calls the founders "your fathers." He does not own them. And I cannot own them. They never intended for my ancestors to be anything but human cogs in the wheel of their economic prosperity. That is a fact. To forget that is to trample upon the bones of my forbears. I must reflect upon my ancestors' elusive dream of freedom.
The government and the corporate media celebrate as patriots those who are uncritically supportive of America's imperial exploits. That is not my heritage. I am Richard Allen's son, the first black man to write a political pamphlet challenging America's white supremacy. And we must keep writing. I am Ida B. Wells Barnett's son, the powerful black woman who refused to let America lynch black bodies without sounding the alarm of outrage. And we must continue to speak up for those crushed by American violence masquerading as law and order. I am Bayard Rustin's son, the black man who strategically organized people and resources to challenge the status quo and to demand justice from America. I am William H. Lamar III and Eartha A. Lamar's son. I am only one generation removed from the ugliness of legal oppression in America. How can I celebrate liberty with bondage -- economic bondage, educational bondage, political bondage, health care bondage, and religious bondage -- all around me? On July 4, 2013, I will reflect on America as it was and as it is. And I will affirm my allegiance to my ancestors whose fight lives on in me.
This was originally published by the Afro-American Newspapers at afro.com.
Related
Popular in the Community