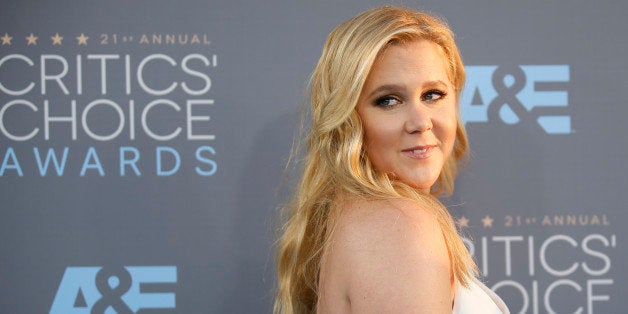 I love Amy. She is such a funny lady, and I have always been a fan. But I must say, I love her even more now after she stopped her set to give this guy a piece of her mind.
You see, this type of "casual" sexist comments are NOT cool. Too many people walk around thinking it's okay to say stuff like that or make other sexist comments, almost as if they are asking what time it is or commenting about the weather.
But it's not okay, nor is it funny or cute. And it should not be acceptable.
I'm so glad that Amy took the opportunity she had to stand up and say something for the sake of girls and women who don't have a platform like she does. I can't imagine there is one female on the face of this planet who hasn't had some asshole say some sexist bullsh*t to her. In most cases, women just take it as a part of being female and don't even respond. Because let's face it, if you even did respond wouldn't people just turn around and tell you to get a sense of humor?
This is the main problem: People think it's actually funny.
I'm sorry, but I have a great sense of humor, thank you very much, and I really fail to see the joke. I also wonder if guys who say stuff like that would be laughing if some other idiot made sexist remarks to their wives or daughters? Somehow, I think they would not find it so funny.
So anyway, I was having one of those "you go, girl" moments when I watched this video, but then I started reading the comments and my jaw literally dropped.
So many guys were making even worse comments, calling Amy a b*ch (because obviously if a woman sticks up for herself something must be wrong with her), fat, not funny and basically totally missing the point she was trying to make.
As a woman and a mother of three girls, I am so sick of it!
I am sick of people thinking that telling a woman her tits look good or asking her to show her tits, shake her ass or anything along those lines is a complement or even remotely funny. I am sick of people calling women "b*tches" or "bossy" or "emotional" whenever a woman speaks out. I am sick of people expecting women to just take it on the chin and get on with it. I am sick of people thinking it's no big deal and expecting women to "lighten up." I am sick of every day hecklers and their bullsh*t, and I am sick of sitting around and doing nothing about it.
So I am using my voice. I know it's a small voice in a massive sea of voices but for what it's worth, for the sake of women who don't have a platform, and mainly for the sake of my own daughters who one day may be on the other end of some sexist comment made by some idiot who thinks he's being funny, I want to say ENOUGH.
Or in the words of Amy herself, "I will show my tits when I want to motherf*cker"!

Follow Tova on Facebook.