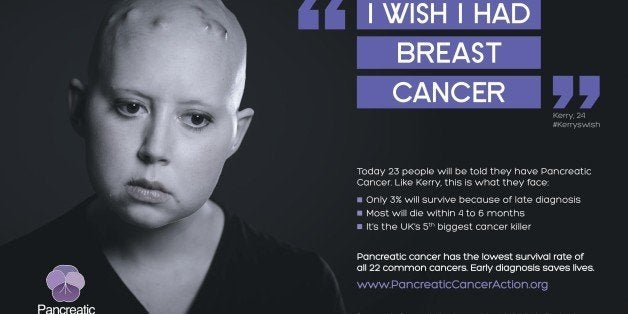 One of the Pancreatic Cancer Action ads shows a 24-year-old woman declaring, "I wish I had breast cancer." The copy then explains how lethal pancreatic cancer is, compared to other common cancers.
The approach offended some breast cancer organizations. Breakthrough Breast Cancer CEO Chris Askew responded forcefully on Facebook. "We can't support any message that suggests that any form of cancer is preferable to any other," he wrote. "Or any inference that breast cancer has been 'solved.'"
Defending the strategy, Pancreatic Cancer Action wrote the following in a statement to The Huffington Post:
All cancer is dreadful and this campaign is not suggesting that anyone's suffering resulting from cancer is worse than another's. It simply expresses the real thoughts and feelings of many pancreatic cancer patients and is something we hear time and time again. Every cancer patient deserves the best chance of survival.
PCA Chief Executive Ali Stunt explained it this way to The Guardian: "With a limited budget, it was vital that the advert would stand out and provoke thought." Stunt, who discovered she had pancreatic cancer in 2007, said the work conveys "how it feels to be diagnosed with a disease that leaves you with no hope at all."
The organization mentioned in its email that the initiative has been successful, and that PCA experienced a 200 percent increase in web traffic. Now, another phase of ads will focus on recognizing the symptoms of pancreatic cancer.
WATCH the campaign's original video ad (below).