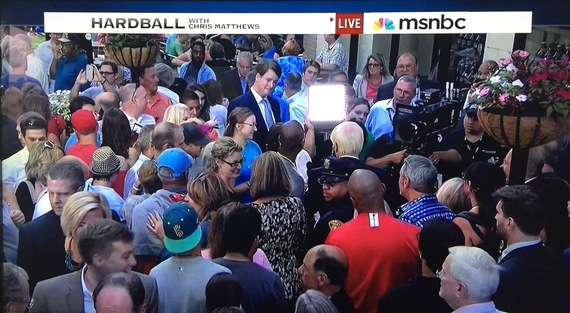 When I think of summer destination spots, Cleveland is not usually high on my list. But for the initial GOP Presidential Debate, I made my pilgrimage to the Rock & Roll Capital of the World to see the Republican Party's most popular acts perform individual solos, as they began the first set of national auditions to be chosen as the leader of the band.
I was in town as a guest of MSNBC's Chris Matthews, who was hosting the network's coverage from outside Quicken Loans Arena. While my original plan was to view the debate inside, I was so intrigued by all the activity on the MSNBC set that I decided to stay nearby (see tall guy in blue suit). Looking at the debate in the context of a sporting event, it was like seeing a pre-game show up close and then, having a courtside seat as the play-by-play announcer and color analysts watched the action on TV. Judging by the sellout crowd and the 24 million people tuning in, it was a first round playoff game.
Being that close to the broadcast area, I also had the chance to meet political analysts such as Howard Fineman, global editorial director of the Huffington Post Media Group, Michael Steele, former chairman of the Republican National Committee and Kathleen Parker, the Pulitzer Prize-winning columnist from the Washington Post. It was a rare opportunity for a concerned citizen to casually converse with people who actually shape the news and they each seemed greatly enthused to see the debate process begin. And I was very encouraged to find that the concept of a Practical Republican is a welcome idea.
Some random observations from watching the debate:
It was fascinating to observe a FOX News telecast through an MSNBC lens--I always watch the Republican Convention on MSNBC and the Democratic Convention on FOX to get a more balanced perspective (as a pragmatist, I also think it's important to read the New York Times, Wall Street Journal, The Weekly Standard and The New Republic because I want to hear from all sides of the political spectrum). I not only thought that FOX team did a good job, but may have also been the real stars of the night.
FOX realized that when broadcasting their first debate, they had to be a news network, not an opinion channel. In selecting their three most serious reporters, Bret Baier, Megyn Kelly and Chris Wallace (rather than Sean Hannity and some of their other fluff masters), FOX picked moderators who would pose tough, objective questions, giving both the questions and the network more creditability.
Naturally, Donald Trump's presence dominated the debate and he almost doubled the airtime of the other candidates. But I wonder if Trump's Teflon image will survive the rude exchange with Kelly and I also wonder if by refusing to take the pledge not to run as an independent, he let Republican supporters know up front that what he really wants is what's best for him, not the country. My theory with Trump is soon he has to get serious or get out. The reality of what he's doing is going to sink in and he's going to say, "OK, I've gotten my ego boost, now, to whom do I give my support and votes?"
The one candidate who really impressed me in terms of delivering a message that is going to help the party win was John Kasich, because he talked about inclusion. He spoke about coming from a modest background. He talked about personally supporting marriage between a man and a woman, but that he went to a wedding of a gay friend and would love his children if they were gay. He said, "Once you have economic growth, it is important that we reach out to folks who live in the shadows. ... America is a miracle country, and we have to restore the sense that the American miracle will apply to you."
Kasich spoke like a compassionate conservative, which despite what some people might think, is not an oxymoron. For example, he defended the Ohio's controversial Medicaid expansion by saying that it benefited mentally ill prison inmates, getting them on medications to help reduce recidivism and offer them a chance for a decent life. While, it's early in the race, if there was a dark horse who broke out of the pack, it was Kasich.
Picking Cleveland was a good idea for the first debate because it's also the host of the 2016 Republican Convention. So the campaign starts and ends here, which added a subtle undertone to the debate; that things will come full circle in Cleveland. It's also a city that's undergone an incredible transformation. I hadn't been here in 38 years and I walked all around the town and was astonished by all the improvements and changes. And the Rock & Roll Hall of Fame is not to be missed; I just couldn't get enough of the extraordinary Beatles exhibit.
That's it from C-Town, where it was truly invigorating to be a part of this historic event. I just hope the good news is that when the GOP comes back here next July to nominate our presidential candidate, he's the kind of Practical Republican who will lead the party on the long and winding road back to the Oval Office.
Calling all HuffPost superfans!
Sign up for membership to become a founding member and help shape HuffPost's next chapter