This article is part of HuffPost's "Reclaim" campaign, an ongoing project spotlighting the world's waste crisis and how we can begin to solve it
I didn't mean to wear the same thing practically all summer ― it just kind of happened.
Abstractly, I wanted to break free of the time suck of searching for clothes, throwing them on the floor, washing them and then never quite putting them away. In reality, I had garments from former President George W. Bush's first term that stood as a testament to my inability to downsize.
Another summer of easily wrinkled sundresses and bottoms that never seemed to be the right length was approaching. I was ready to spend the season wasting a fair amount of sunlight trying to dress myself when I found the holy grail of simplified fashion: A sleeveless cotton crewneck jumpsuit ― with pockets.
The jumpsuit would finally let me to live out my wildest dream of dressing like a cartoon character. Like Marge Simpson and her closet filled with row after row of green dresses, I could don the same thing every day and get away with it.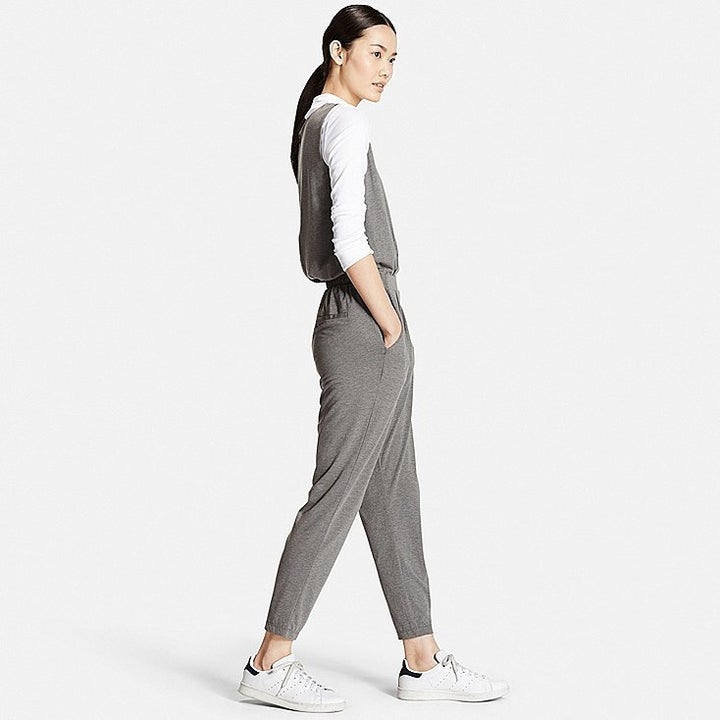 The outfit met all my criteria: machine washable, layerable, dressed up or down with different shoes or accessories and comfortable enough to wear bike commuting.
I snagged one in tasteful navy blue and wore it everywhere except to bed for two weeks straight. Shortly after, I bought another in black. (I got one on sale for $19 and the full-priced version for less than $30).
After a few more weeks, I stopped half-apologetically explaining to dates that while I owned other clothes, I was wearing this. Again.
Packing for trips was easy. Getting ready to go anywhere took just seconds. I spent less time wrangling laundry and never agonized over what I would wear to any event because the answer was the same every time.
With two jumpsuits in rotation, I rarely had reason to open my closet door. When I finally cracked the door after a long hiatus, everything inside started looking completely different.
Instead of practical purchases or items that let me express my creativity through clothing, the contents of my closet looked like garbage. More specifically, they looked like waste.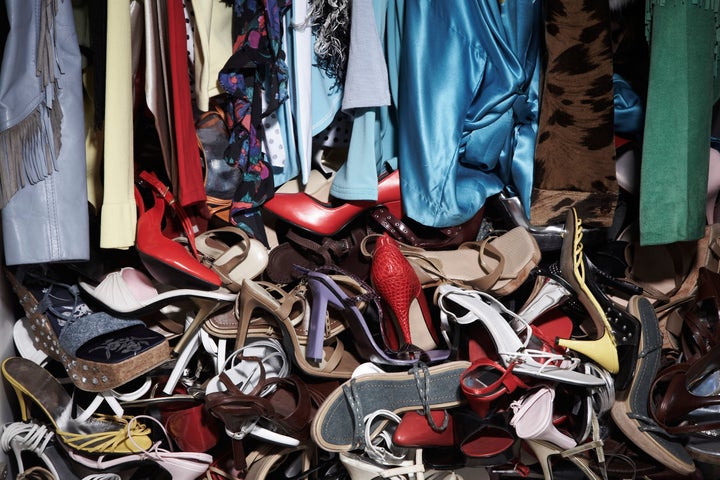 The British charity Barnardo's issued a survey in June that found women over 16 wear clothes just seven times before they fall out of favor.
Ginny Snook Scott, chief design officer of California Closets, told The Wall Street Journal in 2013 that the typical person wears just 20 percent of what's in their closet.
That means plenty of items in a typical closet are worn just a handful of times ― if at all.
I had still managed to let myself off the hook for this on account of the fact that I have never been one for shopping sprees. I rationalized my unwieldy wardrobe as a combination of keeping some clothes that still fit for almost 20 years and cycling in mid-range, fast-fashion and thrift store items.
The fast-fashion items in particular stood out. At one point, each new item had felt like a possiblity for a hipper, smarter wardrobe. Now they just looked like a pile of regret: The H&M blue fringe dress that was supposed to scream flapper chic really just made me look like Cookie Monster without arms; the odd length Zara dress that never fit right around my hips or the Forever21 shirts that practically disintegrated after a few washings.
Fast fashion, by design, is temporary: New items churned out at a quick pace that keeps up with blink-and-you-miss-them trends that are typically low in quality and life expectancy.
Even though I lacked the budget to regularly buy higher quality items, it had become obvious that even buying cheap was costing me, and costing the environment.
But as I tried to cull my closet, I reckoned with selling my items that were in good condition on consignment, despite past experiences proving a bigger hassle than the DMV. Hauling bags of clothes to Goodwill is the unchecked item on every weekend to-do list since forever.
One night while I packing my car to go out of town, I removed a beat-up box of clothes I'd been hauling around for more than a year.
I had the "someday" dream of selling them at a yard sale, but in that moment, they were swiftly demoted to a box left in the alley next to the trash. I knew alleyway pickers wouldn't take them away, nor would they be recycled into housing insulation ― the end result for just 15 percent of textile waste.
That box of clothes was headed for a landfill where it would take decades to break down. Five percent of all landfill waste is clothing just like mine.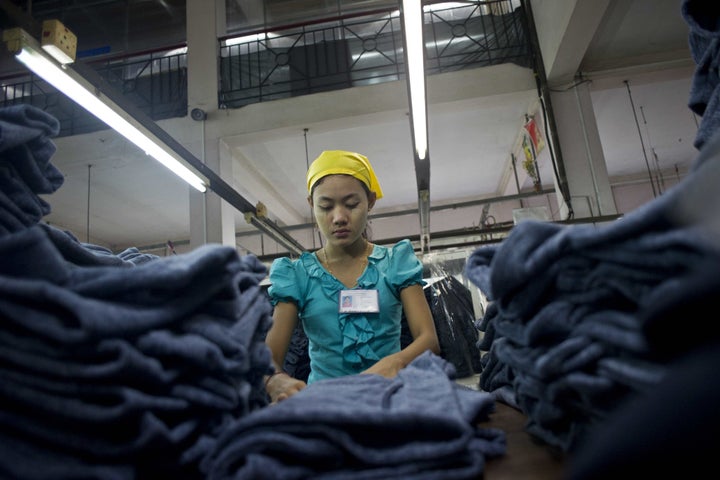 That we can buy clothes that are affordable, accessible and fashionable is a myth. It's an unsustainable model both environmentally and economically. As American consumers, we get the benefits and bear little of the cost.
That hardship is instead shouldered by the women and very young children who work in garment factories in developing nations such as Bangladesh, where their health, safety and fair treatment are usually distant priorities to getting Westerners a sequined blouses for $17.
Even my beloved jumpsuits are from Uniqlo and made in China. Like many fast-fashion or affordable clothing lines, the company's labor practices have come under scrutiny and prompted a pledge to do better.
The solution had become clear: Just buy less. My summer jumpsuit gimmick proved that fewer clothing items was hardly a negative. The blue jumpsuit later got lost in the shuffle of a recent guest room closet clean-out.
Even with so few options, I surprisingly didn't miss having an alternate and I've been more creative findings ways to work with what I have.
When I attached a pin of a Chicago-style hot dog to my collar the other day, everyone complimented me on my tasty choice in accessories.
No one seemed to notice it was the exact same thing I'd been wearing all summer.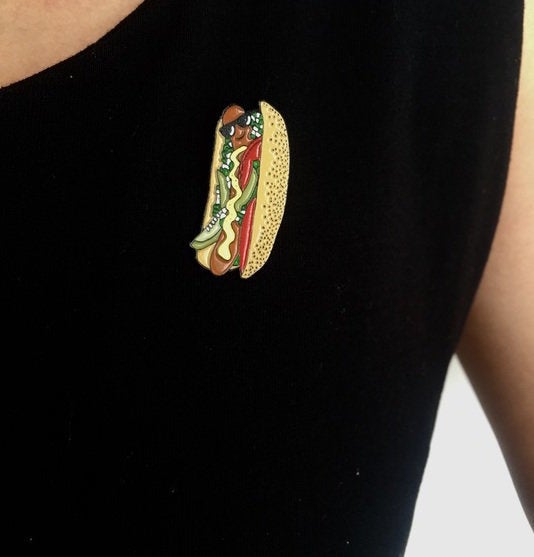 Related
Before You Go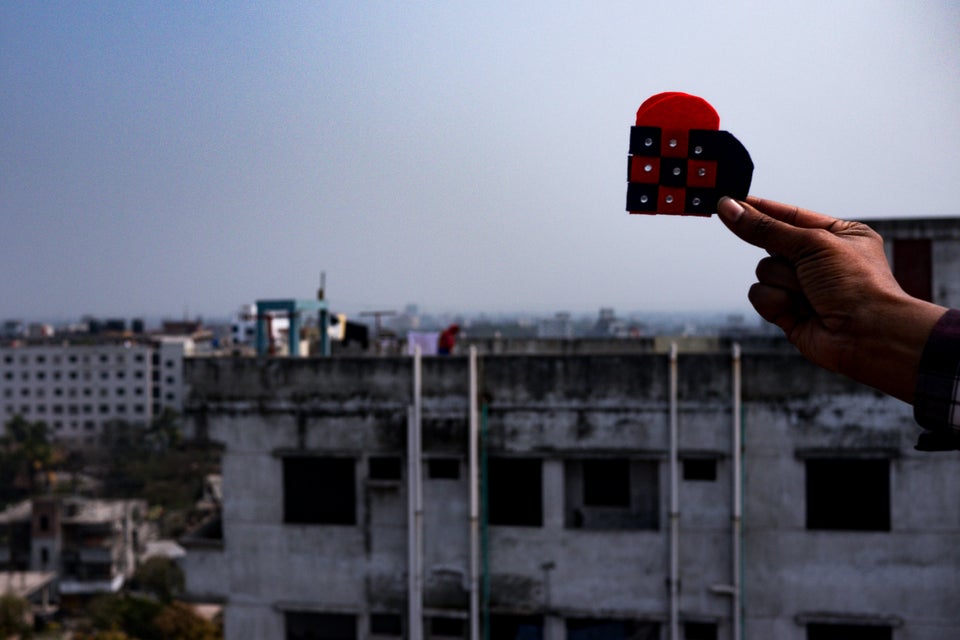 Bangladesh Garment Factory Workers Behind The Camera
Popular in the Community