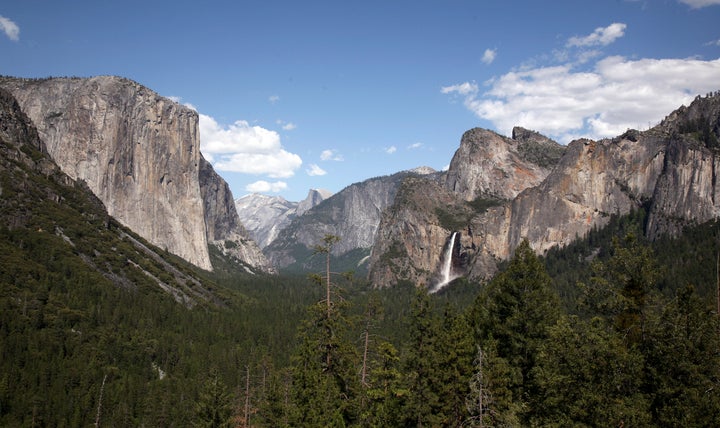 One of the unexpected gifts of getting older is perspective. Decades ago, when I first arrived in Washington D.C. as a recruit for President Carter's U.S. Environmental Protection Agency (EPA), I saw many things in terms of black and white, pro and anti-environment, us versus them. I had little understanding of hardball politics or the infinite shades of gray.  
A newly-minted lawyer, I was passionate about defending the environment and protecting human health from the terrible effects of pollution. That's all I could see. Anyone who didn't share my vision was wrong and against the environment.
A month into my job as a lawyer at EPA, in November 1980, Ronald Reagan won the presidential election. My colleagues, environmental law recruits like me, drowned our disbelief in reruns of the 1951 comedy, "Bedtime for Bonzo," starring Reagan. With mixed feelings of arrogance and dismay, we wondered how a former actor and conservative governor of California could be elected president.
Reagan appointed Anne Gorsuch — the late mother of Neil Gorsuch, Donald Trump's nominee to the Supreme Court — as EPA administrator, and picked James Watt to run the Department of Interior (DOI). Under these far-right leaders, federal government scientists were coerced to change their opinions or just ignored; federal laws protecting the environment and natural resources were disregarded; and Congress and federal prosecutors investigated EPA leadership for a scandal involving misuse of cleanup funds.
American environmental policy appears poised for a hard swing toward an extreme that I fear could make the Reagan Era seem like the good old days.
Public outcry grew, and big business, sensing the backlash, pressed for more predictable and balanced environmental regulation. President Reagan ultimately responded, and in 1983, replaced Gorsuch with a more moderate, experienced and respected EPA administrator. Watt, too, was pushed out after controversy about his anti-environmental agenda broadened into outrage after he offended just about everyone with a prejudiced comment about DOI's coal leasing panel.
Today, American environmental policy appears poised for a hard swing toward an extreme that I fear could make the Reagan Era seem like the good old days. President Trump's choice of Scott Pruitt ― the Oklahoma attorney general who fought a number of EPA regulations in court ― as the agency's new administrator suggests he has not yet learned the lessons of the Reagan years. Not only has he chosen an EPA administrator who pledges to carry on in the destructive tradition of Anne Gorsuch — the worst administrator EPA endured to date — but he has now nominated her son to the Supreme Court.
Here are just a few of the things that happened to science and environmental policy in the early days of the Reagan administration as Gorsuch and Watt followed the president's command to attack environmental regulation:
In violation of federal law, Reagan officials interviewed lawyers newly recruited during the Carter Administration to DOI's Office of the Solicitor Honors Program and asked whether they were Republicans or Democrats. A friend of mine in the program who graduated from Harvard Law School and many of her talented Democratic colleagues from the nation's top law schools subsequently left public service.
At EPA, there were new arrivals with dubious agendas. I was astounded when a high- ranking aide recruited by the Gorsuch regime worked to determine the government's bottom line for settling ongoing enforcement cases and relayed this confidential negotiating information to the defendants.
Rita Lavelle, Gorsuch's hazardous waste program chief, lasted only a short time before her conviction and imprisonment on felony perjury charges involving misuse of money allocated to EPA's Superfund hazardous waste cleanups.
While my division was prosecuting an administrative case involving violations of federal pesticide law, I learned that the defendants had contacted the Small Business Administration (SBA) to seek relief from the administrative lawsuit. The SBA ombudsman served as proxy for the defendant's lawyer, interviewing my witnesses outside the courtroom and without my knowledge — an egregious violation of the law.
My idealistic colleagues and I quickly learned how easily conservative ideological oversight could weaken laws and regulations.
But we also saw that pendulum could swing both ways. Industry representatives soon felt the backlash as valued environmental protections were disrespected and the scandal involving Lavelle, her minions and other high-level EPA officials ran its ugly course. Industry pressured Reagan for more balance and certainty, since lack of predictability makes it harder for companies to make business decisions.
Some of my colleagues at EPA designed and distributed T-shirts with a list of names of Reagan appointees — many of which were crossed out — on back. Each X on that long list marked an appointee who was fired or pressured to resign. "Doing More with Less," the motto used to justify hiring freezes and staff cuts, was emblazoned on the front.
In my experience, human health and environment isn't 'Republican' or 'Democratic.'
Many of us breathed a sigh of relief in May 1983 when Reagan selected William Ruckelshaus, a seasoned professional, as the new EPA administrator. Having served as administrator when President Richard Nixon created the EPA, Ruckelshaus brought respect for scientific integrity and went to work cleaning up both the political and environmental mess created by Reagan's initial appointees. Lee Thomas, an EPA insider, succeeded him in early 1985; both administrators walked a more moderate path.  
In my experience, human health and environment isn't "Republican" or "Democratic." Extreme ideologies are the problem. Nixon was responsible for establishing EPA in the 1970s, and some of EPA's most aggressive actions over the years have been under Republican administrations.
Last November, I sat in Yosemite Valley, watching the autumn sun set over Bridalveil Falls. The water moved from a tight stream into a free fall, opening wide and wild before gathering once again at bottom. The late afternoon sun gleamed red against Yosemite's massive domes. The autumn leaves, vibrant in yellow and orange, framed it. Implacable, the majestic sequoias towered above. People of all ages and races gathered in awe.
I know the falls have a broader perspective than I do. This landscape will change as it has in the millennia since it was carved by glaciers. It has changed as the climate now warms.
I have learned a lot about resilience while riding on planet Earth around the sun. I've learned how important it is to season ideology with balance and respect, to learn from voices that share a different perspective, however hard they can be to to hear.
The people who will soon be entrusted with our country's environmental laws and policies should bring the balance that is the hallmark of healthy environments to their work.
I can only hope that President Trump, like Reagan, will learn to moderate his position as he gains experience governing and receives feedback regarding his actions. Our health and environment depend on it.
If he doesn't, he risks a backlash. The pendulum of environmental policy and politics swings both ways.
Calling all HuffPost superfans!
Sign up for membership to become a founding member and help shape HuffPost's next chapter
BEFORE YOU GO