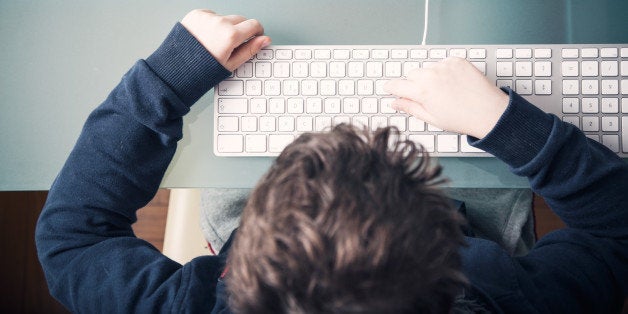 Many adults are terrified that our children are fundamentally changing, losing touch with reality, and becoming Internet addicts. My son, for example, is obsessed with computer games. Accordingly, I constantly worry about the extensive time he spends playing games online. Internet addiction is certainly a term that has come to my mind.
In fact, when I saw the PBS documentary Web Junkie, which features kids who have trouble distinguishing the Internet from reality, I remembered that I'd recently said to my son, "You realize that you are not in the game right now, right? This is the real world?! "
But then I turned the mirror on myself. After a television-starved childhood (my academic parents only allowed me one hour a week of TV), I spent most of my adult life obsessed with media, first as a senior executive at movie studios supervising writers and directors, and now as a child psychologist scientist, researching the effects of media on kids. It's no secret to anyone who knows me -- I love movies and television. So much so that my friends and family make fun of me because I frequently say, "This reminds me of that scene in that show, or that movie, when so-and-so did such-and-such to that character." In other words, I take my older, purely audiovisual storytelling content and use it to make sense of my world.
Turns out, my son is doing the same thing. His storytelling comes in the delivery mechanism of computer games, so he naturally uses these to make sense of what he is interested in. As an adult, it's easy for me to judge what he is doing; the media is unfamiliar to me, and it seems ludicrous that he would compare a game played on a computer to the real world. Yet, when I've done this with my stories, which come in the format of books, TV and movies, no one's ever labeled me an addict.
Nevertheless, Internet Gaming Disorder (IGD) is being considered as a serious affliction. In fact, it was included as a condition for further study in the American Psychiatric Association's classification and diagnostic manual (DSM-V). Some researchers in the field -- including experts I heard from at the 2015 Digital Media and Developing Minds Conference last week -- suggest that 7 percent of the general population in the United States exhibits symptoms of IGD. Thus, some children may indeed need help.
But is my son's constant computer gaming an addiction? How can I know when I need to seriously worry? The good news is that he's an excellent student, no other adults tell me there are problems with his behavior, and he gets off the computer when I tell him to! These are all positive aspects of behavior that must be considered in an overall picture of a child. Real addiction is a serious disease. Maybe instead my son is just a young boy obsessed with games? The latest Pew report indicates that 84 percent of boys play video games, and that most use these games to develop and maintain their friendships. Given these facts, my son is pretty typical; sure, he's on that machine more than I would like, but I'm on the couch watching Scandal more than I would like, too.
Here are three tips from my book, Media Moms & Digital Dads, about children and video games:
1. Balance your child's video game play with other activities; while kids can learn some useful skills, and the games can be social, kids need balance and face‑to‑face time.
2. Consider the content carefully. While evidence suggests that even "violent" video games teach cognitive skills and are unlikely to lead your child to be aggressive, they include many other potentially offensive characteristics such as misogyny and crime-glorifying behavior.
3. Know your child; if you see problem behavior or unusual conduct, seek help from a mental health professional.
Yalda T. Uhls, PhD is a child psychologist researcher and leading expert in how media affects children. Her new book is Media Moms & Digital Dads: A Fact Not Fear Approach to Parenting in the Digital Age. She also does research with UCLA and works with Common Sense Media, a national non-profit. In her former career, she was a movie executive at MGM, New Line and Sony. Most importantly, she is a mom of two digital teens (a boy and a girl). Visit yaldatuhls.com to learn more about her work.