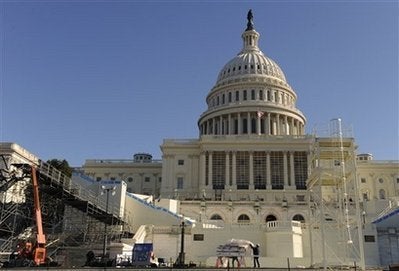 Switching back and forth between the inaugural balls and American Idol open auditions it was really hard to keep the two straight. I mean, the level of talent was sooo similar.
American Idol (which hailed from San Francisco and assembled it's multitude of hopefuls in the aptly named Cow Palace), kicked off Tuesday night's edition with a Puerto Rican floozy in a prom dress best described as "attack victim" shrieking Aretha Franklin and boasting that no one's a better singer.
Beyonce sang "At Last" as the new president and his wife danced. No one, not even Etta James, ever sang it better.
The judges were split on prom girl. Her voice wasn't terrible but she had this laugh that was so bone-chilling annoying you could understand why anyone, even Gandhi, would want to beat her. Could become the most insufferable Idol candidate ever.
Next was a goofball in a multi-checkered coat, the kind Lindsey Nelson used to wear. The official name for that style is "Who shot the couch?" He massacred Simply Red.
Stevie Wonder performed at the Neighborhood Ball.
A deer-in-the-headlights kid who can do Rubik's Cubes was so sharp and piercing that electric garage doors in San Francisco all opened automatically.
Shakira brought down the house.
A zoftig gospel singer showed up toting a sheaf of notes, lyrics, and throat diagrams. She pointed out where the "larnix" is. Later, in her audition when her song selection was questioned she said, "I know. I gave you the wrong rectum". She blamed her failure on nerves. Her words: "I shouldn't let Paula and Randy irractitate me." And I thought we were through with George Bush.
Mariah Carey, stuffed into her gown like sausage casing, electrified the inaugural partygoers.
In the most shameless A.I. audition to date, a father brought his two young children into the room. It worked. He was sent to Hollywood. Watch. Next season every idiot will have kids, puppies, wounded birds, disabled veterans, Katrina survivors, or Gary Coleman.
Sting had a little help too. He worked with a blind guy. Stevie Wonder did an amazing duet with him.
A willowy blonde mutilated Gershwin's "Summertime" believing that wrong notes constituted a jazz interpretation.
Another willowy blonde, Faith Hill, hit all the right notes.
The obligatory pretty boy made his appearance. Paula sent him through before he even opened his mouth. Her eyes bugged out like that wolf in Looney Tunes.
Alicia Keyes was wonderful. Her stirring performance at the Writers Guild strike rally was not a fluke.
The best Idol audition was from a kid named something like High Colonic. He was so good he didn't need the mother who had seizures. But you can't leave anything to chance. Not with cute kids in the building.
In watching both the balls and Idol again, I think on second viewing Beyonce, Stevie, Mariah, Alicia, Faith, Sting, and Shakira might just be safe. The Idol auditioners seemed a little, I dunno... irractitate.
Calling all HuffPost superfans!
Sign up for membership to become a founding member and help shape HuffPost's next chapter