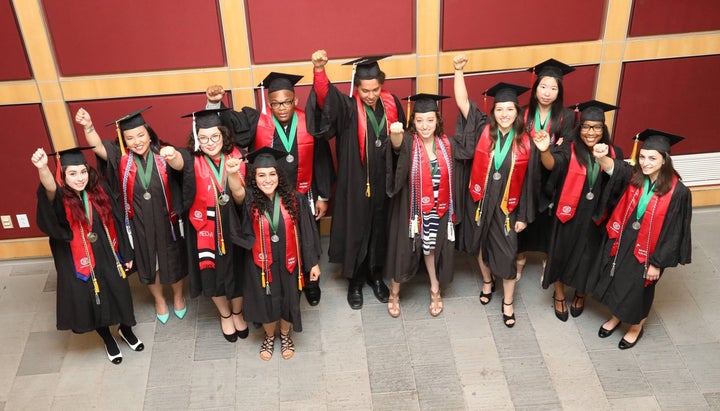 I am a low-income, disabled, Latinx womxn born and raised in the South Bronx. I am the daughter of two Dominican immigrants, nurtured by the diáspora. I am the first in my family to attend an institution of higher education at Cornell University. I am the first to graduate college, now on track to pursue a PhD by first completing my studies as a Masters student at Columbia University.
Today, we remember the legacy that continues to outlive Dr. McNair posthumously. Because of him, I dared to call myself Dr. Muñoz two years ago when I was accepted into the Ronald E. McNair Postbaccalaureate Achievement Program — a perceived longshot given my circumstances at the time as a college sophomore.
"What does it feel like to be a problem" asked W.E.B. Du Bois in The Souls of Black Folk. This question has guided my survival, that of my ancestors, as well as the search for my community's autonomously conceived narrative: Chicx, what does it feel like to be positioned as inherently problematic — begs Gloria Anzaldúa and Cherrie Moraga from queer womxn of color. Our existence as first generation low income students of color receiving federal funding from TRIO's McNair Research Scholars Program is not a hypothetical gamble that I can pardon folks in positions of political power for having a "simple" difference in opinion: that we do not deserve higher education funding and are therefore not worthy "investments". An opinion is whether or not you like the color pink or purple, not whether or not my community should receive funding to obtain a degree where we have been, are, and might continue to be, severely underrepresented. Our existences are inherently political, and for marginalized folks: they are directly impacted by folks who do not have the slightest idea of what our lives are like at the margins of an institution. This mentality is not an opinion: it is a violence. Because folks in positions of power are debating, without my direct participation and consent, whether I should have access to healthcare, clean water that won't poison me, or even if I should receive federal funding to achieve my dream of obtaining a doctoral degree in Higher Education — we must resist.
"As outlined in the March 'skinny budget,' the [Trump] administration would cut college access programs TRIO and GEAR UP by 10 percent and 30 percent, respectively. The budget documents specifically call for eliminating the McNair Postbaccalaureate Achievement Program and Educational Opportunity Centers." — Andrew Kreighbaum, Inside Higher Ed
Those in positions of enough power to gamble this decision can walk away with it all at the end of the day — after bargaining my existence for their re-elections — and sleep knowing that their family, for generations past and generations to come, are safe. Y'all do so while I am left wondering what a world without TRIO federal funding, which is currently being contested — without the Ronald E. McNair Post-baccalaureate Research Scholars Program that got me into graduate school — could look like for me and those of us who depend on these education programs. These were the first programs, the first people really, to place faith in me within a predominately white and affluent institution. They were the first to express to me that I very well do belong, and that not only have I gotten into college, but that I will also get through it as well. I refuse to let the U.S. Department of Education cut this program — "by any means necessary".
At the cusp of having a 1.67 GPA after my freshman year, battling with anxiety, depression, and PTSD, and having received a severe warning of probation where I felt that Cornell University's ivory tower was not designed with students like me in mind — this program begged to differ. People like Dr. Tremayne Waller, a great man that I had been intimidated of speaking to since my freshman year because I was under the belief that he'd see through my perceived mediocrity, and Monique Posadas — a friend, role model, mentor, and family — offered me "a chance". I didn't even apply to the McNair program initially; I assumed I would not qualify. Who would accept me? By a stroke of luck, however, the application deadline was extended. This was, perhaps, my "chance".
Years later, I have come to realize that it wasn't just simply "a chance" — after I was successfully accepted into the program — as Monique reminds me lovingly: they could see greatness within me and my cohort right from the start. I was more than 1.67. I was more than just "in 500 words or less". Because of them, I brought my GPA up steadily that semester, remained in Cornell, managed to get onto the Dean's List twice, completed four minors, participated in hundreds of hours of quantitative and qualitative research, received mental health care to cope with grieving my mother's lost, anxiety and depression, as well as to navigate the imposter syndrome, won around 12 awards and honors at the end of my senior year, and finally: was accepted into Columbia University. This was my wildest dreams, from the moment I assumed that I would become withdrawn from the university. After spending what it felt like days or even weeks at a time tethered to my bed because I had felt that I never truly belonged, I graduated. This is what my father had us reach for that he couldn't directly reach for himself. Like Dr. McNair, I was beyond the sky being my limit.
But I don't deserve to graduate, right? Because folks in political positions of power can debate whether or not I actually should have been accepted into Cornell for undergrad or Columbia for grad school in the first place because of affirmative action. I must not deserve freedom. I must not deserve "a chance". I refuse to live in peace with folks debating whether or not this program should continue to be funded because your opinion is costing me and my community our lives and wellbeing. We have actual stakes in this — you do not. You cannot possibly fathom the amount of pain, anxiety, and anger that your carelessness induces within us. I fear whether I will truly be able to obtain a doctorate without the family and support that McNair has offered me. We are our community's liberation.
I could never imagine myself taking flight, or fathoming my greatness, after years of internalizing the haunting imposter syndrome and stereotype threat of being a marginalized student within a predominately white institution, without McNair. McNair scholars: let us always remain in solidarity with one another. We shall radically resist and mobilize. Our communities have resisted oppression for centuries and we must continue this legacy — it will outlive us. We are meant to soar.
REAL LIFE. REAL NEWS. REAL VOICES.
Help us tell more of the stories that matter from voices that too often remain unheard.