WASHINGTON -- Embattled "Duck Dynasty" star Phil Robertson has been suspended from his show by A&E for his remarks about gays and African-Americans, and now some high-profile conservatives are rallying to his side and defending him. On Friday, GOP congressional candidate Ian Bayne went all in, comparing Robertson to civil rights icon Rosa Parks.
"In December 1955, Rosa Parks took a stand against an unjust societal persecution of black people, and in December 2013, Robertson took a stand against persecution of Christians," Bayne said in an email to supporters.
"What Parks did was courageous," he added. "What Mr. Robertson did was courageous too."
Robertson's anti-gay remarks in an interview with GQ comparing homosexuality to bestiality have received quite a bit of attention. But he also commented on the state of African-Americans during the Jim Crow era, claiming that they were all carefree and totally happy with their (unequal) status:
I never, with my eyes, saw the mistreatment of any black person. Not once. Where we lived was all farmers. The blacks worked for the farmers. I hoed cotton with them. I'm with the blacks, because we're white trash. We're going across the field. ... They're singing and happy. I never heard one of them, one black person, say, 'I tell you what: These doggone white people' -- not a word!... Pre-entitlement, pre-welfare, you say: Were they happy? They were godly; they were happy; no one was singing the blues.
Bayne is essentially praising Robertson for whitewashing the struggles that Parks fought so hard to eradicate. And Robertson's comments do not at all reflect what was actually happening with African Americans in pre-civil rights Louisiana, as the Atlantic's Ta-Neihisi Coates points out:
That is because governance in Phil Robertson's Louisiana was premised on terrorism. As late as 1890, the majority of people in Louisiana were black. As late as 1902, they still lived under threat of slavery through debt peonage and the convict-lease system. Virtually all of them were pilfered of their vote and their tax dollars. Plunder and second slavery were enforced by violence, as when the besiegers of Colfax massacred 50 black freedmen with rifles and cannon and tossed their bodies into a river. Even today the Colfax Massacre is honored in Louisiana as the rightful "end of carpetbag misrule."

The black people who Phil Robertson knew were warred upon. If they valued their lives, and the lives of their families, the last thing they would have done was voiced a complaint about "white people" to a man like Robertson. Ignorance is no great sin and one can forgive the good-natured white person for not knowing how all that cannibal sausage was truly made. But having been presented with a set of facts, Robertson's response is to cite "welfare" and "entitlement" as the true culprits.
Bayne, a conservative talk radio host, is one of four Republicans in a competitive primary vying to challenge Rep. Bill Foster (D-Ill.) in 2014.
Support HuffPost
The Stakes Have Never Been Higher
Before You Go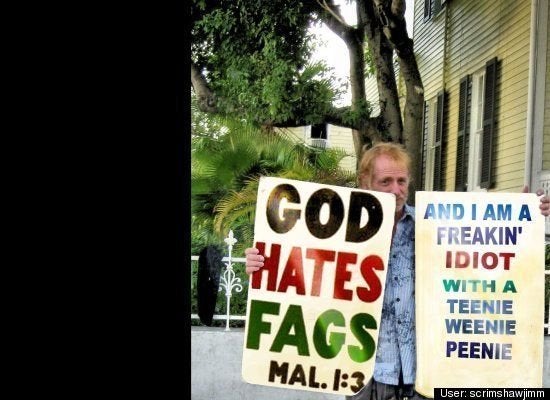 Anti-Gay Protesters Getting Owned
Popular in the Community