At 8 a.m. on Monday, Ian Bremmer, the president of global consulting firm Eurasia Group, did something unexpected in his weekly briefing for clients, foreign dignitaries and friends: He broke major news.
Bremmer is a renowned political scientist and not a reporter. That's evident in Bremmer's Monday dispatch, the first 700 words of which featured analysis of the recent G-20 summit before dropping a scoop that any news organization would've been quick to promote.
In an interview with HuffPost, Bremmer said he first learned details of the Trump-Putin meeting last week and began writing his weekly report on Saturday. Yet it would still be three days, and after an appearance on "Charlie Rose," before the news spread widely.  
Bremer said he has "enormous respect" for journalists, but doesn't see it as his role to be first with a scoop.
"I'm not in the news breaking business," he said. "What I do ― both the Eurasia Group and as a political scientist ― is to help people better understand the world, and I don't think a breaking news headline is necessarily the best way to do that."
The big news break that Trump and Putin had an undisclosed meeting isn't as troubling as how the situation unfolded, Bremmer said.
He said G-20 attendees found it specifically "unnerving" that Trump would walk over and sit down alone, at length, with Putin ― and that the pair demonstrated a collegial body language that departs from the president's comparatively colder behavior with traditional U.S. allies.
The fact that the conversation occurred with only a Russian translator present raises concerns about Trump's lack of foreign policy experience, Bremmer said. The details of the exchange otherwise remain a mystery.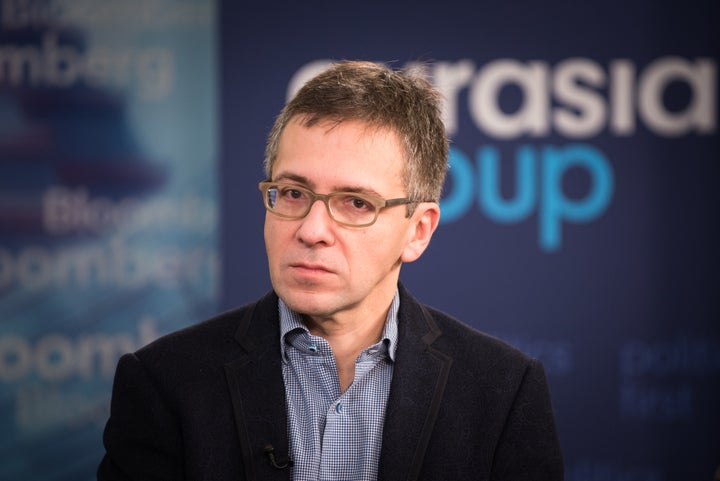 Bremmer, who is also an editor-at-large at Time magazine and a foreign affairs pundit on TV, has cultivated relationships with foreign officials for decades through his work with Eurasia Group. He understandably won't reveal his sources for the report, but acknowledged that he personally knows attendees of the G-20 summit.
Bremmer's analytic team reads over his weekly briefings before the company blasts them out on Monday morning. 
One of the recipients of the email was Bremmer's friend Charlie Rose, the "CBS This Morning" anchor and host of his eponymous talk show on Bloomberg News and PBS. Bremmer was already scheduled to appear on Rose's Monday night show, and unsurprisingly, the host led off the discussion with news of the Trump-Putin meeting.
Bremmer said Rose's show was the ideal venue to discuss the meeting, since it allows for longer conversations in which he could provide context and analysis of why the discussion was important, and not just say that it occurred. On the show, Bremmer described the leaders' conversation as one "that no one's even heard of."
Though there was a line buried in a July 8 BuzzFeed story that Trump had had another "long chat" with Putin "after" a G-20 dinner, not during it, the meeting went otherwise unreported. The clip of Bremmer's appearance on "Charlie Rose" didn't begin circulating widely until Tuesday afternoon, more than a half day after it aired, at which point other news organizations pressed the White House for information.
The White House confirmed the meeting on Tuesday evening, but downplayed its significance. And the president characteristically dismissed the latest revelations about his administration as "fake news" and "sick."
Bremmer summed up the chronology of events on Twitter. 
While it's common for world leaders to have casual conversations at summit dinners, it's unusual for the president to speak for an hour to a world leader without his own translator ― and for such an encounter to not be disclosed to the public and summarized in a readout.
Ben Rhodes, a top foreign policy adviser to former President Barack Obama, tweeted that the previous White House "used to read out these types of interactions with Putin at Summits given the public interest."
And public interest in the U.S. president's dealings with Putin has heightened significantly since the Obama administration. 
It was Russian state media that revealed in May that Trump met in the Oval Office with Russian Ambassador Sergey Kislyak the morning after the president fired FBI director James Comey in part because of his investigation into Trump allies' ties to Russia. The White House had barred the U.S. press from the May meeting with Russian officials, forcing news organizations to rely on photographs distributed by Russian news agency Tass.
In other instances, the Trump White House has provided terse or vague readouts of meetings with world leaders, which offer few details about what transpires during those conversations. This has allowed foreign governments, whether through official releases or state-run media, to frame the discussion for the public. The U.S. government may not even be in a position to best frame the Putin-Trump conversation, since only a Russian translator was present. 
"Unfortunately, the only people who know the content of the meeting is the Kremlin," Bremmer said. "Trump isn't going to a have a good readout of the meeting, and this is the most disturbing."
Calling all HuffPost superfans!
Sign up for membership to become a founding member and help shape HuffPost's next chapter