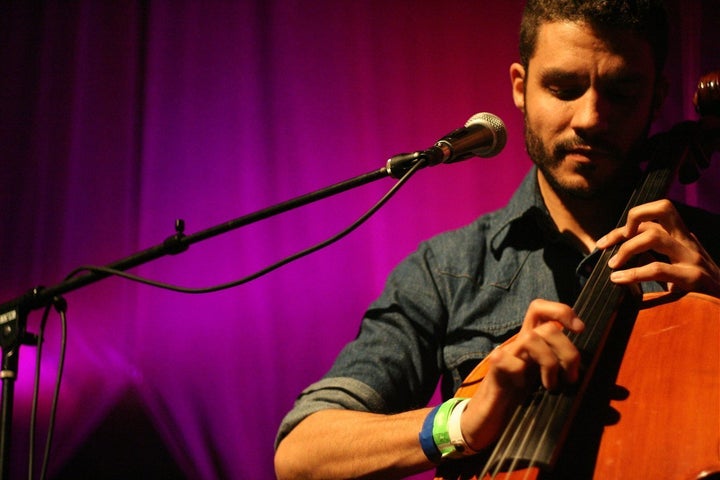 The cello is a rare and refreshing sound in indie rock. What brought you to it?
I started cello in middle school. In sixth grade, all students in my school district were required to be in choir or choose an instrument. I was always interested in the cello because I heard early on that, of all instruments, its sound is the closest to that of the human voice. I was drawn to that idea and how it's kind of shaped like a person and roughly the same size as one. My first instrument was piano though. When I was 5 years old, my family lived in a house that had one. I spent a lot of time plinking around on it after kindergarten -- enough that my parents decided I should take lessons. So I did for the next five years, then switched to cello. I learned to play through public school music classes, private lessons, and a weekend class for kids at the University of Northern Colorado called "Strings Project." Once I got to where I could make a decent-sounding note, I was always messing around composing and distracting myself from whatever the assigned music was. I was never interested in guitar. I guess I stuck with cello because I invested so much time learning it. I feel kind of married to it. (SCROLL DOWN TO LISTEN TO "FORTITUDE")
What's it like being a musician in Denver?
I feel so lucky to have gotten as far as I have here. It's refreshing to come home from tour and rely on a crowd being there listening because they know and love what you do. Denver is great. We are a bit isolated, but there is so much talent here and so much support for all of it. Bands here are like one huge family. Everyone seems to be friends, and so many of us play with each other and form multiple musical entities using different combinations of people. It's always exciting to see, hear what's going to happen next, and that keeps Denver audiences very loving and attentive.
You recently played Pride Toronto. Was that your first LGBT-oriented event?
Pride Toronto was incredible. Probably the biggest audience I've played for. I think there were 5,000 people there. Not all of them were into it, but a good number of them were quite receptive and bought CDs after the set. I was able to bring my band for that gig. I remember it being a little rough because we went on right after a DJ that played a bunch of Madonna and Michael Jackson and got everyone into dance mode. I think my music is designed more to focus on than dance to. But we still had a really good time. I hope to play there again. I haven't done much else in the way of LGBT events. I'd love to get involved with the Human Rights Campaign [Mile High] Gala the next time it happens.
Are there challenges being gay in the indie rock world?
Not really. I would say it is a gay-positive art scene. I've never felt that I need to hide my orientation for any reason, not to say it oozes out of me. I guess I do kind of give it away with my cover of ABBA's "Gimme Gimme Gimme." I identify first and foremost as a musician and don't feel that being gay needs to be part of my title. Though I do want to reach a gay audience, I write a lot of my lyrics in a gender-neutral way. I would like for anyone to be able to relate and apply the songs to their own situations.
Tell us about your new album, "Fortitude."
Writing for "Fortitude" started soon after "The Fall I Fell" was released. Some of it happened before that. Once the songs were mapped out, my band and I worked together on the final arrangements. The process just takes forever. Some of these "Fortitude" songs started as leftover ideas from TFIF that I didn't end up using. I think "Havoc" may be the one that took the longest from start to finish -- I'd say about three years. Granted, I wasn't putting my nose to the grindstone every day to finish these songs, but I think I'm learning how to crank things out a little faster. It certainly won't be another four years before I finish a third album. The time that has passed frustrates me enough that I really treat this as a job now, more than a hobby. I wrote the "Rules to Live By" song on "Fortitude" to remind myself to use time well and be productive.
How did you hook up with Greater Than Collective?
I've known Andy Thomas for a long time. We met in the Denver music scene when I first started playing and shared bills, crossed paths with him. He's a genuinely nice guy and has always been very supportive and encouraging. Pete Turner and Virgil Dickerson are also stand-up dudes who just want to see me succeed. So far working with Greater Than has been lovely. We only just got going with each other, so not a lot has happened yet, but I really appreciate what they're setting out to do for me.
What's next?
I want to tour as much as possible in 2012 -- festivals galore! An idea I have for the next release is a collection of educational but dramatic and emotional songs about my favorite dinosaurs. Not classified as "kids' music," although I guess kids would be the ones most interested in the subject matter. You could think of it being somewhat like "The Planets" by Gustav Holst. Instead, "The Dinosaurs" by Ian Cooke. Something that could potentially be sold in natural history museum gift shops. I don't know, we'll see.
In the Denver area? See Ian Cooke play live Friday, Dec. 2 at 6 p.m. at Twist & Shout, vist their website for more information on the in-store show.

Calling all HuffPost superfans!
Sign up for membership to become a founding member and help shape HuffPost's next chapter
BEFORE YOU GO