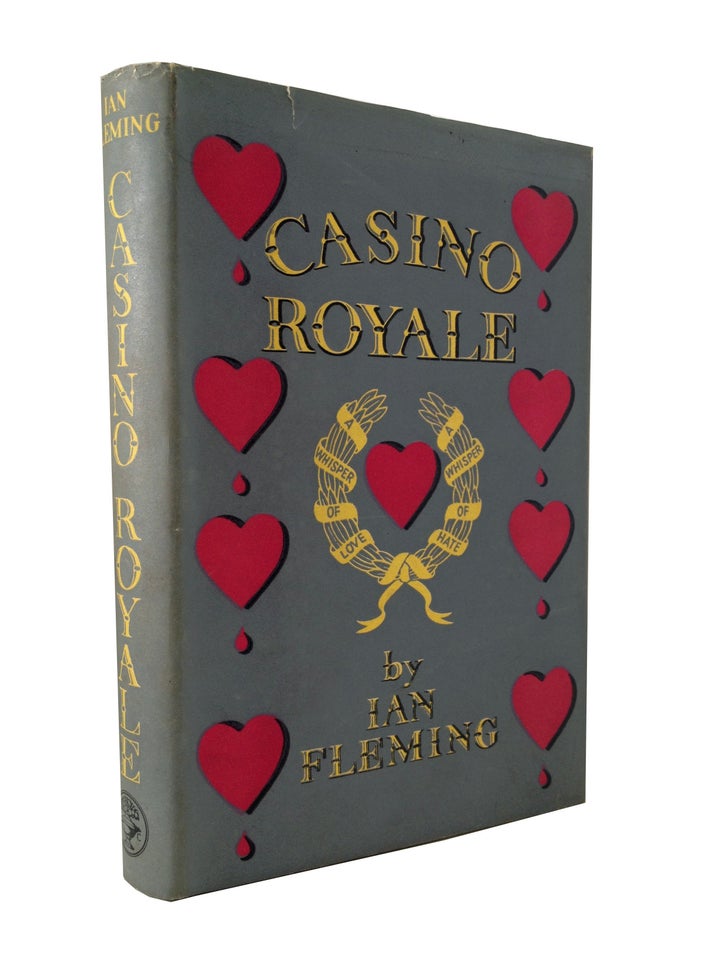 Skyfall is the latest installment in the James Bond franchise to hit theatres in November. Daniel Craig is the sixth 007 to climb into an Aston Martin and run the usual gauntlet of poison-tipped-shoe-wearing psychopaths, cunning femme fatale and double-agents with exploding briefcases powerful enough to take out Portugal.
Bond's fictional roots can be traced somewhere back to the Second World War, when a British intelligence officer named Ian Fleming told a colleague that he planned to write a spy novel, someday, when he returned to civilian life.
And in 1952, at 44 years old, drawing from his own wartime experience, Fleming sat down to create the most enduring spy drama in history, its main protagonist a British intelligence officer known only to other MI6 agents by his code number, 007, and with the rather innocuous nom de guerre James Bond.
Fleming died 12 years later, but made full use of that short period of time, cranking out the 12 novels and two collections of short stories that became the blueprint for a 53-year franchise -- 22 feature films and the popular Bond-inspired The Man From U.N.C.L.E. TV series.
Fleming was born into privilege in 1908. His father, Valentine Fleming, was a descendent of William the Conqueror and the son of a wealthy Scottish banker. Valentine was a conservative member of Parliament and close friend of Winston Churchill that was commissioned an officer in the British Army at the outbreak of war in 1914. Major Valentine Fleming, of the Queen's Own Oxfordshire Hussars, was killed by shelling in Picardy, France in 1917. Ian Fleming was nine at the time of his father's death, and spent the rest of his life endeavoring to live up to his father's enormous legacy.
In his teens, Fleming distinguished himself as an athlete at Eton College, but left before graduation and was admitted to the prestigious Royal Military College. Military regimentation was unsettling for fiercely independent Fleming, and he dropped out after a year, then was off to strengthen his language skills at the Universities of Munich and Geneva. For the next few years, he knocked around Europe, covering events for the Reuters news agency (including a Soviet spy trial) before returning to England in 1933 to work the next six years in banking.
At the outbreak of war in 1939, Fleming was recruited into Naval Intelligence, was commissioned a lieutenant and was assigned to the office of Admiral John Godfrey, later considered Britain's foremost experts in espionage. The war was Fleming's proving grounds and he excelled, rising to the rank of commander.
"Before the war, he had tried several careers with mixed success," Fleming's official bibliographer Jon Gilbert told us.
"His role in Naval Intelligence really focused his skills as an 'ideas man,' and he became a valued member of his department with increased responsibilities."
Under Admiral Godfrey, Fleming earned a solid reputation for his imaginative suggestions of ways to gather German intelligence and also showed a flair for writing (his eloquent reports were favorites among superiors).
Fleming oversaw the establishment of No. 30 Commando, the 30 Assault Unit (30AU), composed of highly trained German experts and saboteurs, sent ahead of invasion forces to amass enemy documents valuable to allied intelligence services.

"We can imagine that 30 Assault Unit's capture of the entire German naval archives at Tambach in 1944, which was supervised by Commander Fleming, was a personal triumph and likely his finest hour in service," Gilbert said.
Fleming also played a role in the creation of a highly mobile intelligence gathering unit called T-Force, attached to different allied army groups tasked to capture German soldiers, documents, and any valuable information deemed useful to the allied advance on Germany.
When the war finished, Fleming got a job with the Kemsley news group, overseeing its correspondents posted around the world. He lived the free life of a bachelor and satisfied his taste for travel, expensive clothes, and women.
"In appearance he was quite dapper, with a liking for polka-dot bow ties and tailored suits," Gilbert said.
"He was also rather flamboyant with his cars -- he owned several exotic imported vehicles such as a Ford Thunderbird, an AC Aceca Coupe and a Studebaker Avanti. He adored motor cars, and this is apparent in his detailed written descriptions of them -- especially the Aston Martin, which became the signature car of James Bond. In an article for The Spectator (1958) he even foretold of electric motors succeeding the internal combustion engine."
On his many winter holiday trips to Jamaica, he fell in love with the island and eventually bought the property where he would write his first book, Casino Royale, and the 11 others to follow.
It's not exactly clear if the character of James Bond was Fleming's idealized image of himself or a composite of people he came across during the war. There are, however, certain tastes and characteristics shared by the character and Fleming; but it's for certain that his experiences with various operatives during the war also influenced his writing.
"It has been suggested elsewhere that he struggled for recognition from more literary circles, but he actually did not mind what people thought or said of his books. At the time, there was a good deal of critical acclaim for the Bond books from contemporary heavyweight authors such as Raymond Chandler and Somerset Maugham," Gilbert said.
The war had left Fleming exhausted. He was a heavy smoker and drinker for the rest of his life, and thus struggled with his health. He was able to maintain a highly disciplined writing schedule after settling down to get married. He suffered a massive heart attack in 1961, and while recuperating wrote his only non-Bond book, Chitty Chitty Bang Bang -- a book for his son Caspar about a magical car with the ability to fly -- that was also eventually made into a feature film.
Fleming continued to drink, smoke and satisfy his tremendous appetite for travel, all with little regard for his physical well-being. It was a second heart attack in 1964 that killed him, while he was in England attending his mother's funeral.
While he only made it to 56, he lived an active and fulfilling life. Though he only became a novelist later in life, his Bond novels are what he's best known for, and he lived to see two of them made into movies, Dr. No (1962) and From Russia With Love (1963).
Popular in the Community